Born without her right hand, 12-year-old Cassie Stewart often had to sit out during music class, unable to play certain instruments like her peers — until now.
"She's shy and she didn't want to draw attention to herself," her mom, Nikki Stewart, told TODAY. She said that Cassie, sad that she couldn't participate, would quietly hang toward the back of the classroom at Pine Grove Area Middle School in Pine Grove, Pennsylvania.
Now she doesn't have to, thanks to an invention by a local high school student.
RELATED: How 3-D printed hair prostheses are changing cancer survivors' lives
Nicholas Brown, 15, spent the better part of his freshman year at Pine Grove Area High School designing and testing a 3-D printed prosthesis for Cassie and another student at the middle school, who also has a disability, to use during music class.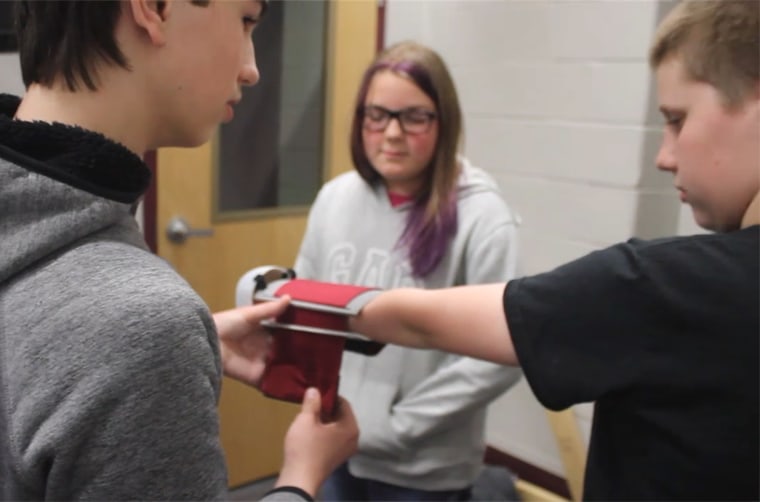 "I wouldn't really call it a prosthetic hand," technology teacher Brad Fessler, who helped Nicholas with the project, told TODAY. "It's a specially made prosthesis specifically made for playing instruments."
The prosthesis is an adjustable sleeve that fits on the students' arms and has three separate attachments: one for playing the drums, one for playing guitar and one for playing the trumpet. The attachments are designed to clutch a guitar pick or a drum stick, or help hoist up the trumpet.
"Generally, in the prostheses world, everything is custom made to fit the individual," Fessler said. "In this case, we were able to use the same exact prosthesis for each student, even though they're different sizes. Everything is designed to be interchangeable. They put the prosthesis on, and they can use their other hand to change out the attachments or adjust the fit. It was designed so they can do it themselves."
The idea for the project was born when Cassie's music teacher, knowing Fessler had just gotten a 3-D printer for his class, emailed him to see if he could find a way to help her students. Immediately, Fessler thought of Nicholas, one of his star students.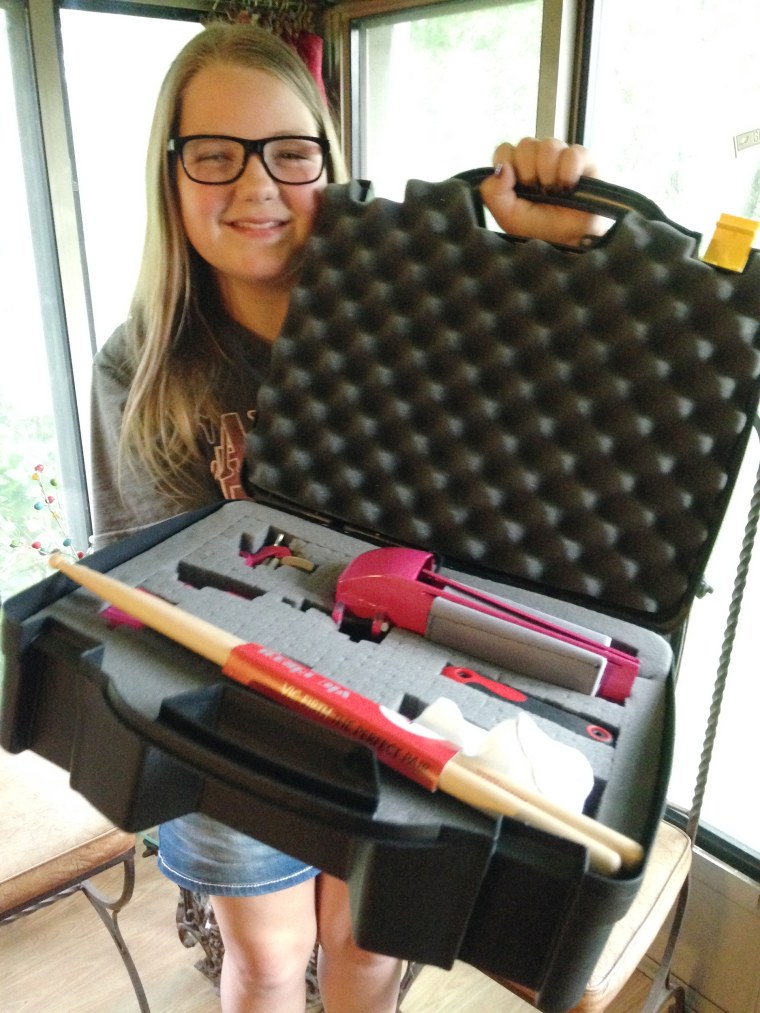 "He's really brilliant," Fessler said. "He just picks up on things really quickly, and he kind of ran through the curriculum. So I pitched it to him and he said it sounds great."
They worked together to find a solution for Cassie and the other student, Andrew Mindy. Coming up with the original idea was the hardest part, Nicholas told TODAY.
RELATED: This 10-year-old girl designed her own prosthetic arm — and it shoots sparkles!
"I had to get the idea of what to make," he said. "But the rest of it was just editing the idea and finding out what works."
He and Fessler created five prototypes using the 3-D printer.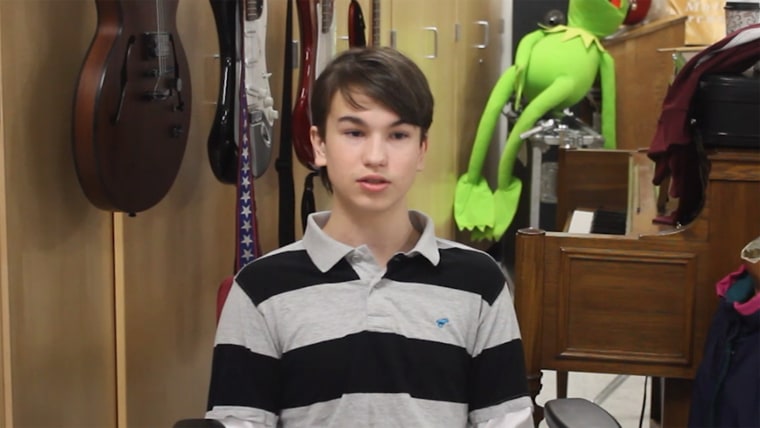 "Nick would update the drawings, test them on the computer, and then we would print the prototype, assemble it, test it and make improvements," Fessler said.
They presented Cassie and Andrew with the final products this week, on the last day of school.
"I was so glad they were able to use them and that it was actually working," Nicholas said. "They were really happy."
RELATED: Owner gives dog a prosthetic paw using old pair of sneakers
Of course, there's still a learning curve: The students have to learn how to play the instruments, after all. But that's the fun part, said Cassie, who will start seventh grade in the fall, and has all summer to practice.
"I'm most excited about the guitar," she said. "I think it's a really cool instrument and I want to play that."
"I'm grateful they did this for me," she added.