/ Source: TODAY contributor
In the quiet little town of Olar, S.C. (population: 250), it's the feel-good story of the year: Olivia Hartzog, age 4, was reunited with her beloved pet Mollie after the poor pooch was trapped overnight 33 feet down an abandoned well on the family property.
Olivia hugged her pet and playmate happily. "You're OK, you're OK! You're OK, Mollie, you're OK!" she cried in a taped segment shown Tuesday on TODAY.
That Mollie was indeed OK was due to fast, dedicated work on the part of Olar's volunteer fire department. Local firefighter-rescuer Dwight Williams — who had been certified less than a week before — made the disconcerting descent down the well to retrieve the Hartzogs' pet, putting a happy ending on what had been a frantic time for Mollie's owners.
Williams, Olivia, her dad, James Hartzog, and the dog of the hour herself appeared live via satellite from Columbia, S.C., to relate a story that could have been an episode of "The Andy Griffith Show" — but meant the world to one little girl.
Where's Mollie?
James Hartzog told Ann Curry he was amazed that Mollie was little the worse for wear after the rescue. "I was stunned," he said. "I was very grateful to Dwight for stepping up and doing the fine job he did, and was stunned that Mollie came out without so much as a limp."
Mollie, a beautiful German shorthaired pointer, was taken in by the Hartzogs, who believe she had been neglected. She quickly became an integral member of the family and gave them a special gift this fall — two puppies.
James Hartzog said he was going out to feed Mollie and her puppies last Thursday night when he discovered the dog was missing. But he could hear Mollie barking in the distance, and figured she was just engaging in her favorite pastime — chasing deer through the woods.
However, when Mollie didn't return home by morning, the family became concerned. Hartzog could still hear her barking, but it sounded like an echo. He went to investigate and found the poor dog had tumbled down a dry well on the property.
To the rescueHartzog told NBC affiliate WIS that daughter Olivia "loves that dog to death," which explains why her immediate response was: "Daddy, jump down the well and get her!" But Hartzog decided it was a job for the Olar Fire Department, which doesn't exactly have its phone ringing off the hook: It only received 60 calls last year.
But the Olar crew proved to be real pros, quickly converging on the Hartzog property and helping Williams climb down the deep hole and bring Mollie back up.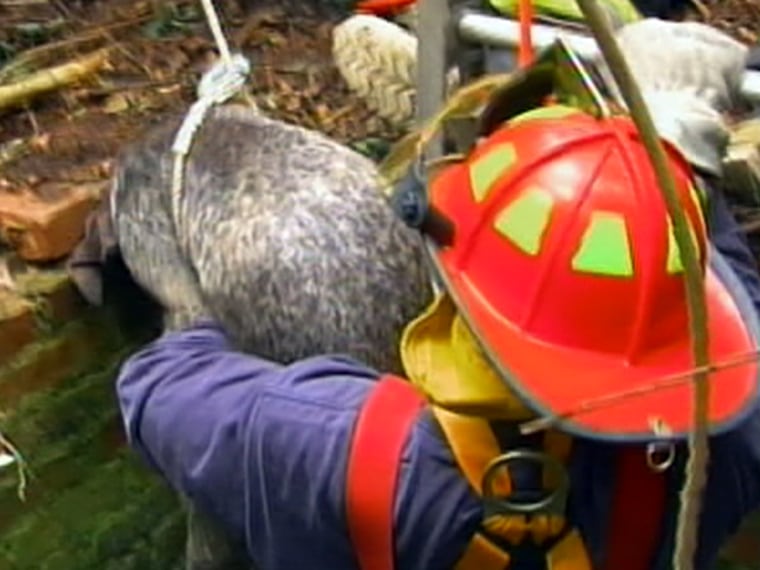 Still new to the job, Williams admitted to Curry that he approached his task with a little trepidation. "It was a little scary going down. I was concerned about snakes and whether or not the hole would collapse. But we made it down and made it out OK."
The heartwarming doggie-daughter reunion was captured live by a WIS camera crew. James Hartzog shouted, "Hey, little buddy!" as Mollie made her first, tentative steps.
Williams was all smiles as he gave an aw-shucks response to being called a hero. "We do more than fight fires — we do whatever is required of us, like going down in holes and rescuing dogs," he said with a chuckle.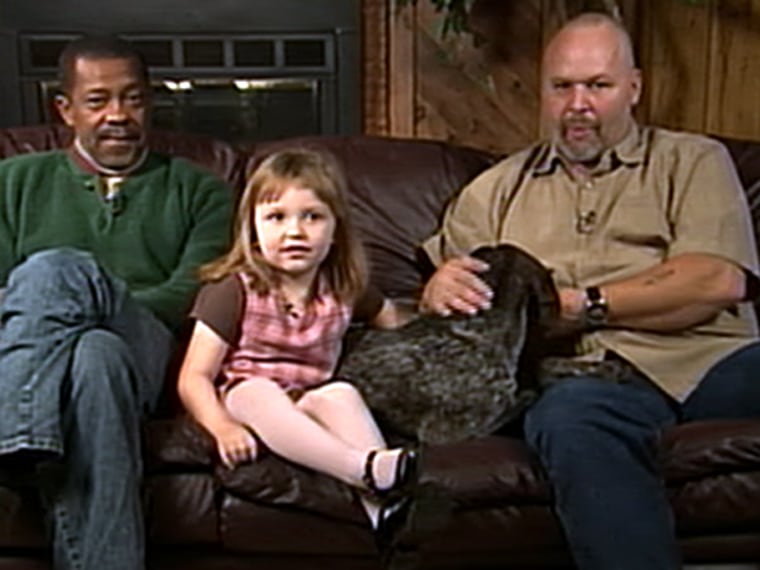 On TODAY, Olivia seemed more interested in her beloved Mollie than in giving an interview. Her father said that's just how it's been since she was reunited with her beloved pet. "Every chance she gets now, she wants to go pet Mollie and love on her and play with her — and her pups, of course."
Curry asked Hartzog whether he is now contemplating converting Molliie from a yard dog to a house pet.
"I think my daughter is talking me into that as we speak," Hartzog replied wryly.