Come Tuesday, June 5, the reunited Beach Boys drop their first new album in decades, "That's Why God Made the Radio." It's up for question whether this highly-anticipated album will connect with audiences beyond the band's fan base. But one thing is certain: when it comes to the "summer song," the Beach Boys set the standard for the genre with their early hits like "Surfer Girl," "I Get Around," and "California Girls," all of which charted when the weather was warm and the beach was the place to go (to paraphrase another of their summer hits, "Do It Again").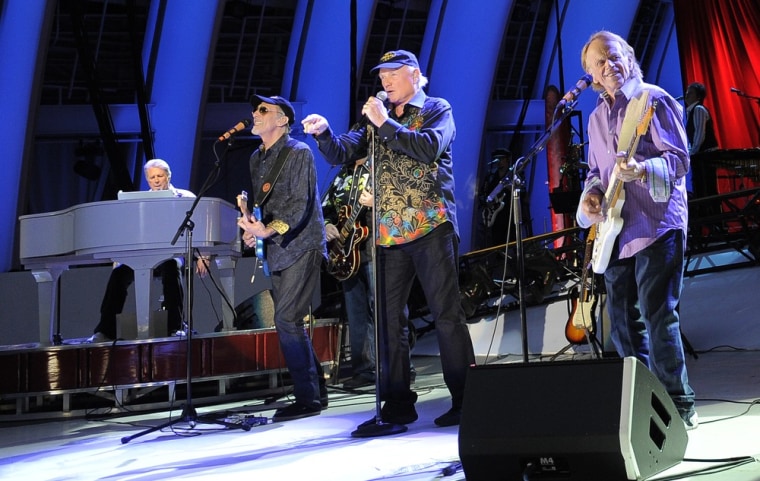 What, exactly, are summer songs? They're not necessarily songs about summer per se. Instead they're those catchy earwigs that capture the carefree mood of the season. Examples include last year's "Moves Like Jagger" by Maroon 5 and "Last Friday Night" by Katy Perry, "American Boy" by Estelle from 2008, and "Crazy" by Gnarls Barkley, from 2006.
The idea of pop songs themselves being "seasonal" is questionable -- as Andy Langer pointed out in a recent Esquire feature, Rihanna's summer smash "Umbrella" could have "peaked any given January and been just as ubiquitous." But after a song hits between May and September, that's not really the point. Even if the hit song in question is about Santa Claus, listeners will come to associate it with summer, and that's how the idea of the summer song comes about. It's just icing on the cake if the song is titled "Summer in the City" or "Summergirls."
So summer songs end up really being all about the memories with which we associate them: poolside parties with high school pals, short-lived jobs that are more fun to remember than they were to live through, romances that came to mean a lot as the years rolled on.
Everyone's idea of what constitutes the best summer songs is different. At Huffington Post, up-and-coming blue-eyed soul singer-songwriter Nate Larson recently compiled a list of his favorite summer songs. They include tunes as wide-ranging as Alice Cooper's "School's Out," Justin Timberlake's "Summer Love," and LMFAO's "Party Rock Anthem." Larson's inclusion of the 1972 song "School's Out" underscores the fact that what we consider our favorite summer songs don't even have to be current. They can be songs that were hits before we were even born, so long as we identify them with the season when they finally reach our ears.
As for this year's summer hits, the folks behind the mobile app Shazam have used it to compile user data to create a top 10 list predicting which songs will be big. The list includes tracks that may have already peaked (Gotye's "Somebody That I Used to Know," for example) but also a few that are creeping up already (Usher's "Scream," Maroon 5's "Payphone" and Alabama Shakes' "Hold On").
And while the title track from the Beach Boys' "That's Why God Made the Radio" didn't make the list, the group isn't likely to be forgotten once the temperature rises above 90 degrees. The band, which had splintered into factions over the past 15 years, patched up their differences and recently began a long tour to mark their 50th anniversary. Odds are they'll be performing something that virtually everyone associates with at least one summer of their own lives.
What song brings back your fondest summer memories? Which tunes would make up your summer soundtrack? Tell us on Facebook.
Related content: