After more than two years of painstaking repairs, the iconic U.S. Capitol dome is getting ready for its close-up.
Speaker of the House Paul Ryan and Architect of the Capitol Stephen Ayers gave NBC News's Peter Alexander an exclusive, up-close look at the unprecedented restoration of the dome in Washington, D.C., which remains partially shrouded by more than a million pounds of scaffolding.
Part of the scaffolding is expected to be taken down by July, with the scaffolding for the rotunda scheduled to be removed by August.
"I feel like this is a pretty good metaphor for what most people think of Washington,'' Alexander said on TODAY Wednesday. "It was broken."
"It was broken,'' Ryan replied. "No, that's right, the symbolism is not lost on me here. We had to repair this organization. We had to repair this place."
Built just after the Civil War, the Capitol dome needed a facelift for the first time in more than 50 years due to the ravages of weather and age. The goal is for the $124 million project to be completed by Jan. 20, 2017, which will be Inauguration Day for the next president.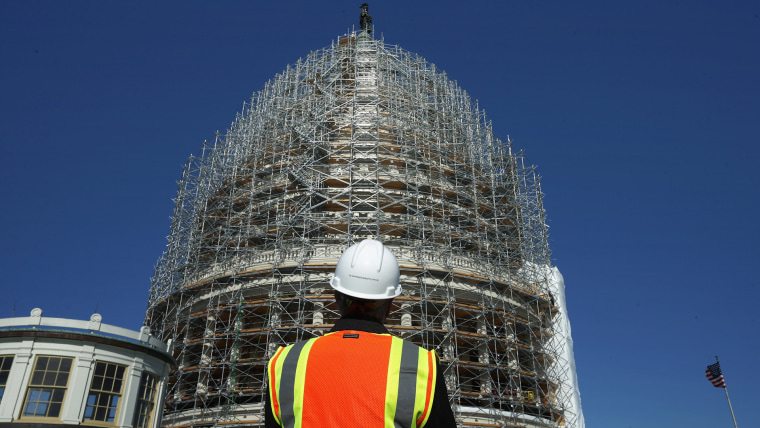 Speaking of the election, Ryan reiterated that he will not be running for president despite calls by some mainstream Republicans for him to accept the nomination if Donald Trump or Ted Cruz can't clinch it at a contested Republican convention.
WATCH: Speaker Paul Ryan rules out 2016 White House bid (over and over again)
"It's gonna be a new person, I can tell you that,'' Ryan said. "And it's not gonna be me. That's - to be very clear. Thank you."
Follow TODAY.com writer Scott Stump on Twitter.