She may just be one day old, but Poppy Louise Hager has already been living life to the fullest. She's quite the hot commodity in the Bush family.
RELATED: Jenna Bush Hager welcomes second daughter — named after George H.W.
The baby girl had some very special visitors who helped welcome her to the world — her grandparents, Laura and President George W. Bush.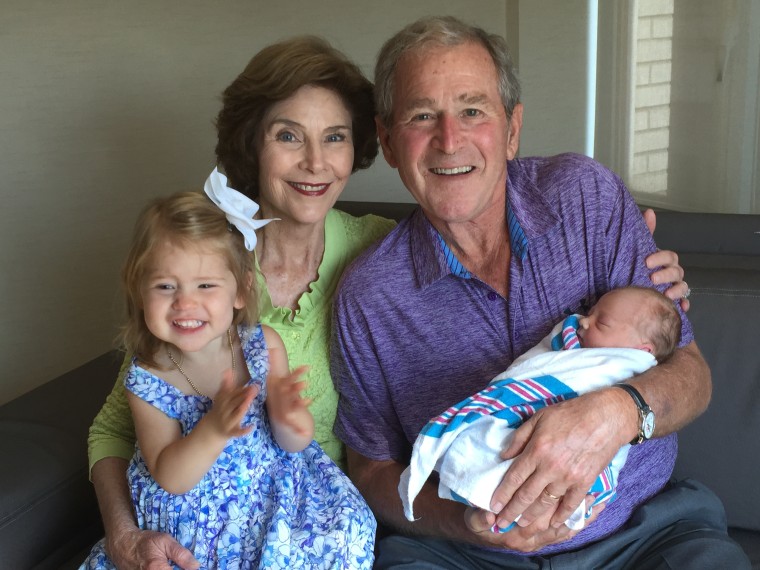 To celebrate the newest addition to the family, President Bush shared this absolutely adorable picture of he and Laura holding their now two granddaughters. Mila looks pretty excited about her new big-sister duties. It's a pleasantly different tune from earlier this week, when Jenna shared that Mila was questioning having to suddenly share things like her daddy with her new sister.
"Laura and I are overjoyed to meet our second grandchild today. Poppy Louise Hager entered the world yesterday in New York City, but we consider her an honorary Texan. Jenna and Henry chose her name as a tribute to her great-grandfather, 41, who was nicknamed Poppy as a child. We are grateful to God — and to Jenna and Henry — for this beautiful, healthy gift of life," said President Bush in a statement.
Perhaps we have a future Ms. President on the way with her name inspired by great-grandpa George H.W. Bush, the 41st president.
RELATED: Jenna Bush Hager tears up when Laura, Barbara Bush call on TODAY show
These grandparents couldn't be more excited about having one more grandchild to spoil, and of course, love, too! Let's hope grandpa George shares more precious photos as Poppy and Mila grow!