In between painting, writing books and hanging out with pal Michelle Obama, George W. Bush also has time to photobomb reporters on live television.
It sure beats the stress of being president.
The nation's 43rd president had people doing double takes on Wednesday night when he briefly popped onscreen and yelled "Hey!" as he walked behind Fox Sports Southwest's Emily Jones during a live report at the Texas Rangers game.
People loved their brief sighting of the former president.
It was the latest quirky moment loved by the internet for Bush, whose daughter, TODAY's Jenna Bush Hager, found out about it after having been on an airplane when it happened.
"Every time I land, I feel like my dad becomes another meme,'' Hager said on TODAY Thursday.
On President Trump's inauguration day in January, Bush's struggles to put on a rain poncho in the stands left people smiling and led to him being teased by Ellen DeGeneres.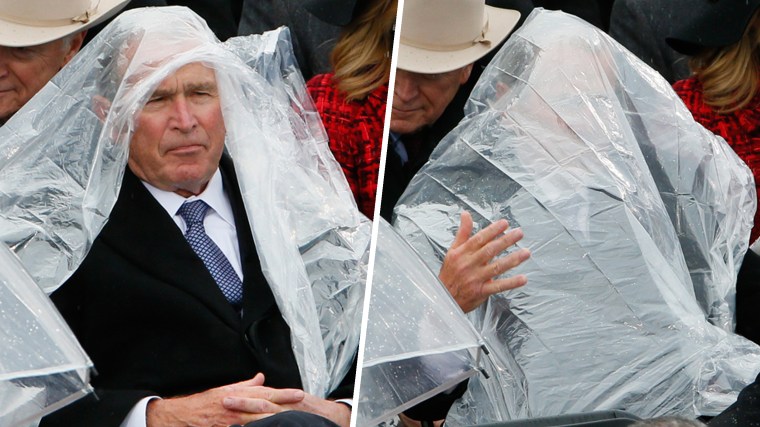 "At the inauguration, I was like, 'Be on your best behavior,' (and) there he is with the poncho,'' Hager said. "You can't take him anywhere."
He also was not aware of the sensation he caused at the Rangers game.
"I actually texted him and I go, 'Dad, photobomb somebody?''' Hager said. "He goes, 'What's a photobomb?' He had no idea. He was like, 'What do you mean? Did it happen at a baseball game?'''
Jones had no idea either, as she continued right through her report outside the dugout like a professional without missing a beat.
She is probably used to fans mugging for the camera behind her during games, but will savor this one.
It's no surprise Bush was hanging out at a Rangers game, considering he was a managing general partner of the team from 1989-1994 before becoming the governor of Texas.
Baseball is one of Bush's long-time passions, which in his post-presidency has been joined by painting. He also combined his love of painting and helping military veterans in his recent book "Portraits of Courage."
RELATED
Follow TODAY.com writer Scott Stump on Twitter.