It's déjà vu all over again.
During former President George H.W. Bush's funeral on Wednesday, his son, former President George W. Bush, appeared to hand former first lady Michelle Obama a mint or cough drop as he greeted President Trump and the other former presidents on hand.
The gesture harkens back to a similar moment at Sen. John McCain's funeral back in September, when Bush handed Obama a cough drop.
This time around, Bush leaned over a seat while exchanging pleasantries and appeared to make a point of giving Obama a mint or cough drop (or perhaps something else).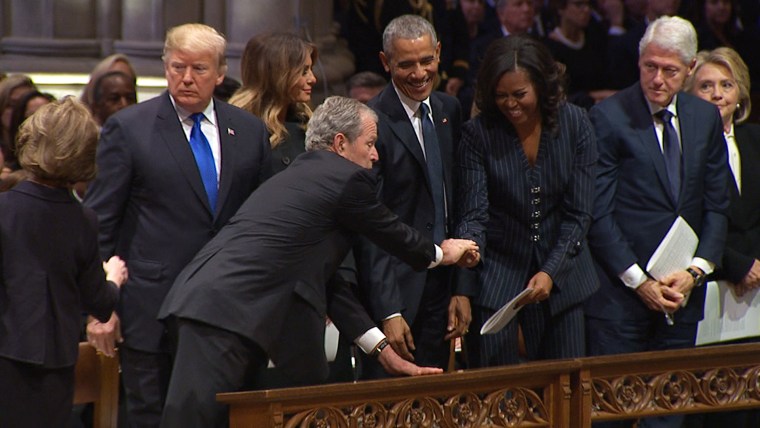 If you look closely, you can see Obama quietly smiled and chuckled.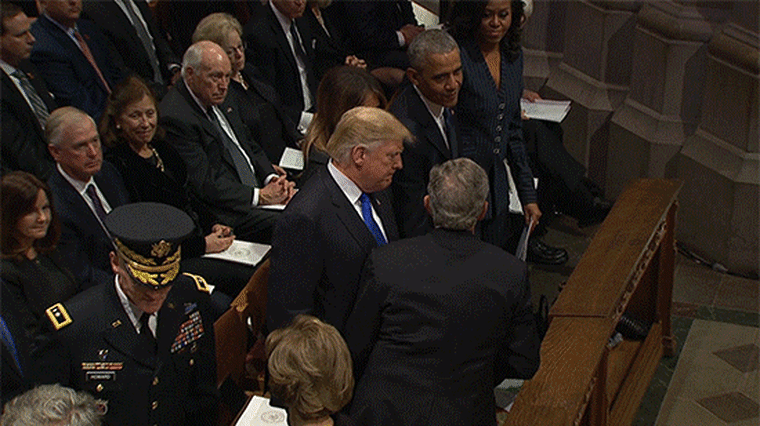 After Bush handed the cough drop to Obama at McCain's funeral, the moment went viral. The former first lady later explained to TODAY she and Bush have a special connection.
"President Bush and I, we are forever seatmates because of protocol, and that's how we sit at all the official functions," Obama said. "He's my partner in crime at every major thing where all the 'formers' gather. So we're together all the time."
Obama was at a loss as to why the cough drop incident resonated. "It was a simple gesture," she said. She noticed Bush was getting a cough drop from his wife, Laura, and, "I looked over and I said, 'Hand me a cough drop.'"