George W. Bush said goodbye to his father, George H.W. Bush, with a moving eulogy during a memorial for the former president on Wednesday at the National Cathedral in Washington.
Bush, the 43rd president, had a rare moment of public emotion at the end of his 12-minute speech while reflecting on his father's tight bond with his children, his love for his wife of 73 years, Barbara, and his enduring sadness over the loss of his daughter, Robin, in 1954.
"The best father a son or daughter can have,'' Bush said, his voice breaking. "And in our grief, let us smile knowing that dad is hugging Robin and holding mom's hand again."
Bush's eulogy came in front of an audience that included the four other living presidents and first ladies as well as a host of world leaders. The elder Bush died Friday at 94.
Recalling some of his father's enduring qualities, Bush called his father an empathic man who valued character over pedigree.
"He was no cynic," Bush said. "He looked for the good in every person, and he usually found it."
The elder Bush also "loved to laugh, especially at himself." He also had some well-known quirks, including his hatred of a certain vegetable.
"His short game (in golf) was lousy. He wasn't exactly Fred Astaire on the dance floor,'' Bush said. "The man couldn't stomach vegetables, especially broccoli. And by the way he passed these genetic defects along to us."
The late Bush's brushes with death, including being shot down over the Pacific as a Navy pilot during World War II, encouraged him to "live every day to the fullest," his son said.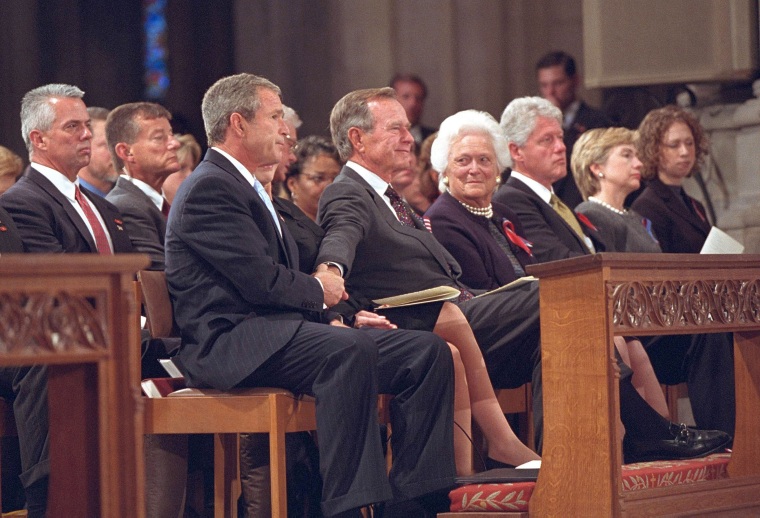 The elder Bush went skydiving on his 90th birthday near the family's home in Maine and loved to crank up the engines on his boat and take it out for a spin on the Atlantic, even into his mid-80s.
"Dad was always busy, a man in constant motion, but never too busy to share his life with those around him,'' Bush said.
The former vice president and onetime CIA chief had two speeds: "Full throttle and sleep," Bush added.
Presidential historian Jon Meacham, former Canadian Prime Minister Brian Mulroney and former Sen. Alan Simpson, of Wyoming, were the ceremony's other eulogists. Each spoke about Bush's humility, leadership qualities, sense of humor and loyalty as a friend.
Bush's granddaughter, TODAY correspondent Jenna Bush Hager, also took part in the memorial with a reading from the Book of Revelations.
In the days following his death, the younger Bush and siblings Jeb, Neil, Marvin and Dorothy remembered their father as "a man of the highest character and the best dad a son or daughter could ask for."
The two former presidents shared a heartwarming father-son bond that became tighter when the younger Bush was elected president in 2000. Both weathered the triumphs and criticism of the office.
In the final hours before his father's death, George W. Bush told him over speaker phone that he was a wonderful dad.
The elder Bush was able to say goodbye, offering George what would be his final words: "I love you, too."
Members of the public waited hours on Tuesday to pay their respects to the 41st president after his remains arrived in Washington, D.C. He is the first preside to lie in state since Gerald Ford in 2006.
The service in Washington will be followed by one on Thursday in Houston, where Bush lived, before he is laid to rest on the grounds of his presidential library at Texas A&M University.