A life teeming with schemes, scams, boozy scooter-riding — and even a shoulder-perched parrot — helped turn a Canadian man's obituary into a viral farewell letter laced with biting honesty, zany flashbacks and sweet humor.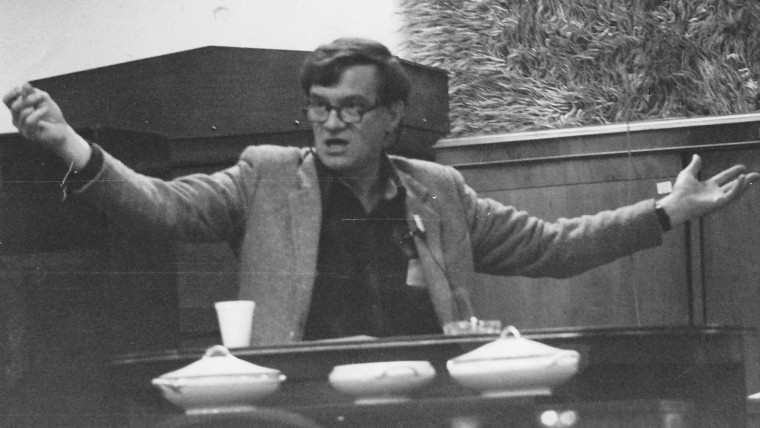 In the obit, George Ferguson's daughter Karen Shirley candidly describes her dad as a "small-time con-man," a regular Casanova who charmed women "into buying into his promises and dreams."

Sign up to have top pop-culture news sent directly to your inbox.
As a minister, he mesmerized churchgoers across western Canada with his sermons — though the obit reveals that "God's name rarely came up when George was flush." As a friend, he might put you squarely in the gun sights of angry cops, according to one anecdote.
And Ferguson, of Oak Bay, British Columbia, died just as he often lived — slipping away one day ahead of the debt collectors.
"What to say about George? Certainly, no one could accuse him of having been a loving son, brother, or father. He'd gladly have stolen the shirt off your back and he was generous to a fault with other people's money," the obit opens.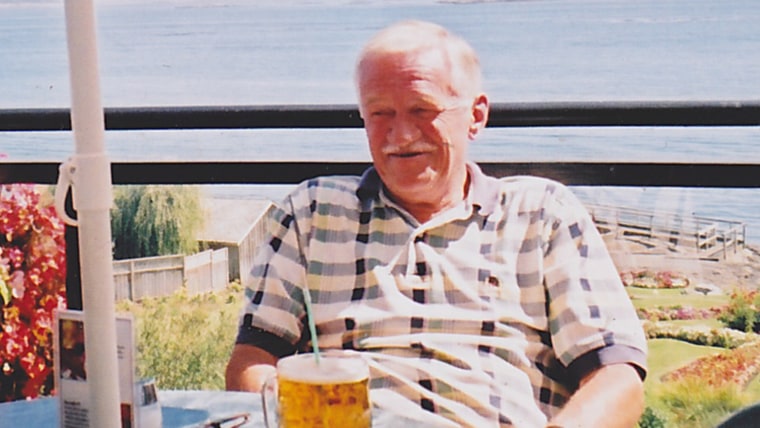 What else to say? Oh, so much. 

He once owned an antique store where he was known to wear a parrot on his shoulder. In later years, he traveled to and from his favorite bars "on his senior's scooter, which he drove as recklessly — and sometimes as drunkenly — as he had driven his cars in earlier years."
Colin Rayner, obituary writer at the Times Colonist newspaper in Victoria, British Columbia, said the obituary immediately stuck out.
"I see these come in day in, day out," Rayner said. "But when this one came in, right away I called over my colleagues and said, 'You have to read this! You have to read this!'"
Shirley told TODAY the death notice was entirely authentic.
"I wanted a true but positive picture of George out there," Shirley said, noting that she and her sister called their father "George," not "dad," to distance themselves from a man she described as "a dangerous person."
Part of the danger: He made several "fake suicide attempts" to "manipulate us into doing what he wanted," Shirley said. He also died owing debts that ran into the five figures, she said, caused by a life of irresponsibility, both in terms of his spending and his drinking. "God, he sure lived longer than he should have," Shirley said. "After what he did to that body? But it sure makes me optimistic about mine." 
Ferguson's quirky death notice quickly spread, both among those who knew him and then beyond.
"That obituary is going all over like wildfire," said former neighbor Barb DeBaie. "By freak chance, a co-worker forwarded it to me, saying ''You've got to read this — it's crazy!' When I read it and as soon as I saw the photo, I went, 'I know him!' I was laughing. I didn't believe it."

Related story: Light-hearted obits more than a passing fancy, say families of 2013's funniest dead
DeBai recalls meeting Ferguson in the late 1990s. "He used to look out his living room window on Sunday mornings with a stiff drink in his hand, like he was high in his pupit," she said. "It was sweet. He was kind to us. And very eccentric." 
Shirley was with her father on June 30 when he died, of a gastric bleed, and said that, in a sense, he chose when to depart. He told her from his hospital bed that he was "checking out." 
"He was completely calm and committed to the decision," she wrote in the obituary. "The next day, we brought in some beer, toasted his life with him, drank with him, and helped him to make several thoughtful good-bye phone calls. He reminisced a bit and gave us a few unhelpful instructions. He died without pain the next evening ... with his wits about him and a light heart.
"Turns out, his timing was impeccable: the next day we found out that he had been racking up ominous bank and credit card debts … Perhaps George felt cornered. Perhaps he thought that, under his present circumstances, dying was the only way out. Whatever the story, no one can deny that George made his final exit with style and grace."