Nearly seven years after the death of University of Virginia lacrosse player Yeardley Love at the hands of former boyfriend George Huguely, his mother is speaking out for the first time about the case and his life in prison.
In 2010, Love was found dead in her apartment after being attacked by an intoxicated Huguely, who broke down her bedroom door and slammed her head against a wall, a jury heard.
A jury found Huguely guilty of second degree murder, and he was sentenced to 23 years in prison in 2012. The case that put a spotlight on domestic abuse on college campuses.
Janet Shamlian spoke with Huguely's mother, Marta Murphy, as part of TODAY's "True Crime" series.
"Every day, it's right here, all the time," Murphy said of the sorrow she feels. "It doesn't leave you. This kind of sadness, and I can imagine for Sharon Love (Yeardley's mother), it's even more so."
Murphy lamented the loss in both families.
"I know there's nothing that compares to what (the Loves) are suffering," she said. "I have only sorrow and pain for them. I don't have words to describe the loss of her life, and I'm so sad and sorry that Yeardley's gone."
RELATED: Inside the lives of the Menendez brothers, 27 years after lurid crime
Murphy said she decided to come forward because she feels her son should have been convicted on the lesser charge of involuntary manslaughter, labeling Love's death a "drunken accident."
"I never spoke out initially out of respect for the Love family, and secondly, because...I believed our criminal justice system works and the criminal just system gets it right, but it doesn't always get it right,'' she said.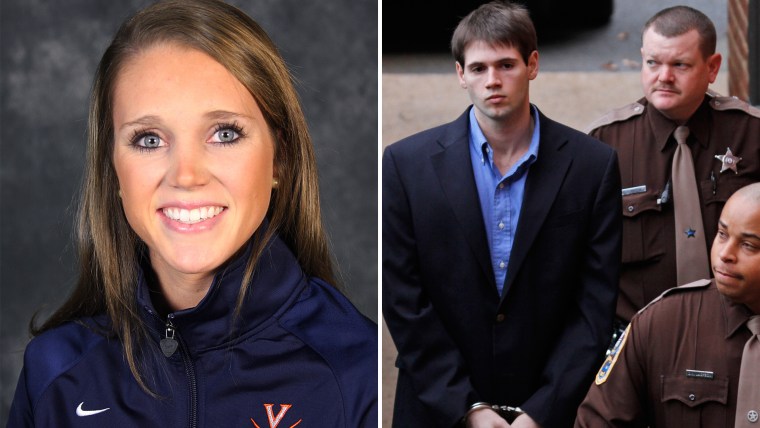 During the trial, Huguely admitted to grabbing Love by the neck but claimed he did not choke her. His lawyers argued that he was very drunk on the night of the murder and could not have plotted to kill her.
His attorneys also disputed the prosecution's assertion that Love died of blunt force trauma after having her head repeatedly slammed into a wall. Murphy believes her injuries came from the two of them falling off the bed.
RELATED: Andrea Yates still 'grieves for her children' 15 years after her shocking crime
"He had absolutely no intent to hurt Yeardley,'' she said. "Yeardley was his best friend."
Prosecutor Dave Chapman argued during the trial that Huguely had shown a pattern of violence against Love in the two years the pair of lacrosse players dated, including an email that read, "I should've killed you."
Huguely's attorney appealed the case all the way to the Supreme Court, which refused to hear the case in 2015.
Huguely, 29, is currently incarcerated at the Augusta Correctional Center in Craigsville, Virginia. He has a roommate in a pod of about 50 inmates and a job wiping down tables in the common area, his mom said.
He also is working to finish his college degree through a University of Ohio correctional program.
RELATED: 'Preppy Killer' case: 30 years later, victim's mom says she doesn't want apology
"He's lost two grandparents since he's been incarcerated,'' Murphy said. "My parents are still alive, and I always hope that maybe they might be able to see him."
Meanwhile, the Love family started the One Love Foundation a year after her death to work with young people across the country on raising awareness of the signs of abuse.
"I know he did kill her,'' Sharon Love told NBC 29 in Charlottesville. "I know he did. I can't imagine anybody who would even do anything harmful to Yeardley. I don't know what was in his head. I just know he did it, and he killed her."
Follow TODAY.com writer Scott Stump on Twitter.