George H.W. Bush honored his late wife at her funeral on Saturday with a sweet and subtle accessory.
The former president arrived at St. Martin's Episcopal Church in Houston, where services took place before former first lady Barbara Bush was laid to rest, wearing a pair of colorful socks with books on them in honor of her lifelong commitment to family literacy.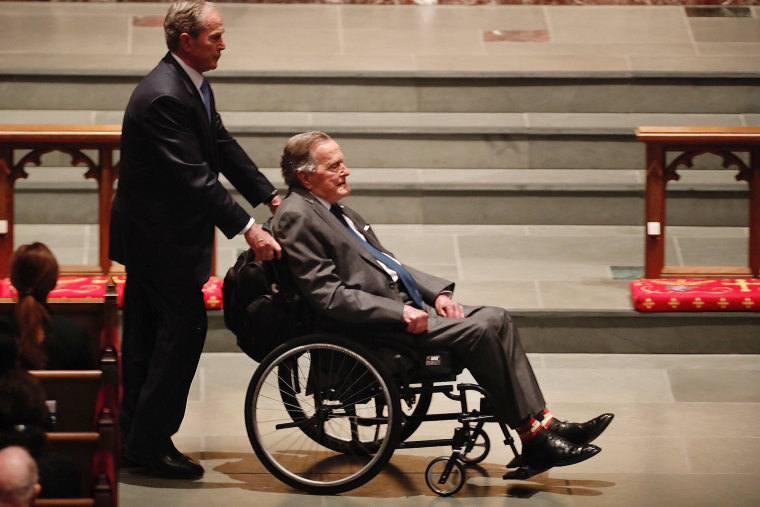 "[George H.W. Bush] will be wearing a pair of socks festooned with books at today's funeral service for former First Lady Barbara Bush," Bush's spokesperson Jim McGrath tweeted Saturday morning, noting that she raised more than $110 million for literacy over the past 30 years.
Bush's affinity for playful socks has been well-documented over the years. The 93-year-old has been known for donning brightly-colored or patterned socks in even the most formal of settings. He declared himself a "sock man" in a 2012 TODAY interview, and Bill Clinton even gifted Bush a pair of socks in 2017.
Barbara Bush leaves a lasting legacy as an influential champion of literacy. She founded the Barbara Bush Foundation for Family Literacy in 1989, and has since been a passionate advocate for reading and writing.
Her son and former President George W. Bush called his mother "a woman unlike any other who brought levity, love, and literacy to millions." Fellow former President Jimmy Carter and his wife, Rosalynn, said "countless families now have the knowledge and skills they need to thrive in all aspects of their lives" due to her efforts.
Barbara Bush died Tuesday at age 92. She was laid to rest at George Bush Presidential Library at College Station, Texas, near the Bush's 3-year-old daughter, Robin, who died of leukemia in 1953.
"I always knew Barbara was the most beloved woman in the world, and in fact I used to tease her that I had a complex about that fact," her husband wrote in a statement Wednesday. "We have faith she is in heaven, and we know life will go on — as she would have it. So cross the Bushes off your worry list."