Former President George H. W. Bush made headlines earlier this week when he shaved his head in support of a little boy battling leukemia.
Touched by 2-year-old Patrick, the son of a member of his Secret Service detail, Bush was inspired to make a decision that surprised even those closest to him: He went bald.
"A lot of the agents shaved their head," Bush, 89, told granddaughter and TODAY contributing correspondent Jenna Bush Hager at his house in Kennebunkport, Maine. "I said, 'Well why not me?' It was the right thing to do."
The picture of Patrick sitting on the bald former president's lap has gone viral.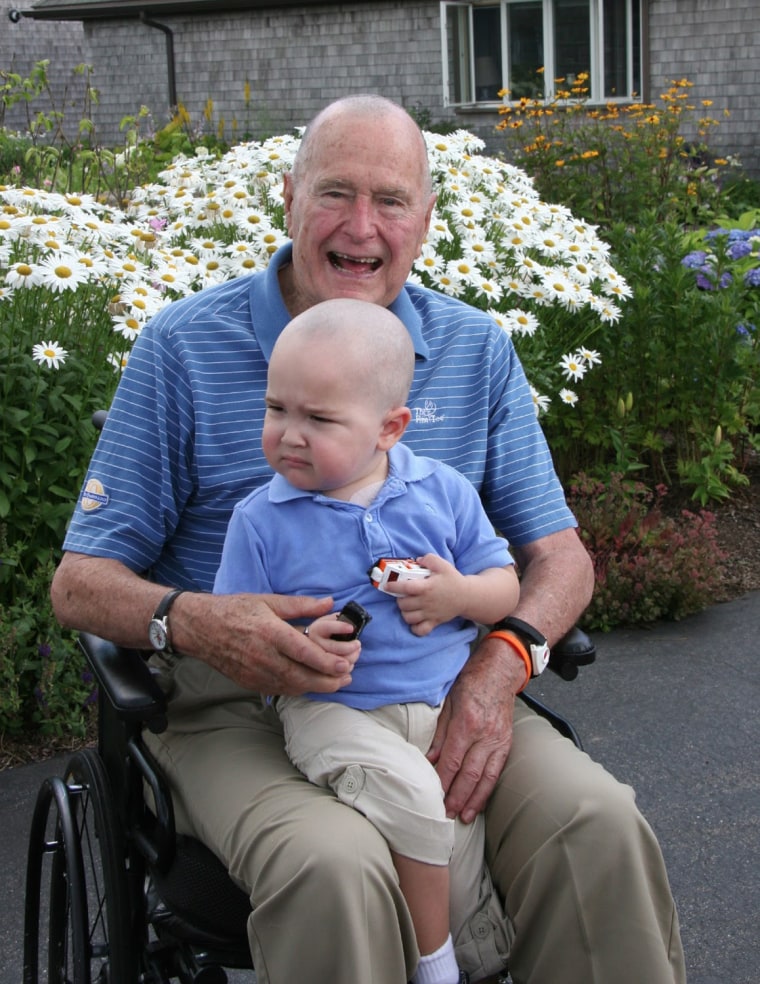 Bush joined more than 20 Secret Service men in his unit in the act of solidarity.
"They're a wonderful group of people," Bush said. "They're like family with us."
Secret Service members cannot speak publicly, but their actions speak volumes. When Patrick's mother, Alexandra, saw the group, she wept.
She and Patrick's father, Jon, have released a statement in response to the gesture. (Their last names were withheld at the family's request.)
"We are humbled and honored by the support and generosity that President and Mrs. Bush and our Secret Service family have shown towards our son... and are so very grateful for the outpouring of love and support from all over the country."
Mrs. Bush was moved when she saw her husband's new 'do, too.
"I was shocked, surprised and thrilled," she said. "But I think he looks beautiful and looks younger."
Patrick's struggle is deeply personal for the Bushes, who lost their daughter, Robin, to leukemia when she was just 3 years old.
Bush recalls that his daughter used to say to him, "I love you more than tongue can tell."
"He always answered, 'I love you more'," Mrs. Bush told Jenna.
To further the effort to help Patrick, the servicemen have set up a website, Patrick's Pals, to raise money for his treatment.