In the three years since a gunman shot her in the head at point blank range, Gabrielle Giffords has had to learn how to talk and walk again, never mind give up her dream job of representing the country.
In the process, she has inspired a nation, becoming a symbol of hope and, at times, political unity.
Wednesday marked the third anniversary of the mass shooting that killed six people and wounded Giffords and 12 others. The former House Democrat from Tucson, Ariz., observed the day with a high-flying embrace of life: She went skydiving.
These days, in addition to continuing her extensive rehabilitation therapy, Giffords joins her husband, former astronaut Mark Kelly, in running a national political organization that focuses on curbing gun violence.
Here are some of Giffords' most inspirational moments over the remarkable three years past:
Giffords casts her first House vote since getting shot. On Aug. 1, 2011, Giffords made a dramatic return to Congress, her first public appearance since getting shot. 
Her entrance on the House floor surprised her colleagues, nearly all of whom did not expect to see her for the vote on a bill to raise the nation's debt ceiling — one of the most contentious issues of that year. "The #Capitol looks beautiful and I am honored to be at work tonight," she said in a tweet.

Giffords resigns from Congress. On Jan. 24, 2012, Giffords arrived on the House floor to hear President Obama deliver the State of the Union address. She received a standing ovation and moved her fellow lawmakers to tears as she made her way and took her seat among the Arizona delegation. 
The following day, the waterworks flowed again as she formally stepped down from office. In the resignation letter she delivered to teary-eyed House Speaker John Boehner, Giffords said she had "more work to do on my recovery before I can again serve in elected office." She also said that while she didn't remember much from the day she got shot, "I have never forgotten my constituents, my colleagues or the millions of Americans with whom I share great hopes for this nation."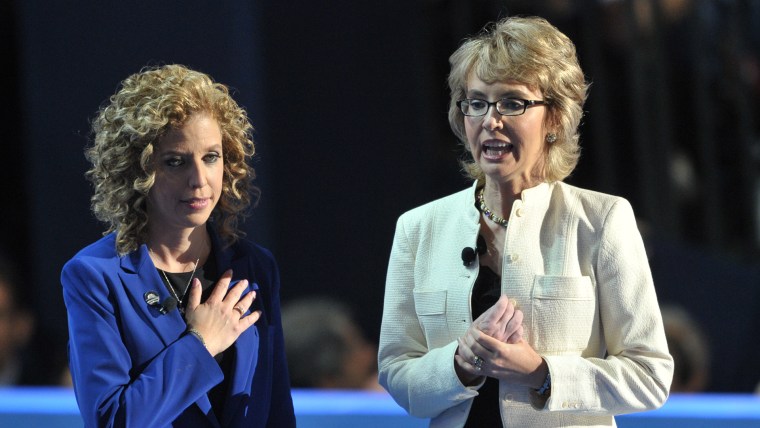 Leading the Pledge of Allegiance. Although her name was never listed on the schedule for the 2012 Democratic National Convention in Charlotte, N.C., Giffords had a starring role one night during that weeklong meeting of the party faithful. She walked onto stage on Sept. 6, 2012, with the backup of DNC chairwoman (and personal friend) Debbie Wasserman Schultz of Florida. Giffords then delivered the Pledge of Allegiance, which was followed by an eruption by cheers of "Gabby! Gabby!" as she left the stage.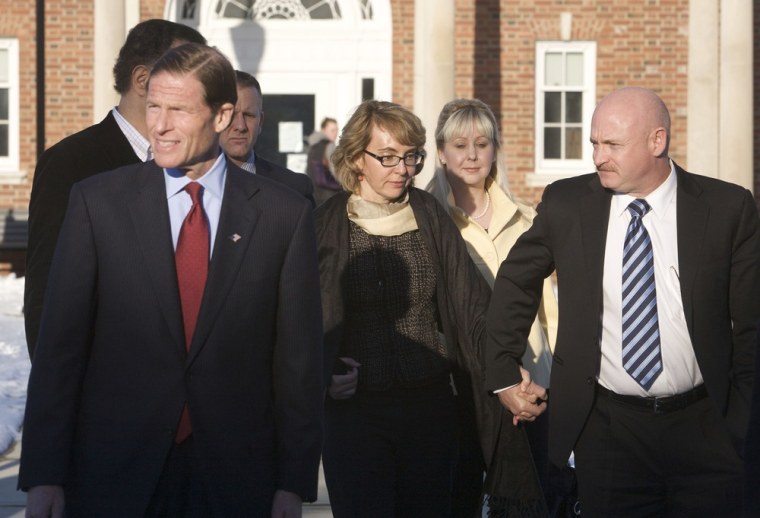 Meeting with families and officials in Newtown, Conn. Weeks after the Sandy Hook Elementary School massacre, Giffords arrived in Newtown on Jan. 4, 2013, to meet with town officials and privately console the heartbroken families of victims. Giffords spoke to everyone from the heart with a rare perspective — personal experience.
A leap of faith. Giffords decided to commemorate the third anniversary of the shooting that nearly cost her life with a death-defying leap of faith: She decided to go skydiving to celebrate all the work and progress she has made in her recovery. 
TODAY's Savannah Guthrie, who accompanied Giffords on the jump, called her "an incredibly brave person." Vice President Joe Biden agreed, giving her a call Wednesday to wish her luck before the jump. 
A look at the Arizona lawmaker's rise to prominence — from high school to Capitol Hill.