Gabrielle Giffords couldn't help but see beauty as she took to the skies to mark the third anniversary of the mass shooting that left a bullet in her head and six people dead.
"Oh, wonderful sky. Gorgeous mountain. Blue skies. I like a lot," she told TODAY's Savannah Guthrie on Thursday in an exclusive interview about her skydiving adventure. "A lot of fun. Peaceful, so peaceful."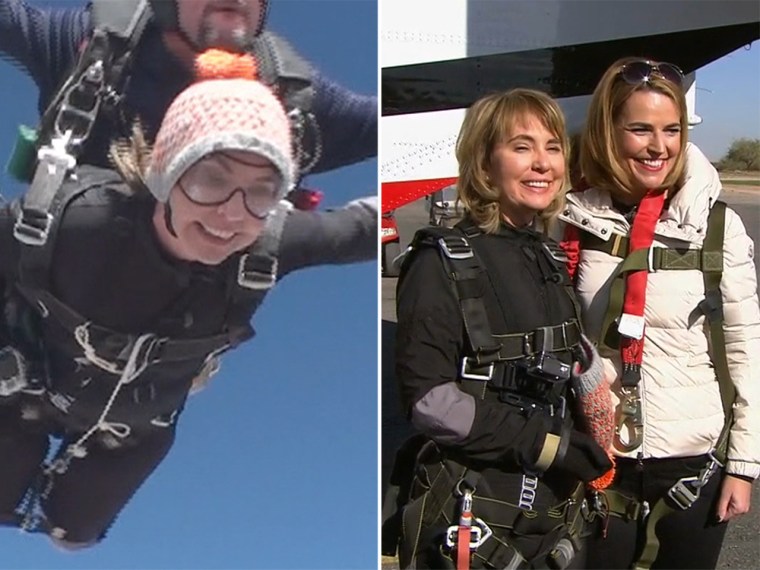 Giffords, the former House Democrat from Arizona who was gunned down with 18 others, six of them fatally, said the jump Wednesday was her way to tell everyone what mattered.
"I'm alive," she said.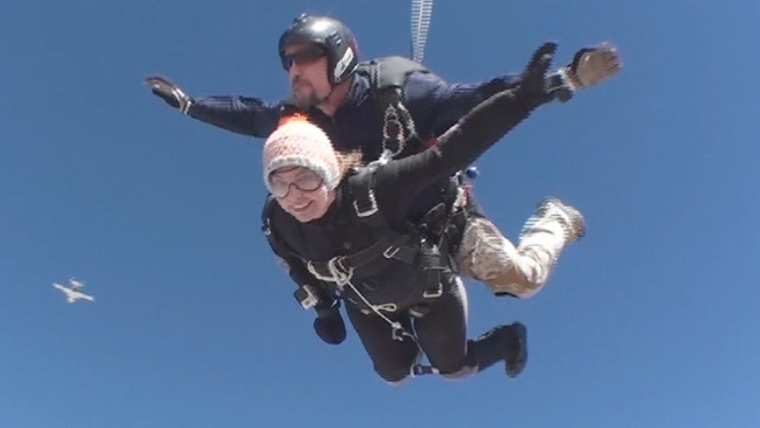 Her pluck was noted by Vice President Joe Biden, who called Giffords just before she made the jump in the Tucson, Arizona desert.
"I tell you what. You've got more spunk, as my mother would say, than the 10 best people I know," he told her.
That spunk has helped her deal with severe injuries, including paralysis on much of the right side of her body, and the loss of her once eloquent speaking ability that she used passionately on the House floor. She also has dealt with memories of staff members and former constituents who lost their lives in the shooting, including a nine-year-old girl.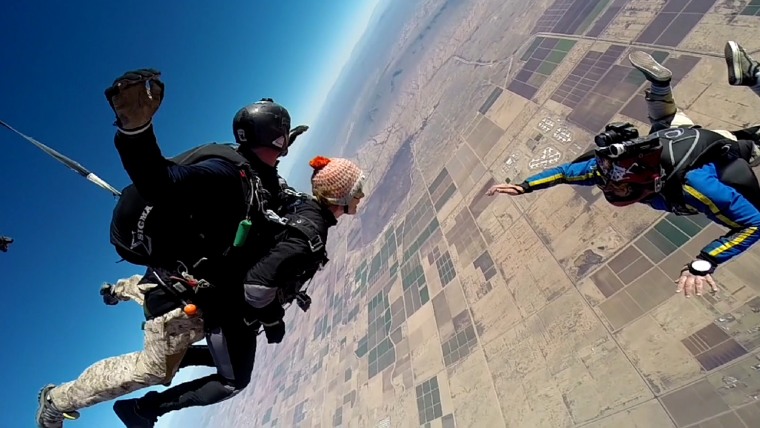 Three years later, after extensive rehabilitation therapy, Giffords has been inspired by tiny triumphs and major milestones, including the small movements in her once completely paralyzed right arm.
"When Gabbie's laying down, she can take it from here to here," said her husband, former astronaut Mark Kelly. "But just like skydiving, gravity is working on her arm right now. And so at night, when she's relaxed, she can move it up and down."
That small movement was once unthinkable. But more frustrating than losing control of her body is her ability to find her words.
"Oh, awful. Oh, awful," she said. "Hard words. So slowly. A little bit slowly. Little bit slowly."
But that hasn't stopped her from achieving ambitious goals she has set for herself.
"Spanish," said the once-fluent Giffords with a laugh. "Yeah, Spanish. Fluent. Fluent."
She also has another objective: "The French horn."
Read more: Gabby Giffords' most inspiring moments

That's because three years after the tragedy that nearly killed her, Giffords wants her voice heard in every way possible. Last year, she traveled the country and headed back to Congress to push for enhanced background checks for gun owners. She believes the heightened effort might help curb senseless shootings like the one that nearly cost her life.
Giffords said she was discouraged by the lack of progress on gun control legislation in Congress.
"So sad. So awful," she said. "The worst ... Congress. The worst."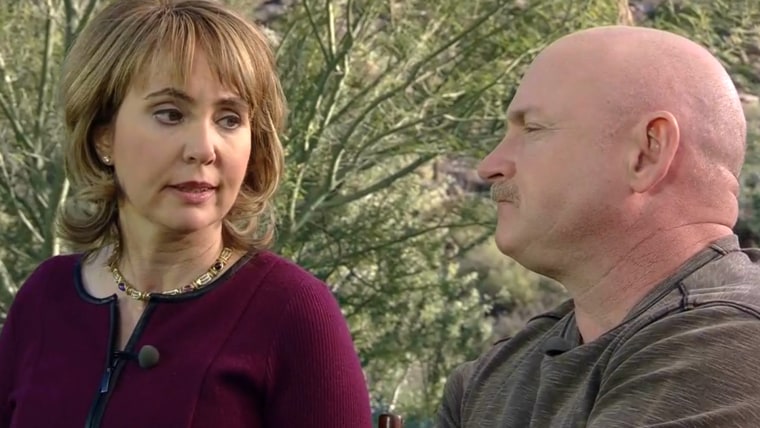 Those who know Giffords say her desire to take a skydiving trip didn't surprise them. Her friend and former Navy Seal Jimmy Hatch was her tandem partner for her first plane jump in 2009. He said skydiving is a way for Giffords to express through actions what has become difficult to express in words.
"I think her spirit is incredible and that you can see it, in spite of the way she can communicate now, and I think it's a limitation on us that we can't really grasp it," he said. "It's not really her limitation."
Her mother, Gloria Giffords, said her daughter always has been fearless.
"Ever since she was a little kid. I mean this is a child that got on a horse and jumped over jumps, you know. Climbed up and down the Grand Canyon," she said.
Back home in Tucson, Giffords continues with her therapy. These days, recovering is her full-time job. Asked whether she wants to return to office one day, Giffords said that's an issue to consider in the future.
"A little bit later. Little bit later," she said. "Maybe. Maybe."
But her outlook continues to improve and optimism abounds. 
"Pretty good," she said, even singing a song illustrating her attitude.
"The sun'll come out tomorrow...."