/ Source: TODAY contributor
When a Massachusetts church recently determined that it needed to raise about $30,000, 12 male congregation members ranging in age from 64 to 87 went along with an unorthodox idea to come up with the cash.
Let's get naked.
The First Parish Celebration 2012 calendar that is currently on sale for $15 on fpfcalendar.com features 12 of the church's oldest male members in the buff — posed in tasteful settings with strategically placed props, mind you. In addition to selling the calendars to raise money and have fun, the members of First Parish Unitarian Universalist Church in Framingham, Mass., also had another motive.
"I think in this society, the young, smooth, curvaceous body is looked upon with great favor and pleasure, but I think the older aging body has its own elegance,'' said Holly Hollerorth, an 87-year-old retired minister who is "Mr. June.'' "I think of my own aging body, and I think 'What a marvel.' ''
"We said it was time for the public to realize and celebrate older men as a counterpoint to this youth culture we live in,'' said Eva Benda, the marketing coordinator for the calendar. "The aging body is beautiful in all its forms.''
Calendar guys
A brief biography along with the name and age of each man is included with the photo for each month in the calendar. The poses also relate to the personal interests or history of each subject. For instance, Hollerorth is shown in front of his fireplace in his home next to a painting of residential Venice, with a Venetian glass sitting on the mantel. Hollerorth and his late wife visited Venice 13 times.
"I felt very comfortable,'' he said. "I removed my clothing, and it felt natural to me.''
Professional photographer Lynne Damianos, a church member, did the photo shoot.
"They had fun with it,'' Damianos said. "They weren't nervous, and once one of them signed on, it was like a snowball going downhill. We're all members of the church, and they trust me.''
John Hutchins, "Mr. May," even had his photo shoot outside his home in broad daylight as traffic was going by.
"It was all very PG,'' Damianos said before laughing. "Someone wouldn't have wrecked their vehicle driving by if they saw it.''
"It was a little unusual and the first time I've done anything like that,'' Hutchins said. "Luckily my neighbors were at work and I'm a retired guy, so I could do something like that. It was a fun day, and I was able to get back to nature, I guess.''
(Mostly) positive reactions
The reaction to the calendar has been generally positive and lighthearted, though there are some corners of the blogosphere that have not approved of a religious organization producing this kind of item."I think people get it because it's kind of fun,'' Benda said. "We've also seen some blog sites from the far-right evangelicals, and it's like, 'Wow, where do those statements come from?' But on the whole, the reaction has been really positive.''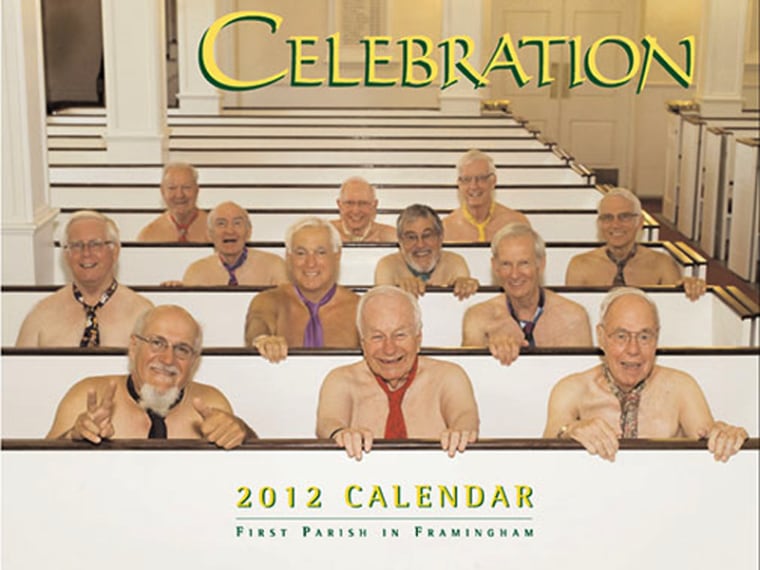 "My wife is still on the iffy side, but the kids are all great about it,'' Hutchins said. "A lot of friends are people from church, and they're all referring to me only as 'Mr. May.' ''
The calendar may have even gained the church a new member as a woman stood up during a service on Sunday and said she had come out of sheer curiosity after seeing the calendar because "she wanted to see what this church is all about,'' according to Benda.
Walt Barker, 81, who is "Mr. November,'' said his 29-year-old grandson got a laugh out of it after receiving a copy of the calendar. The reaction has been mixed for Hollerorth and others.
"There are some who are very appreciative and they understand why I did it, some who think it must have been fun and good for laughs, and others that have looked askance at it and wondered what I'm up to now,'' Hollerorth said.
"The mother of my significant other is a very conservative Catholic who said she didn't like it and was upset,'' Damianos said. "My gentleman friend said to her, 'You don't want an autographed calendar, then?' She says, 'Oh yeah, I want one. I'll just draw extra clothing on them!' ''
This is the second calendar featuring members of the church in the nude, as 12 female members ranging from their 60s to their 80s participated in a calendar that was shot in 2005 and sold in 2006.
"It seemed a little bit unusual for a church to do something like this,'' Damianos said. "My clients are typically business clients, so I was nervous when I first shot the women because I was worried about my clients' reaction. There's always going to be a few people who might say something, but we're just trying to do tasteful work for a good cause, celebrate the human body and have fun.''
The women's calendar raised $26,000, according to Damianos, and sold out in three months. The men's calendar is hoping to raise $29,000. Through Tuesday, the church had already sold 100 of them online and another 100 overall, which is about 10 percent of the total inventory, according to Benda. The official kickoff for the calendar was on Tuesday, and there also is an event on Nov. 5 at the Amazing Things Arts Center in Framingham.
"We're all waiting to see how it does, and there's a certain amount of competitive spirit there with the women,'' Hutchins said.
Now that both genders have been able to flaunt their bodies in a calendar, what will happen the next time the church needs to raise money quickly?
"People ask me what the next project is going to be,'' Damianos said. "I don't know yet, but the gears are turning.''
"I don't know if I'll do any more,'' a laughing Barker said. "I'm probably one and done.''
For more information about the  First Parish Celebration 2012 calendar, click here.