One of the three American heroes who helped thwart a heavily armed gunman on a passenger train in France last month said he'd like to think others in his position would have done the same thing.
"I don't think I'm any different than the average American. When people are faced with this situation, I feel like it is a choice. Like, you think, 'Should I do something or should I go hide?' And I just want everybody to know that they should do something," Anthony Sadler, a college student from California, told NBC's Lester Holt in an exclusive interview.
Sadler was traveling with his longtime friends, Oregon National Guardsman Aleksander Skarlatos and U.S. Airman Spencer Stone, when they helped take down alleged gunman Ayoub El-Khazzani, 26, on an Amsterdam-to-Paris train on Aug. 22.
RELATED: Spencer Stone should be called 'Captain America,' commander says
"Me and Spencer and Alek have grown up talking about these kinds of things — what we would do in those situations. And we always said we would've acted. But you never know until it happens."
Sadler said he and his friends were asleep when the sound of a gunshot and breaking glass woke them up. A train employee sped by down the aisle and suddenly, he saw the gunman enter the train car.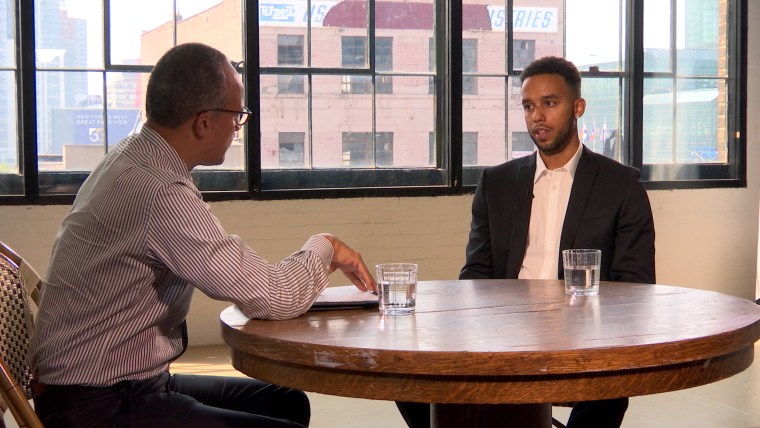 "Spencer was first, and I saw him make it to the gunman, I was like, 'Okay, so we have a chance now.' Once he got there, we followed up, about a few seconds later," he said. "And then we just did whatever we could to disarm him."
It was only days later did Sadler start realizing the danger he put himself in.
"I've kind of laid down and kind of thought just how easily things could have gone the other way. When we actually got up to rush him, he did fire it at Spencer. But it just never went off," he said. "So the whole time I'm kind of expecting a gunshot to go off, but it just never came."
The three American friends, along with another man who helped, British businessman Chris Norman, were awarded France's Legion d'Honneur, the nation's highest honor, by French President Francois Hollande for their heroism.
"It's pretty surreal. I was just out of the country for the first time, trying to experience things," Sadler said. "And now I'm a hero in another country. It's pretty crazy to think about."
Follow TODAY.com writer Eun Kyung Kim on Twitter.