From humble beginnings to hip hop superstardom, 50 Cent transformed himself and his career through his force of will and positive thinking. In "Formula 50," he presents an agenda for getting in shape that's as equally uncompromising. Here's an excerpt.Introduction
I lost a lot of weight in 2010, when I took a role in a movie called All Things Fall Apart, playing the part of a cancer-stricken football player who would lose 60 pounds because of his illness. Scaling down from my usual 215 would mean running 15 miles not once but twice a day and surviving on a liquid diet for 10 weeks. Folks in my inner circle said I was crazy. They know I love to eat and didn't want to have to deal with me hungry. But sometimes you just have to challenge yourself.
Folks who know me best call me "The Machine." I may have gained fame singing about sipping Bacardi and hanging out in the club, but truthfully, my greatest vice is overwork. I go hard all the time and thrive off being strong, being successful, being fit and ultimately being the best version of Curtis Jackson that I can be. Why? Coming up hard the way I did, I used to equate success purely with dollars. After Get Rich or Die Trying, I bought Mike Tyson's house in Connecticut on the spot. That was my confirmation of success. I walked into the house and was like: I can buy this? I wanted it not because I needed it, but because I could have it. So I moved out of a room in a basement to a 55,000-square-foot mansion with swimming pools.
I still get a rush off money, but I now realize it can serve a higher purpose: helping others. But unless you are physically strong and mentally tough, you can't go out and make that money to enjoy it with the ones you love, or for whatever purpose you have in mind. Besides, I just love winning.
In The 50th Law, which I wrote with Robert Greene, I taught readers the ten laws of strategy and success. Those laws have made me who I am today. Ultimately, the message boiled down to my essential creed: "Fear Nothing." The book sold well, but I am even prouder of how it changed lives. I decided that every book I write should do the same—change people's lives in some way. That's certainly true of the book you're reading now.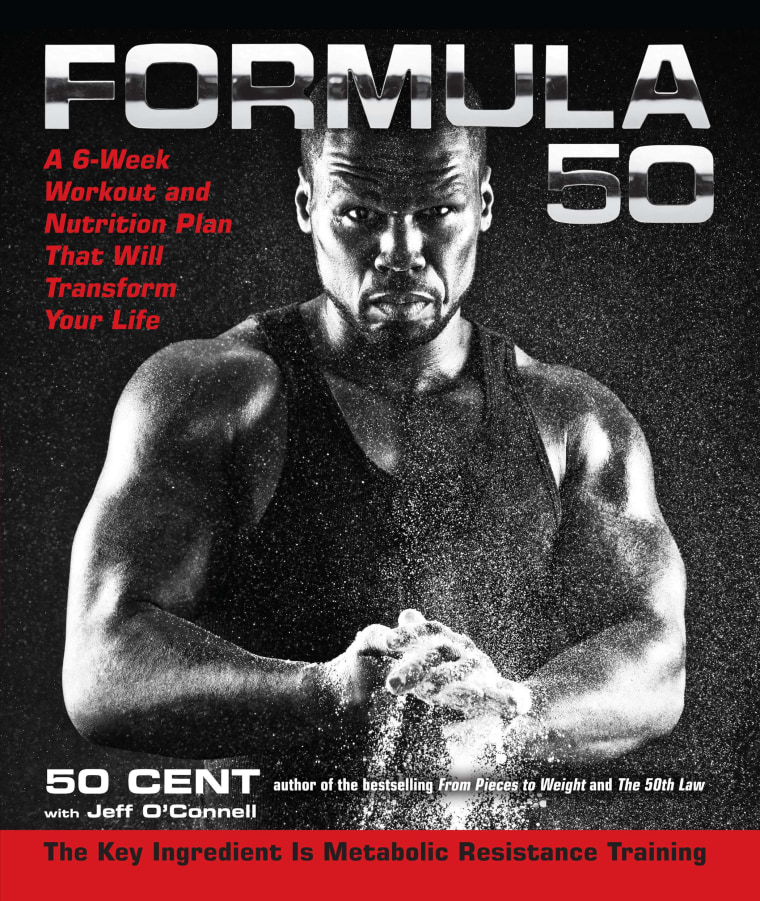 The basic six-week plan targets beginners. Those with more workout experience under their belt can do the more advanced six-week plan. Ideally, you'll progress through both plans over the course of 12 weeks, ending up where I am today with my fitness and body—good enough to hang with the world's best boxer, Floyd Mayweather, Jr., during his training for championship bouts. I'm not promising that you'll be able to train with Floyd, but follow the instructions I'm giving you here, and you'll not only look a lot better but feel a whole lot better too. You'll be ready for whatever challenge life throws your way.
Fat, you don't stand a chance against Formula 50. Trust me, it's fire.
You might legitimately ask, "Who are you to preach about fitness? Aren't you the guy who dropped joints like 'High All The Time?' Hardly seems like a fitness anthem." I don't drink and I don't use drugs, and I didn't back then, either. I put that joint on the first record because I saw artists consistently selling 500,000 with that content. Styles P, "Good Times (I Get High)"—that was his gold album. Method Man and Red Man were selling the same stuff. There was an audience that would accept it because they were actually high when they were listening to it. Plus, everyone was getting high around me, and that was actually what helped me decide not to. So I set off on a different course, one that depended on physical strength and fitness as well as inner strength and business smarts.
Today's up-and-comers do the same thing. I hear 'em mentioning Bentleys and Roll Royces and Ferraris and Lamborghinis. Well, I'm just getting to a point now where I can have those things with no problem. So they're lying. They don't have it. They have these bracelets and these rings but them diamonds ain't real in there. That's fake s__t on 'em. It takes time for someone to reach that point.
Here, you're after something that's much more valuable than bling, fake or real. My point is that real results won't come easy; you need to put in the time and the effort, just like with anything worth doing. But in defining your body, you will develop a much clearer picture of what you're made of inside.
So here is the promise I'm making: Follow my Formula 50 program, and your body will improve by 50 percent in six weeks. Body fat will decrease by 10%, energy will increase by 20%, and strength endurance will improve by 20%. The numbers can add up to 50 percent in a variety of ways, but your gains will total at least 50%. Fifty by 50.
Reprinted from Formula 50 by 50 Cent with Jeff O'Connell by arrangement with Avery, a member of Penguin Group (USA) Inc., Copyright © 2012 by 50 Cent.