With a wedding to plan, 19-year-old college freshman Kadie Bumpus has a lot on her plate these days.
And that's just fine with her, considering doctors once thought she wouldn't make it to her fifth birthday.
Kadie was only four when she began experiencing severe eye pain caused by a massive brain tumor.
"It was the size of a grapefruit, and it was pushing on her eye," said her mom, Jill Dixon.
Diagnosed with stage 4 anaplastic ependymoma, a rare form of cancer, Kadie quickly underwent surgery to remove the tumor, but her outlook remained grim.
"They told us after the surgery she would not be able to talk. She wouldn't be able to walk," her mother recalled as part of TODAY's annual "Thanks and Giving" series that highlights the lifesaving work at St. Jude Children's Research Hospital. "They were all in the room telling us she probably won't live to see her fifth birthday."
The news left Dixon devastated until a close friend searched online and found a doctor at St. Jude who specialized in the type of tumor Kadie had.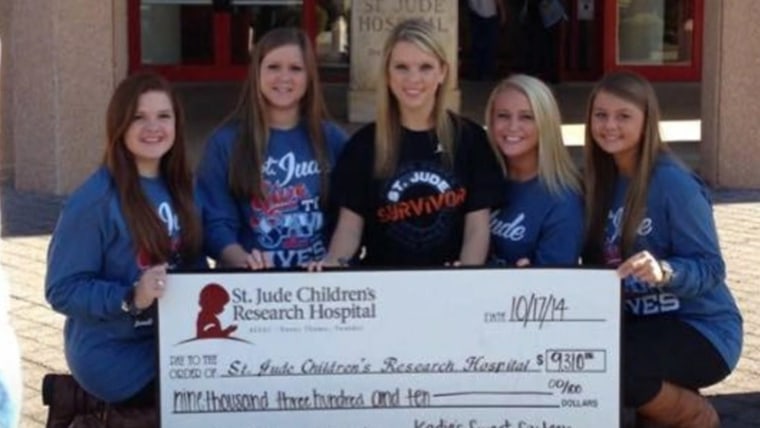 Within days, the Kentucky family found themselves in Memphis, Tennessee, to enroll Kadie in a research trial at St. Jude. She began receiving conformal radiation, a therapy that targeted her tumor while avoiding the healthy surrounding tissue. The hospital was one of the first to pioneer the technique.
Kadie received one treatment a day for about six and a half weeks. She then returned to St. Jude several times a year for follow-up visits.
Before long, she started to return to the activities she loved — including horseback riding, shopping, and hanging out with her friends.
These days, those friends often help Kadie give back to St. Jude by collecting toys and raising donations for the hospital's young patients.
"They ended up raising almost $10,000 for St. Jude and a big, white trailer full of brand new toys for the St. Jude kids," her mother said.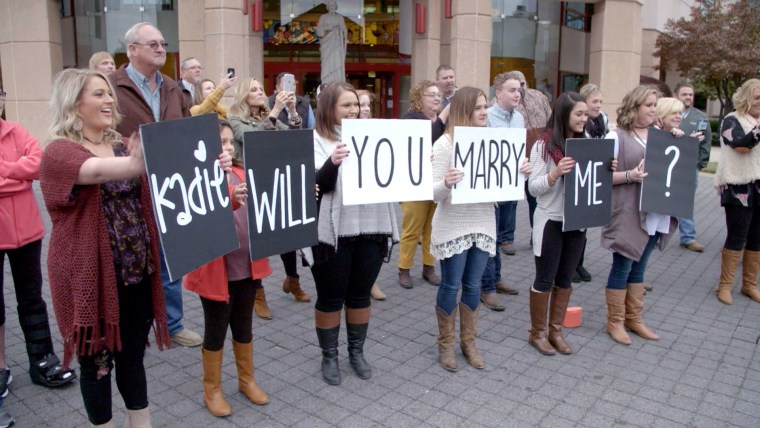 St. Jude also played a huge role in a recent milestone for Kadie last month, when her boyfriend took her for a carriage ride around Memphis, Tennessee. The trip concluded on the grounds of St. Jude, where, with some help from her family, Kadie's boyfriend proposed to her on bended knee.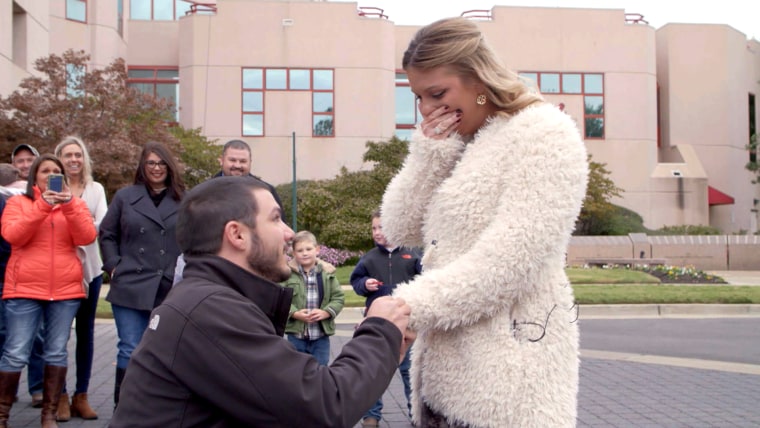 "She's very special, very grateful of everything," said her fiancé John David. "I think that St. Jude probably had a big help in making her who she is today."
These days Katie's medical outlook is strong. She is studying to be an ultrasound technician and planning for a wedding next October, something her mother once couldn't imagine she'd live to see.
"She's a tough, tough, tough girl. And she will push through anything," her mother said. "She's been cancer free for 15 years, and that's the biggest blessing that we could ever ask for."
The TODAY "Thanks and Giving" series helps raise funds to support the life-saving mission of St. Jude Children's Research Hospital to find cures for desperately ill children with cancer and other catastrophic diseases.