The funeral of former first lady Barbara Bush brought together her friends and loved ones, but it also gathered numerous generations of U.S. presidents and their wives.
The feat produced a remarkable photo featuring Bush's husband, George H.W. Bush, along with their son, George W. Bush. They were joined by two additional former presidents, Bill Clinton and Barack Obama.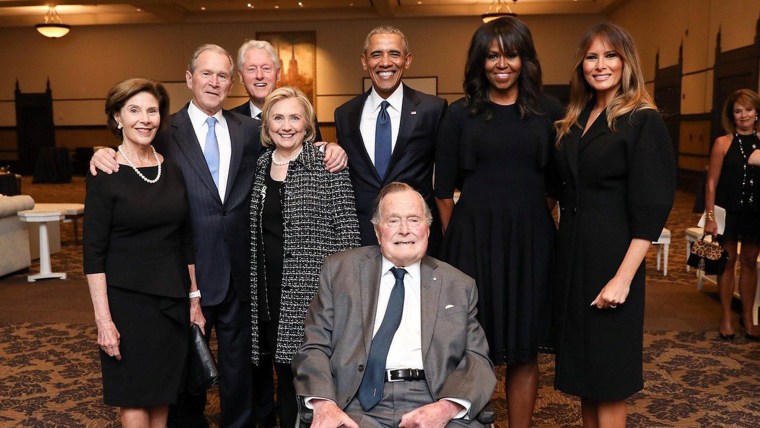 Current President Donald Trump, who did not attend Saturday's funeral service in Houston, was instead represented by his wife, Melania Trump. She was joined by former first ladies Laura Bush, Hillary Clinton and Michelle Obama.
The photograph was taken by Paul Morse, who served as a White House photographer during President George H.W. Bush's administration. It was originally sent out as a tweet by Bush's current spokesman, Jim McGrath.
Trump announced in a statement last week that he would not attend Barbara Bush's funeral "to avoid disruptions due to added security" of his presence. On the morning of the service, he tweeted he planned to watch the event from his Mar-a-Lago estate in Florida.
Trump's decision against attending Barbara Bush's funeral is not unusual for a sitting president. Neither Obama nor George W. Bush attended the funerals for first ladies while they served in office. Clinton, however, did attend a service for Jacqueline Kennedy Onassis in 1994.
The only other living former president who did not attend the service was Jimmy Carter. A spokesman for the 93-year-old former president said Carter was on a trip abroad, while his wife, Rosalynn, was recovering from recent surgery.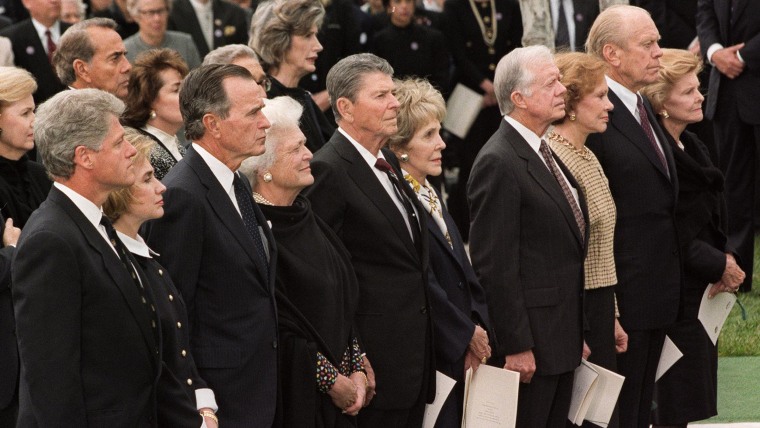 A large gathering of former presidents and first ladies is not unprecedented. In 1994, at the funeral of former president Richard Nixon in California, then-President Bill Clinton and his wife Hillary were joined by former presidents Gerald Ford, Jimmy Carter, Ronald Reagan and George H.W. Bush and their wives.