Former President George W. Bush has famously taken to painting as his creative outlet since leaving office. His subjects have included world leaders, family members and several beloved pets.
Now, his portraits of some of the military veterans who have touched Bush's life are the focus of his upcoming book, "Portraits of Courage: A Commander in Chief's Tribute to America's Warriors."
The nation's 43rd president will visit the TODAY studio on Feb. 27 for an exclusive, two-part live interview followed by a Facebook Live to discuss the book.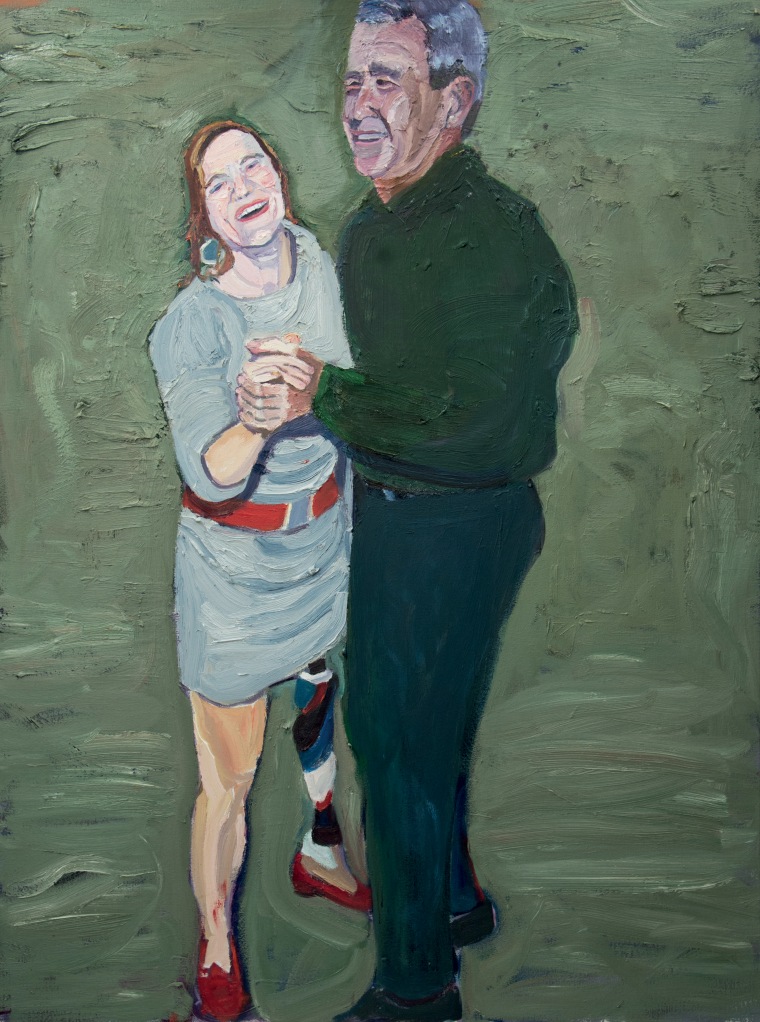 In the days leading up to the interview, TODAY will release a 10-part digital video series that highlights some of the wounded warriors that his book spotlights. Ten portraits from the book, with excerpts read aloud by the president and interviews with the veterans, will be featured in the videos online.
The first video focused on Iraq War veteran Melissa Stockwell, who shared the story of how she lost her leg in combat and went on to triumph.
The second video highlights the story of Captain Jae Barclay, who enlisted in the army after 9/11 and suffered severe burns after being hit by an IED. Here, Barclay reveals how he re-started his life and found a new normal.
The third video features Sergeant Josh Hansen, who was severely injured during his second deployment in Iraq. He and his wife are now helping veterans with physical, mental and emotional injuries through their nonprofit, Continue Mission.
In the fourth video we meet Sergeant Dewitt Osborne. Osborne served in the army for nine years before going to college, then re-enlisting after 9/11. Following an injury and four years of rehabilitation, Osborne says, golf lifted his spirits and saved his life. He began working with the Salute Military Golf Association, an organization that helps post-9/11 wounded war veterans through the sport of golf.
The fifth video introduces us to Sergeant Leslie Zimmerman, who enlisted just after her 18th birthday. She's currently finished up her Public Health degree, and working with an organization that gives back to her fellow veterans.
We meet Staff Sergeant Spencer Milo in the sixth video. Milo was serving in Iraq when he was diagnosed with a brain tumor. He went on to continue serving, and was later injured. After recovery, he dedicated himself to helping wounded warriors find employment.
In the seventh video, we learn about Michael "Rod" Rodriguez who comes from a long, proud line of family members who served their country. He was deployed 9 times over 21 years, and learned a surprising trade in his recovery.
Sergeant Bryce Cole is profiled in the eighth video. Sergeant Cole suffered a traumatic brain injury during a deployment, and credits mountain biking in helping him recover and adjust to life outside the army. He's currently dedicated to helping bridge the military/civilian divide in everyday life.
The ninth video profiles Sergeant Major Christopher Self. His love of mountain biking inspired President Bush to host his annual bike ride for wounded veterans, the W100K.
In the final video, we meet Specialist Alexander Glenn-Camden, who took a bullet to his neck in combat. He went on to recover, and found his focus on the golf course, with some of his fellow veterans.
Bush will donate proceeds of the book, which can be pre-ordered online, to the George W. Bush Presidential Center, a non-profit organization that helps post Sept. 11 veterans and their families make successful transitions to civilian life.
The portraits are also currently on display as part of an exhibition at the George W. Bush Presidential Center in Dallas, Texas.