A former New Orleans Saints cheerleader who filed a federal complaint against the team said that cheerleading coaches described the team's players as "predators" and warned the squad's members to stay away from them.
Bailey Davis, who said she was fired from the Saints cheerleading squad over a photo she posted to her private Instagram account, said a strict fraternization policy forbid the cheerleaders from interacting with the players beyond saying "hello" and "good game."
"They told me it was because, 'You're a pretty girl. You're on the field. They're going to want to talk to you,'" Davis told Megyn Kelly TODAY in her first live interview. "They say, 'The players are players.'"
Davis said an email from cheerleading coaches suggested the rules were intended to keep the women safe.
"They say they want to protect us from the players, that the players are predators, and that they're going to want to prey on us," Davis said.
Davis, 22, spent three seasons on the Saints cheerleadering team, or "Saintsations," as they are known. She said she was fired in January days after she posted a picture of herself wearing a one-piece outfit on her private Instagram account.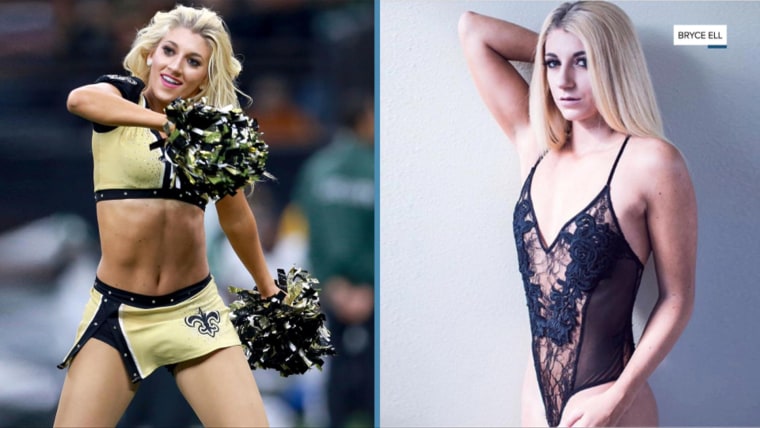 The team said the photo violated a rule that prohibits cheerleaders from appearing "nude," "semi-nude" or in "lingerie." The team also accused her of breaking another rule that forbids cheerleaders from going to a party where players are present.
In her interview Wednesday, Davis told Megyn Kelly she was told her expression in the photo was "dirty."
"They told me that it was distasteful. I had a 'dirty face' in it, which made it distasteful," the former cheerleader said. "Also, that it called my character into question, and that I was inviting players to contact me."
Davis has filed a complaint with the federal Equal Employment Opportunity Commission over her firing, accusing the Saints of making cheerleaders follow a restrictive set of rules that don't apply to the male football players.
A phone call and email seeking comment from the Saints legal team on Wednesday were not immediately returned.
Earlier this week, Gregory Rouchell, outside legal counsel for the Saints, told NBC News the team denied enforcing conduct rules unfairly.
"The New Orleans Saints do not tolerate discrimination of any kind, and it specifically denies that Ms. Davis was treated any differently on account of her sex," Rouchell said in a statement. "The organization looks forward to clearing itself of any wrongdoing with regards to its policies and workplace rules."
Davis' attorney, Sara Blackwell, told Megyn Kelly TODAY that while cheerleaders were prohibited from interacting with players in person and online, "no rules whatsoever" applied to the players themselves.
"They're allowed to do anything they want. And they, I hope, are outraged by the fact that they're treated as predators," Blackwell said on TODAY.
"I don't even know if the players know about these rules. But when they reach out to the cheerleaders, and Bailey can only say 'good game,' she feels like she's a snob, or she feels bad for being unfriendly."
Davis is not seeking her job back, but said she hoped to help others in similar positions receive more equal treatment.
"We are advocates for women's rights at this point," Blackwell said.
"We're hoping to advocate not only for leveling the playing field of the athletes, but for every career," she added.