Does the Duchess of Cambridge have babies on the brain?
During a tour Monday of an incubator for tech startup companies in Warsaw, Poland, the former Kate Middleton received a gift designed for newborns. She was given a stuffed animal designed by the company Whisbear, which is intended to comfort crying babies by replicating sounds from the womb.
Duchess Kate warmly accepted the gift while turning to her husband, Prince William.
"We will just have to have more babies," she said to laughs.
The Duke and Duchess of Cambridge already are parents to Prince George, who turns 4 this weekend, and 2-year-old Princess Charlotte.
The royal couple also tried their hand at virtual reality at the same tech event. They ended their day at a reception celebrating Queen Elizabeth's recent birthday, hosted by the British ambassador to Poland.
The entire family arrived Monday in Poland as part of a 5-day goodwill trip taking place as the United Kingdom plans its departure from the European Union as a result of last year's Brexit vote.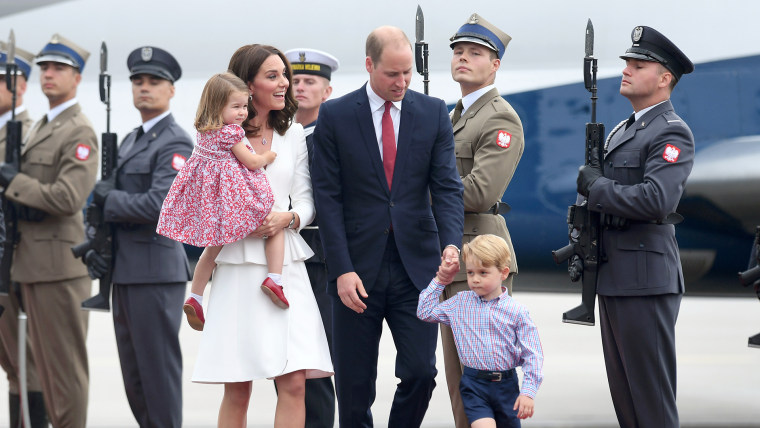 The trip marks the couple's first joint visit to the country. It also marks the third royal tour for Prince George and the second for Princess Charlotte, who made her worldwide debut in Canada last September.
On Tuesday, Prince William and Duchess Kate started the day touring some of Poland's historical sites, including the Stutthof concentration camp, and meeting with survivors.
The family then heads to Germany, where the Duke and Duchess of Cambridge will meet with Chancellor Angela Merkel, visit Berlin's Brandenburg Gate, and stroll through a traditional beer garden in Heidelberg. They will also pay their respects at Berlin's Holocaust Memorial.