It's never too late to say you're sorry.
Just ask ChadMichael Morrisette. The California visual designer woke up recently to find a Facebook message from a classmate, who apologized for bullying him 20 years earlier.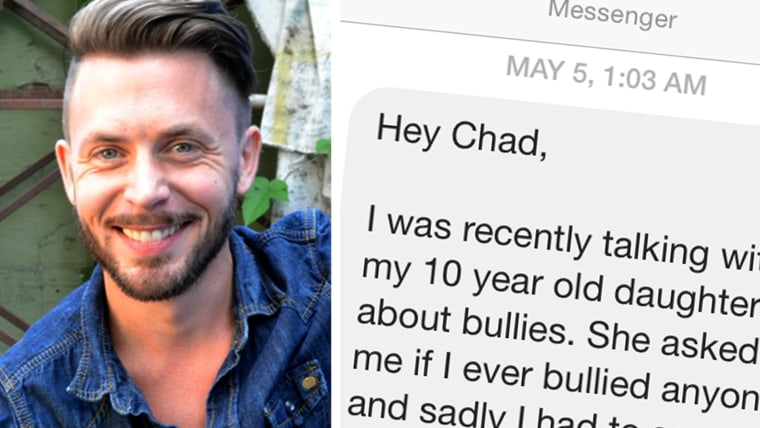 It took a day for Morrisette, now 34, to process the message, especially since he didn't recognize the sender's name: Louie Amundson. But he remembered the crowd Amundson hung out with in the small Alaska town where he grew up.
"I was one of maybe two gay guys who were obviously gay. Our demeanors made us visibly, noticeably different than everyone," Morrisette told TODAY.com. "It wasn't just Louie who bullied me. It was almost every other guy in the school."
He said he was bullied from the time he was in sixth grade.
"There were times I'd walk down the hallway and groups of guys would follow me, threaten me, humiliate me, push me," he said. "He could have very well been one of them. He wasn't necessarily one that sticks out in my head that I remember as the meanest, but there were too many to count."
So when Morrisette went back a day later to read the message, he was deeply moved.
In his note, Amundson explained that the apology originated from a talk he had about bullying with his 10-year-old daughter.
"She asked me if I ever bullied anyone and sadly I had to say, 'yes,'" Amundson wrote.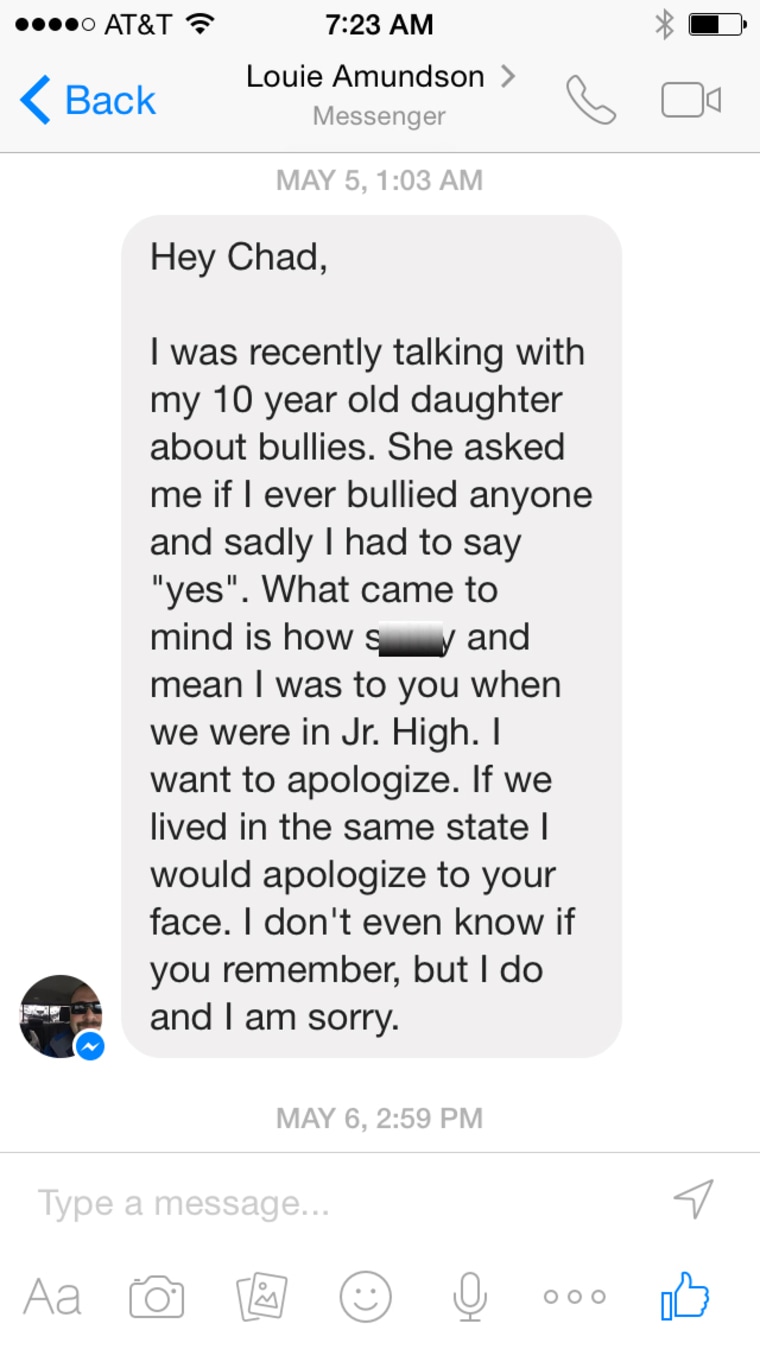 Morrisette said he was touched by Amundson's effort to seek forgiveness. He accepted the apology and thanked him.
"In 20 years you are the only person to apologize to me for being a bully to me when we were younger," he said in his reply. "I hope you can proudly tell your daughter that you have apologized for it."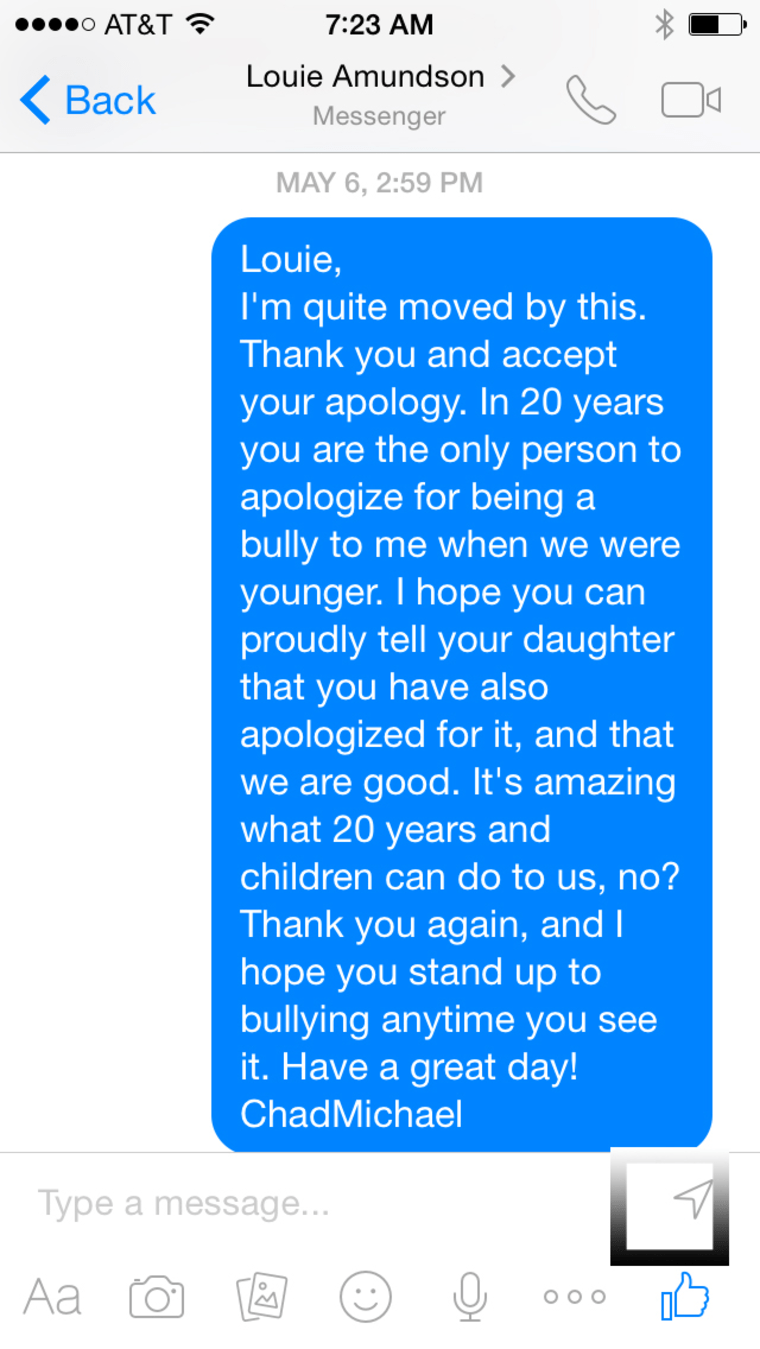 Amundson responded with gratitude.
"It just felt like I owed it to Chad to apologize," he told TODAY.com, adding that he regrets not doing it sooner.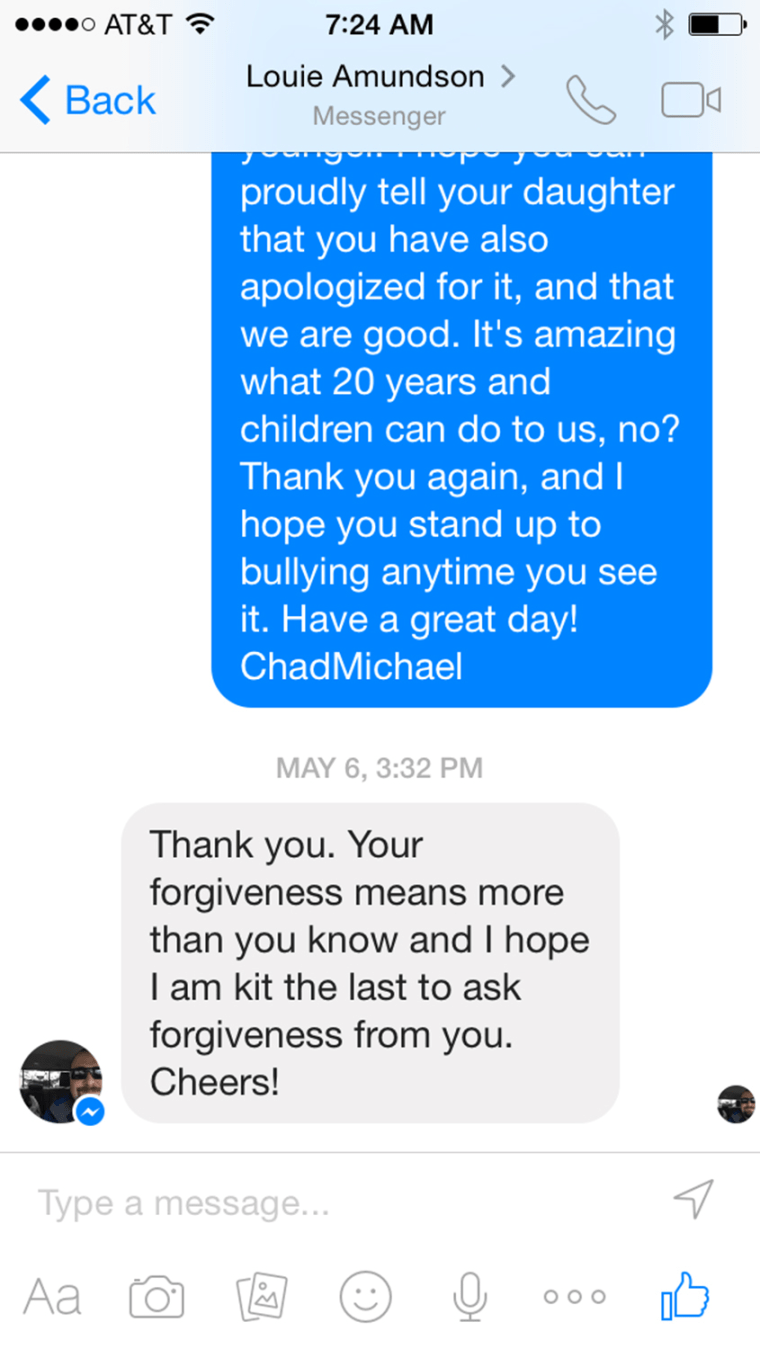 "Before the conversation with my daughter, I really never gave it any thought because it was so long ago. But watching my daughter growing up makes me think more of my childhood and that conversation is what sparked the memory, I guess," Amundson said. "It actually took me a couple weeks to build up the nerve to reach out, but I am glad I did."
Morrisette, who left Alaska when he was 15, now lives in West Hollywood, where he creates exhibitions and window displays for high-end clients. Amundson, 35, still lives in Alaska, but the two men have mutual Facebook friends. They have not communicated since their exchange, but Morrisette said there hasn't been a reason to.
Amundson said he initially didn't like the attention his gesture attracted, but has become slightly more comfortable with it because of the way it has been received.
"I hope it shows that people can change, that life can change. Being bullied is not an excuse to bully someone else, and you can't change the past. You can only control your actions today," he said.
He still finds the reaction "a bit overwhelming," but hopes it results in positive changes.
"I think people can learn a lot from the way Chad handled this," he said. "He forgave me. To me, that says so much about his character."
Follow TODAY.com writer Eun Kyung Kim on Twitter.