We're always hearing how it's not whether you win or lose, it's how you play the game. But can you live by that classic rule of great sportsmanship at the Olympic level?
The answer when it comes to runners Abbey D'Agostino (U.S.) and Nikki Hamblin (New Zealand) is absolutely yes: Even a shot at Rio Olympic gold has to be put to one side when someone falls on the racetrack.
Hamblin and D'Agostino didn't know one another at the start of the women's 5,000 meter first round heat Tuesday morning, but they became close quickly. Too close: They collided on the track, and both went to the ground.
WATCH: Runners help each other finish race after fall
As The Washington Post reported, Hamblin thought, "What's hit me? Why am I on the ground? ... And then suddenly there's this hand on my shoulder .. [and a voice] like, 'Get up, get up! We have to finish this!'"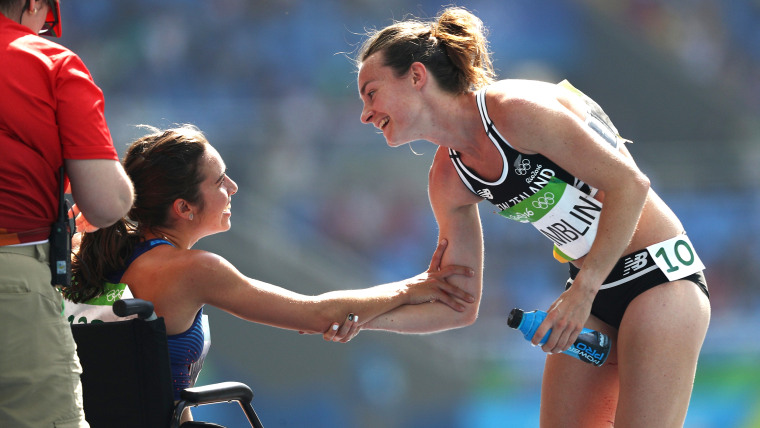 The helping hand was D'Agostino, who had been right behind Hamblin. She refused to leave her fellow runner in the field, and helped her to her feet.
"I was like, 'Yep, you're right. It's the Olympic Games. We have to finish this,'" said Hamblin.
And when D'Agostino collapsed again on her way to the finish after they both were up (she'd badly twisted her knee), Hamblin lent her a hand.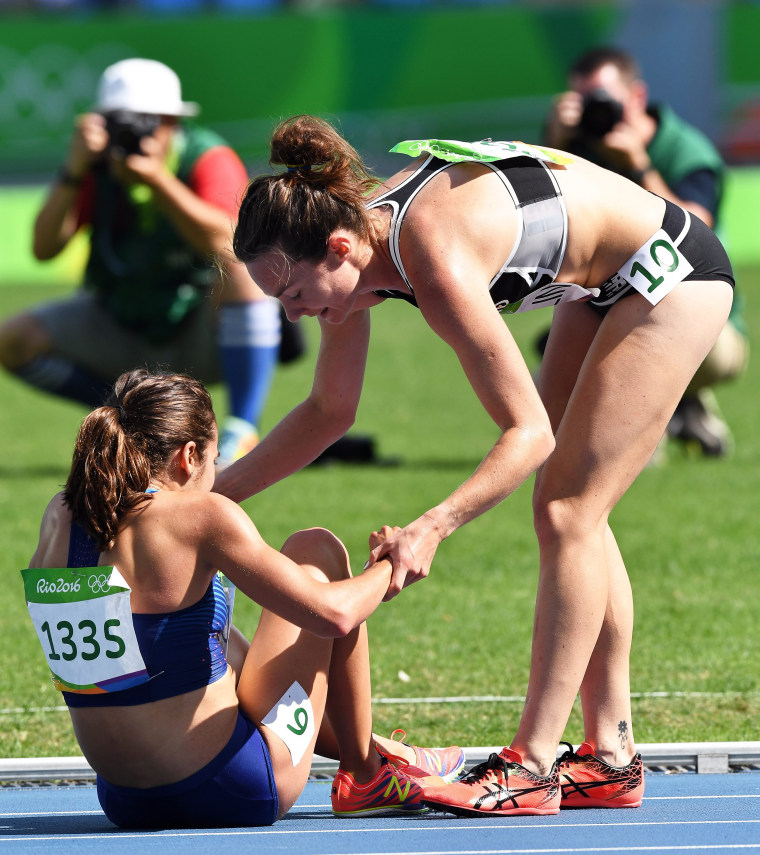 Both runners continued through the rest of the race (a runner has to complete 12.5 laps around the track to finish the heat). Hamblin finished at 16 minutes and 43 seconds; D'Agostino passed the line at 17 minutes and 10 seconds, over two minutes after the heat's winner, Ethiopia's Almaz Ayana.
MORE: It's Global Running Day! How healthy is running for you?
"I've never met this girl before, and isn't that just so amazing, such an amazing woman," Hamblin told UK paper The Telegraph. "Regardless of the race and the result on the board, that's a moment that you're never ever going to forget for the rest of your life, that girl shaking my shoulder, like 'Come on, get up'."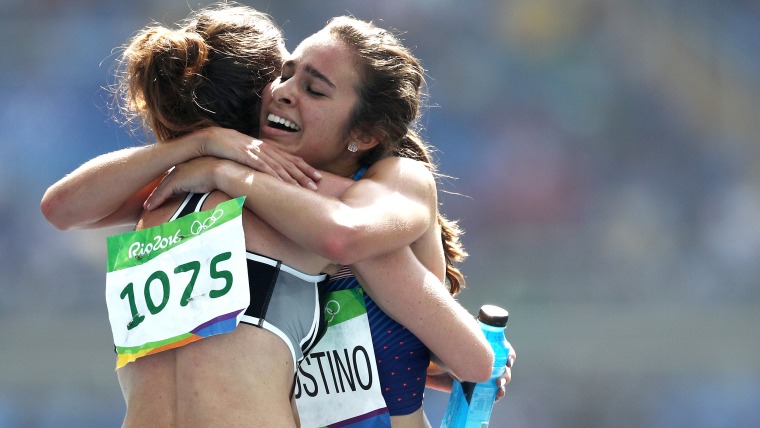 They were both given places in the 5,000 final after protests from the US and New Zealand teams.
Hamblin had nothing but good wishes for her fellow runner. "I know that she's young and she's going to have so many more opportunities," she said. "And being such a good human being, she's going to go so far."
Follow Randee Dawn on Twitter.