/ Source: TODAY contributor
In these convenient times, we've come to expect a certain level of customer service. Too tired to go shopping? Have your groceries delivered. Dog too shaggy? Summon the mobile pet groomer. Got the munchies at a weird hour? Oh look! A food truck!
So perhaps it's not entirely surprising that the quickie Las Vegas wedding ceremony just got a whole lot quicker. For $99, the Las Vegas Wedding Wagon will pull up to the Sin City sidewalk of your choosing and let you get hitched in a serious hurry.
Sound cheesy? Of course it is — but it also isn't. Wedding Wagon co-founders Andy Gonzalez, 38, and James Cass, 39, have put a tremendous amount of thought into the little embellishments on their chapel-on-wheels and the wording of their wedding vows. The end result: Weepy, joyous gush-fests that are loaded with meaning and drowned out only by the sound of the traffic whizzing by.
"It was PERFECT," enthused Stefanie Tucker, 37, who just got married next to the iconic "Welcome to Fabulous Las Vegas, Nevada" sign with the help of the Wedding Wagon. "I couldn't have planned it better if I had put six months of planning into it. We had so much fun — and no stress!"
That's precisely the experience Gonzalez and Cass hoped to offer when they launched the Las Vegas Wedding Wagon on July 18. They felt so confident about their ability to slice a tiny sliver out of Vegas' flourishing wedding industry that they both quit their comfortable day jobs before they even performed their first wedding ceremony. (Stefanie Tucker and her new husband, 41-year-old Kelly Andrew Tucker, were the Wedding Wagon's first customers.)
"We researched the industry here and found out that there are 7,000 to 9,000 weddings a month in Vegas — that's 250 weddings a day," said Gonzalez, who just left his marketing and public relations job for an online shoe and apparel company. "If we could start a business taking even 1 or 2 percent of that market, we realized we could meet or exceed our salaries and have fun in the process."
Gonzalez and Cass got ordained to perform weddings through an online non-denominational church and got licensed to marry people in Clark County, Nevada. Other than that, their startup costs were pretty minimal: They just needed a business license and a tricked-out van (which Gonzalez parks in his garage at his Las Vegas home).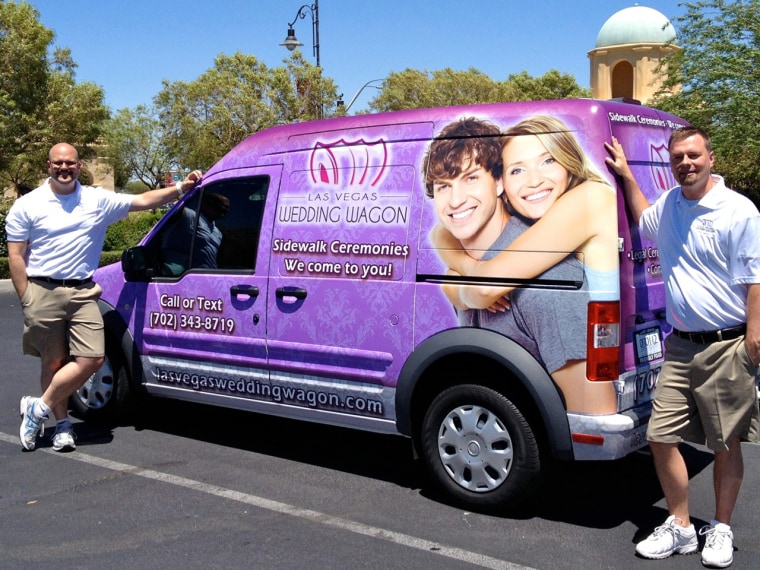 They've only conducted four weddings so far — three near the Las Vegas sign, and one in a Vegas hotel room — but demand for their services is already so sky-high that their fledgling website keeps crashing. Here's the funny thing: In a city where you can get married with Elvis, in a helicopter, in a pirate ship, in a gondola, in a limo, on a rooftop or in the nude, the curbside wedding is actually a novel idea.
"It's been really rewarding to have locals — limo drivers, people from chapels — coming up to us and saying, 'This is amazing! I can't believe no one else thought of this!' " Gonzalez said.
Something old, something new ... and something in flames?
For their part, the Tuckers are grateful that the Las Vegas Wedding Wagon was up and running just in time to meet their whirlwind wedding needs without busting their budget. Between them, they have four children — two in college — and Kelly Tucker has cared for both of his parents at home for the past decade. He's been struggling to rebuild his life ever since Hurricane Katrina filled his home with more than 12 feet of water and destroyed virtually every possession he owned.
"He lost everything," his new wife said. "He has no baby pictures of his kids. He used to play ball for the Cleveland Indians and he has no memorabilia from that. Stuff you can't replace, you know? He's lost a lot."
The Tuckers, who live in Louisiana and work in the construction industry, both said they've been through painful divorces in the past. This time around they craved a wedding that was simple, stress-free and just for them. They laughed and cried at their 5 p.m. nuptials with Rev. Andy near the Las Vegas sign, and then they went to a Garth Brooks concert where they hugged and cried some more.
Unveiled! 101 uses for an ex-wife's wedding dress
"It was great!" Kelly Tucker said. "In fact, we're already talking about going back maybe next year [to renew our vows], or if not then maybe five to 10 years from now, so we can do it again with them. It was that much fun."
"After what he's been through in his life," Stefanie Tucker said of her new husband, "I was just so happy to see him happy that day."
Need a Coffey break? Friend TODAY.com writer Laura T. Coffey on , follow her on   or read more of her stories at .