Why do you love football? Share your story for a chance to win a trip to Super Bowl XLIX. 
Playing football in a Challenger League and following his favorite team, the Carolina Panthers, has helped a North Carolina teen with cerebral palsy walk tall, even though he uses a wheelchair and crutches to get around. 

Austin Smith, 13, plays quarterback for his team in the Challenger League, where he has been a fixture for five years. A huge fan of Panthers quarterback Cam Newton, Austin plans on attending every Carolina Panthers home game this season. 
Football has had a profound impact on Austin, his mother, Tracy Smith, says. "His whole demeanor went from, 'Oh, woe is me,' to, 'I can do this! I can lead. I can, you know, be in charge.'''
She added: "Austin loves football because it just gives him a confidence that there's no limit to what he can do."

After having surgery in November 2013, Austin missed a chance to meet his idol. Newton visited the hospital where Austin was recuperating, but Austin was in too much pain to meet him. But as part of the NFL's "Together We Make Football" series on TODAY, Austin finally got to shake hands with his hero.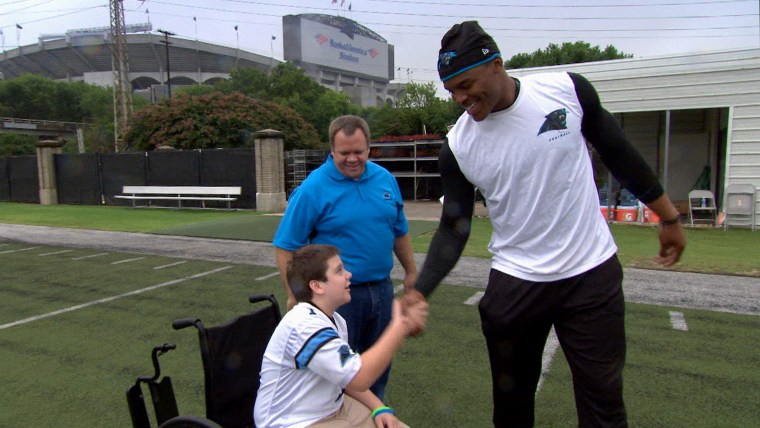 More from Austin's story: 

On Austin's early love of football: "Sitting down, we were watching the game, and I remember him turning to me and saying, 'I wonder which team will draft me,''' his father, Darrell Smith, said. "You can't turn to a 5 year-old and tell him, 'You're never going to play in the NFL.' I mean, you don't do that."


On signing up to play in the Challenger League: "I thought it was the best,'' Austin said. "The best ever." 


On gaining confidence from playing football: "He's definitely a leader, and even his coach says that the only problem that they have with Austin is that they score too fast,'' his mother said. 
Follow TODAY.com writer Scott Stump on Twitter and Google+.