Kathrine Switzer knows what it means to run for equal rights.
Fifty years ago, she made headlines as a 20-year-old Syracuse University student who was attacked by an official at the Boston Marathon because women weren't supposed to participate in the race.
And on Monday, the now 70-year-old ran the marathon again, wearing the same bib number, but under very different circumstances.
RELATED: Never run before? Here's how to get started
"I just ran the fastest marathon I've run in 46 years," she told TODAY, having finished the 26.2-mile course in 4 hours, 44 minutes and 31 seconds. She even posted updates on social media throughout the trek!
It may seem hard to imagine now, but in 1967 sports experts insisted that running long distances was bad for women's health. (As a Deadspin article from 2015 noted, the prevailing idea was that women might grow hair on their chests, become muscle-bound or ... brace yourself ... their uteri might fall out.)
As Switzer recalled, her coach Arnie Briggs dissuaded her from even trying the marathon.
"He said, 'No dame ever ran no marathon,'" she said.
That wasn't correct, of course; women had been running long distances for years, but were generally not given slots in big city marathons.
In 1963 two women crashed the Western Hemisphere Marathon in Culver City, Calif., and one finished.
In 1966, Bobbi Gibb (who served as Grand Marshal for 2017's Marathon) also crashed the Boston Marathon with an unofficial finish of 3:21:40.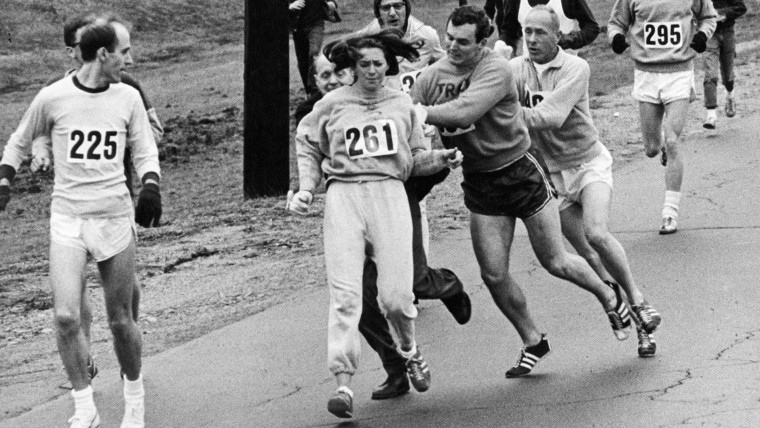 Switzer and her coach pored through the rules and regulations about the Boston Marathon and couldn't find anything about gender. So they signed her up for a big under the name K.V. Switzer. (Both she and Gibb raced that year, though Gibb ran unnumbered.)
But while Gibb seemed to pass unnoticed during the run, race director Jock Semple was infuriated and went after Switzer midrace.
"He threw me back and he said, 'Get the hell out of my race and give me those numbers,' and tried to pull my bib numbers off," recalled Switzer, whose boyfriend and coach ran interference.
"I turned to Arnie and said, 'I'm going to finish this race on my hands and my knees if I have to,'" she said.
On Monday, her bib number, 261 — the same one she wore in 1967 — became only the second number ever to be retired in Boston Marathon's history.
RELATED: Boston Marathon bombing survivor engaged to firefighter who helped save her
Shockingly, it would be another five years before women were officially allowed to compete in the Boston Marathon. But today, women have their own starting line and are regular participants in a race that once kept them locked out.
"How many times do you get the chance to do something 50 years later?" Switzer asked. "As negative as that experience was, it became the best thing in my life."
Follow Randee Dawn on Twitter.