/ Source: The New York Times
Another Washington dusk, another motorcade, another installment in the ongoing public romance of our nation's president and first lady. On Oct. 3, just a day after their failed Olympics bid in Copenhagen, Barack and Michelle Obama slipped into a Georgetown restaurant for one of their now-familiar date nights: this time, to toast their 17th wedding anniversary. As with their previous outings, even the dark photographs taken by passers-by and posted on the Web looked glamorous: the president tieless, in a suit; the first lady in a backless sheath. 
The Obama date-night tradition stretches back to the days when the president spent half his time in Springfield, Ill., reuniting at week's close with his wife, who kept a regular Friday manicure and hair appointment for the occasion. But five days before he ventured out for his anniversary dinner, the president lamented what has happened to his nights out with his wife.
"I would say the one time during our stay here in the White House so far that has ..." He paused so long in choosing his words that Michelle Obama, sitting alongside him, prompted him. "Has what?"
"Annoyed me," the president answered.
"Don't say it!" the first lady mock-warned. "Uh-oh."
"Was when I took Michelle to New York and people made it into a political issue," he continued, recalling the evening last spring when they flew to New York for dinner and a show, eliciting Republican gibes for spending federal money on their own entertainment.
We were in the Oval Office, nearly 40 minutes into a conversation about the subject of their marriage. Watched over by three aides and Gilbert Stuart's portrait of George Washington, the two sat a few feet apart in matching striped chairs that made them look more like a pair of heads of state than husband and wife. The Obamas were talking about the impact of the presidency on their relationship, and doing so in that setting — we were in the room that epitomizes official power, discussing the highly unofficial matter of dates — began to seem like a metaphor for the topic itself.
"If I weren't President, I would be happy to catch the shuttle with my wife to take her to a Broadway show, as I had promised during the campaign, and there would be no fuss and no muss and no photographers," he said. "That would please me greatly." He went on to say: "The notion that I just couldn't take my wife out on a date without it being a political issue was not something I was happy with."
Everything becomes political here, I offered, gesturing around the room.
"Everything becomes political," he repeated very slowly. Then he said: "What I value most about my marriage is that it is separate and apart from a lot of the silliness of Washington, and Michelle is not part of that silliness."
'Bumps happen all the time'Perhaps she is not. But the Obamas mix politics and romance in a way that no first couple quite have before. Almost 10 months ago, they swept into Washington with inauguration festivities that struck distinctly wedding-like notes: he strode down an aisle and took a vow, she wore a long white dress, the youthful-looking couple swayed to a love song in a ceremonial first dance and then settled into a new house. Since then, photograph after official White House photograph has shown the Obamas gazing into each other's eyes while performing one or another official function. Here is a shot of the Obamas entering a Cinco de Mayo reception, his arm draped protectively around her back. Next, a photo of the president placing a kiss on his wife's cheek after his address on health care to Congress. Poster-size versions of these and other photographs are displayed in rotation along the White House corridors. It's hard to think of another workplace decorated with such looming evidence of affection between the principal players.
The centrality of the Obama marriage to the president's political brand opens a new chapter in the debate that has run through, even helped define, their union. Since he first began running for office in 1995, Barack and Michelle Obama have never really stopped struggling over how to combine politics and marriage: how to navigate the long absences, lack of privacy, ossified gender roles and generally stultifying rules that result when public opinion comes to bear on private relationships.
Along the way, they revised some of the standards for how a politician and spouse are supposed to behave. They have spoken more frankly about marriage than most intact couples, especially those running for office, usually do. ("The bumps happen to everybody all the time, and they are continuous," the first lady told me in a let's-get-real voice, discussing the lowest point in her marriage.) Candidates' wives are supposed to sit cheerfully through their husbands' appearances. But after helping run her husband's first State Senate campaign in 1996, Michelle Obama largely withdrew from politics for years, fully re-engaging only for the presidential campaign. As a result, she has probably logged fewer total sitting-through-my-husband's-speech hours than most of her recent predecessors. Even the go-for-broke quality of the president's rise can be read, in some small part, as an attempt to vault over the forces that fray political marriages. People who face too many demands — two careers, two children — often scale back somehow. The Obamas scaled up.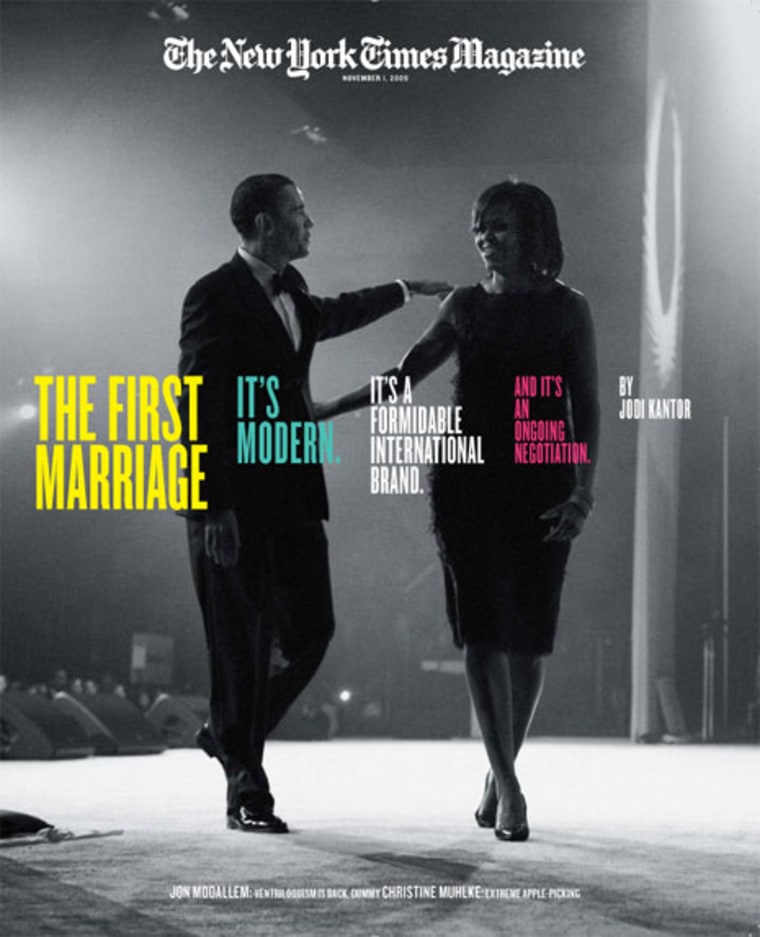 "This is the first time in a long time in our marriage that we've lived seven days a week in the same household with the same schedule, with the same set of rituals," Michelle Obama pointed out. (Until last November they had not shared a full-time roof since 1996, two years before Malia was born.) "That's been more of a relief for me than I would have ever imagined."
A fully fused political team
The couple now spend more time together than at nearly any other point since their early years together. On many days, they see Malia and Sasha off to school, exercise together and do not begin their public schedules until 9 or even 10 o'clock. They recently finished redecorating the White House residence, the first lady requesting an outdoor rocking chair for her husband to read in, the president scrutinizing colors and patterns, said Desiree Rogers, the White House social secretary. The pair recently began playing tennis. (He wins, she admitted; for now, he added.) This summer, the first lady surprised her husband for his birthday by gathering his old basketball buddies for a weekend at Camp David.
Barack and Michelle Obama are also a more fully fused political team than ever before, with no other jobs to distract them, no doubts about the worthiness of the pursuit dogging them. Theirs is by no means a co-presidency; aides say the first lady has little engagement with banking reform, nuclear disarmament or most of the other issues that dominate her husband's days. But their goals are increasingly intertwined, with Michelle Obama speaking out on health care reform, privately mulling over Supreme Court nominees with the president and serving as his consultant on personnel and public opinion. When they lounge on the Truman Balcony or sit inside at their round dining table, she describes how she believes his initiatives are perceived outside Washington; later, say advisers, the president quotes the first lady in Oval Office meetings.
If winning the White House represents a resolution of the Obamas' struggles, it also means a new, higher-stakes confrontation with some of the vexing issues that fed those tensions. Their marriage is more vulnerable than ever to the corrosions of politics: partisan attacks, disappointments of failed initiatives, a temptation to market what was once wholly private. Some of the methods the Obamas devised for keeping their relationship strong — speaking frankly in public, maintaining separate careers, even date nights — are no longer as easily available to them. Like every other modern presidential couple, the Obamas have watched their world contract to one building and a narrow zone beyond, and yet their partnership expand to encompass a staff and two wings of the White House. And while the presidency tends to bring couples closer, historians say, it also tends to thrust them back to more traditionbound behavior.
This is an excerpt from the story "The First Marriage," which originally appeared in The New York Times.