/ Source: TODAY contributor
When his fellow firefighters carried an unconscious Labrador retriever out of a burning house on Tuesday, Jamie Giese had no medical equipment to revive him. So he went with something he had only seen on TV.
The Wasau, Wis., firefighter leaned in for a close encounter of the canine kind, providing mouth-to-snout respiration to help the struggling yellow Labrador breathe, after it had inhaled a substantial amount of smoke. Kim Carlson watched as her dog was saved by Giese's unorthodox heroics.
"I have never been trained in that,'' Giese told TODAY's Matt Lauer Friday. "I've seen it on TV and pictures in the newspapers and things like that. We thought (the dog) was dead. We could tell he was trying to breathe, and our training for humans is airway, breathing, circulation. We had no tools handy, so it was mouth-to-snout.''
Thanks to quick-thinking rescuers, a Lab named Koda survived a life-threatening fire.
After Giese's successful revival, firefighters placed a human oxygen mask over Koda's snout. He was rushed to the VCA Companion Care Animal Hospital in Wasau and then the Central Wisconsin Animal Emergency Center, where he received fluids and advanced medical treatments. On Wednesday morning, Koda returned to his owners, who are currently staying with family and friends while the damage to their home is assessed.
The 7-year-old Labrador was breathing just fine when he appeared on TODAY Friday. Koda is one of four pets that escaped the fire; Carlson's fiance's 17-year-old son, Dwight Borchardt, helped Cooper the border collie and a pair of cats, Lavender and Mocha, make it out of the burning house.
The fire is believed to have been caused by a malfunctioning box fan, according to the Wasau fire inspector. Dwight Borchardt was the only one home when the fire started spreading around 4 p.m. Tuesday; the blaze causing an estimated $25,000 to $30,000 in damage to the home and another $25,000 in lost belongings. Most of the second floor was ravaged by fire, while the first floor suffered heavy water and smoke damage.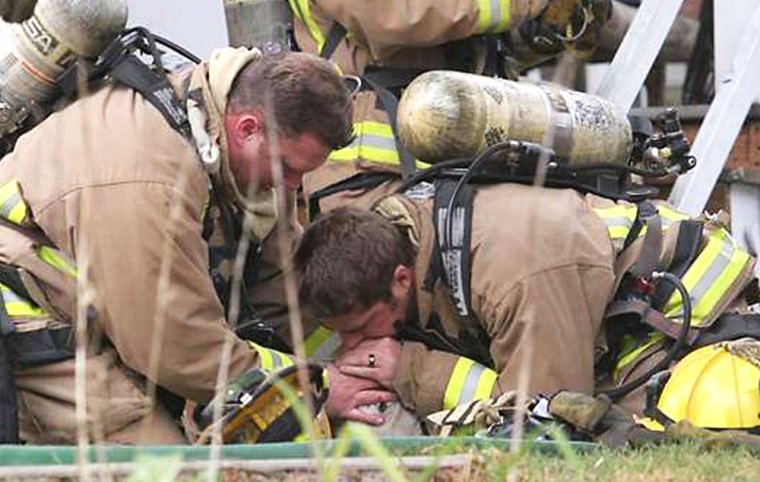 Koda was found under a rocking chair in a room on the second floor as the blaze began to get out of control. When Carlson, who shares the home with her fiance Todd Borchardt, arrived on the scene and found out the dog was still inside, she almost ran towards the fire.
"My first reaction was to go upstairs and check upstairs, but it was just entirely too smoky,'' Carlson said. "It was so black that you couldn't see anything in front of you. My first reaction was that I wanted to cover myself in water and cover my face and mouth and go up and get him myself, knowing that's not the right thing to do.''
After the dispatcher told firefighters that a dog was trapped upstairs, the men searched the entire second floor.
"They found Koda in the very last room they searched, which happened to be the room that was actually on fire,'' Giese said.
The dog was rushed out of the house and carried to the front lawn, where Giese and Thompson improvised. "I told Jared that we've got to work this dog,'' said Giese, who owns two dogs himself. "(We) laid him down in the front yard, and we started assisting breathing.''
The family had only owned Koda for four days before they almost lost him. They fell in love with him, they said, the instant they saw him in a newspaper advertisement. Thanks to the quick thinking of Giese and his fellow firefighters, he remains part of the family.