A new Netflix documentary features a different side of Amanda Knox than the one seen by the public during the lurid murder case that kept her in an Italian prison for nearly four years.
"What we found is that she has this kind of bird's eye perspective on these years looking back on it in a way that is very unexpected that I think for someone who had been caught up in the story,'' filmmaker Rod Blackhurst told Savannah Guthrie on TODAY Wednesday.
The documentary by Blackhurst and Brian McGinn, titled "Amanda Knox," premieres on Friday and goes deep inside the saga that began in 2007 when Knox was a college student studying abroad in Perugia, Italy. Her British roommate, Meredith Kercher, 21, was found dead in the house she shared with her, starting off a harrowing, eight-year chain of events for Knox.
In 2009, Knox was sentenced to 26 years and ex-boyfriend Raffaele Sollecito was given 25 years when they were convicted on murder charges.
RELATED: Amanda Knox in new Netflix doc: 'Either I'm a psychopath in sheep's clothing, or I am you'
Knox, 29, spent nearly four years in an Italian prison before she and Sollecito were acquitted on appeal and released on Oct. 4, 2011.
In 2014, Knox went through another ordeal when the two had their convictions reinstated while she was living at home in Seattle. She and Sollecito were then ultimately acquitted again in 2015 by Italy's highest court.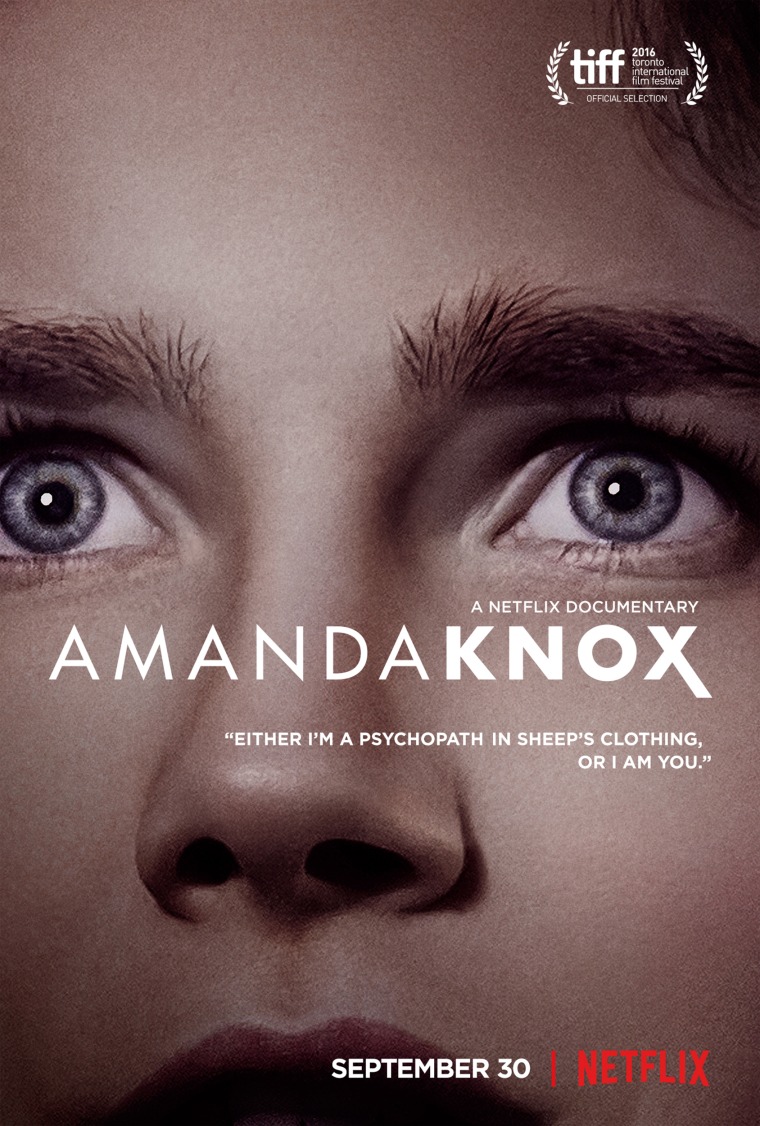 The documentary features new interviews with Knox and Sollecito about their lives before the ordeal and memories of their budding romance at the time, with Knox revealing she was "completely charmed" by Sollecito.
"They were all very open with us,'' Blackhurst said. "I think they all felt like there had been these different versions of them painted and portrayed in the way the media was covering the story, and they wanted the opportunity to talk about themselves in their own words."
The film also features new interviews with lead prosecutor Guiliano Mignini and the attorney for Rudy Guede, who is currently serving a 16-year sentence after being tried separately in 2008 and convicted of the sexual assault and murder of Kercher.
Kercher's family, which did not participate, had no comment on the documentary when reached by TODAY.
"We did reach out to them twice and we'd still very much like to talk to them if they'd like to talk to us, but they've made it clear that every time they have to talk about this, it's re-examining this wound,'' Blackhurst said.
RELATED: Amanda Knox breaks her silence: 'I'm so grateful to have my life back'
"Even with that being said, we wanted to make sure that people in the film remember that this was a tragedy at its core that became this piece of entertainment and this set of headlines that caught the world up for the better part of a decade."
The film also features audio recordings of Knox and her mother speaking while she was in prison and takes a look at Knox's life now back in Seattle.
"We kind of keyed on this idea of accidental celebrity,'' McGinn said. "One of the moments in the movie that I think is interesting is Amanda says, 'People recognize me in line at the grocery store and they say, 'I know you!' And she says, 'You don't know me.'''
Follow TODAY.com writer Scott Stump on Twitter.