A federal court in Wyoming has issued an arrest warrant for Brian Laundrie in relation to a grand jury indictment for his "activities following the death of Gabrielle Petito," the FBI announced Thursday.
"We urge individuals with knowledge of Mr. Laundrie's role in this matter or his current whereabouts to contact the FBI," Special Agent Michael Schneider wrote in a statement.
The FBI alleges that Laundrie "knowingly and with intent to defraud, used one or more unauthorized access devices, namely a Capitol One Bank debit card" and personal identification numbers for two accounts.
Petito, 22, went missing in August after embarking on a cross-country road trip with Laundrie, her fiancé. Her remains were found at a campground in Wyoming on Sunday.
Laundrie, 23, disappeared after he initially refused to cooperate with police in the search for Petito. His family told investigators he had gone hiking in the Carlton Reserve in Florida last week and never returned.
The attorney for the Laundrie family, Steve Bertolino, issued a statement Thursday emphasizing the warrant "is related to activities occurring after the death of Gabby Petito and not related to her actual demise."
"The FBI is focusing on locating Brian and when that occurs the specifics of the charges covered under the indictment will be addressed in the proper forum," Bertolino said.
Last week, police named Laundrie a person of interest in Petito's disappearance but said at the time he was not wanted for a crime.
Police this week continued to search for Laundrie at the Carlton Reserve, a treacherous and swampy wildlife refuge that spans 25,000 acres, but have not announced any new findings.
Officials announced Tuesday that Petito's manner of death was homicide. The official cause of death will remain pending until the final results of an autopsy.
Petito and Laundrie began a cross-country tour of national parks in July, documenting their journey on YouTube and Instagram using the hashtag #VanLife.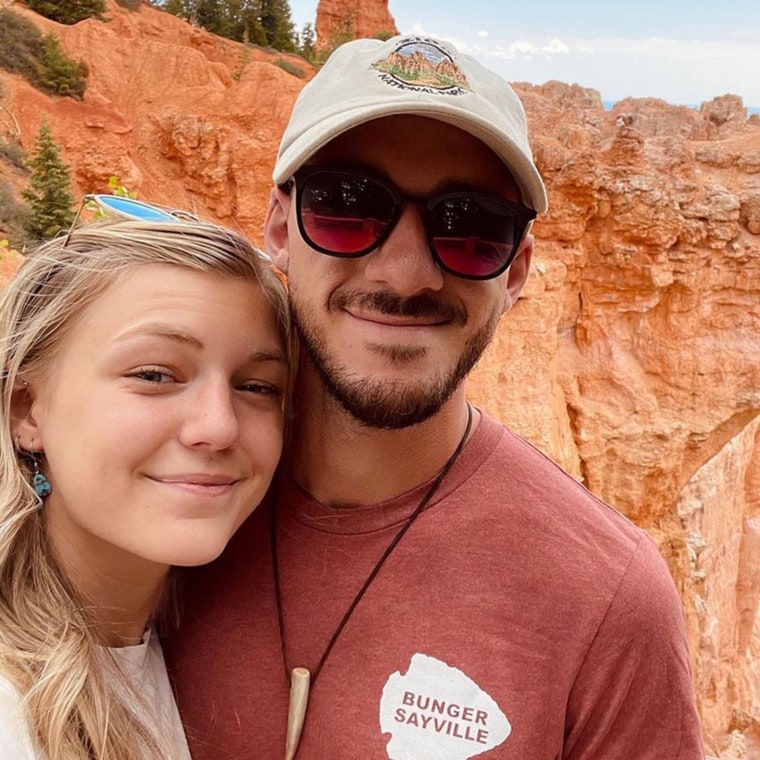 On Monday, the Grand County Sheriff's Office in Utah released 911 audio from a witness who said he saw a man slap a woman and then saw a white Ford Transit van bearing a Florida license plate drive away.
The 911 call led Moab police to stop the van — driven by Laundrie, with Petito as a passenger — on Aug. 12. The incident appeared to be a mental and emotional "break," police said, writing that Petito had slapped Laundrie. They forced the couple to separate for the night to avoid a case of domestic assault against Petito.
Laundrie returned home to North Port, south of Tampa, Florida, in the couple's van Sept. 1, which was 10 days before Petito's family reported her missing, police have said.
A version of this story originally appeared on NBCNews.com.