After investigating the suicide of a 12-year-old girl for nearly a month, a Florida sheriff was so outraged by a remorseless Facebook post on Saturday that he arrested a pair of teenage girls in connection with the case.

After Polk County Sheriff Grady Judd saw a post on Facebook that he claims was written by one of the alleged bullies, he decided to move for a swift arrest. On Monday, authorities arrested the alleged 14-year-old author of the post and another 12-year-old girl allegedly involved in the bullying of Rebecca Sedwick, who committed suicide on Sept. 9. 
The girls were charged with third-degree felony aggravated stalking and released to their parents.

"On Saturday morning, the 14-year-old did something that was despicable on top of what she already did that was terrible,'' Judd told Matt Lauer on TODAY Wednesday. "That was a post she put on Facebook, and that post said, 'I know Rebecca is dead, and I don't care.' The words were much more graphic than that, or the letters were. So we looked at that and said, 'She doesn't get this at all.'''

Judd spoke with his detectives and supervisors on Monday afternoon, and they told him they had enough of a case to charge the girls, who were arrested on Monday night. In her alleged post on Facebook that hastened the arrests, authorities say the 14-year-old who has been charged wrote, "Yes ik (I know) I bullied Rebecca nd she killed her self but IDGAF." 
At a news conference on Tuesday, Judd showed the girls' pictures and released their names, but because they are minors, TODAY is not printing their names. The bullying began when the 14-year-old started dating a boy that Sedwick had been seeing, according to the sheriff. The older girl threatened to fight Sedwick when they were sixth-graders at Crystal Lake Middle School last year and also convinced the 12-year-old to start bullying Sedwick, according to Judd. The younger girl then beat up Sedwick at school, Judd said.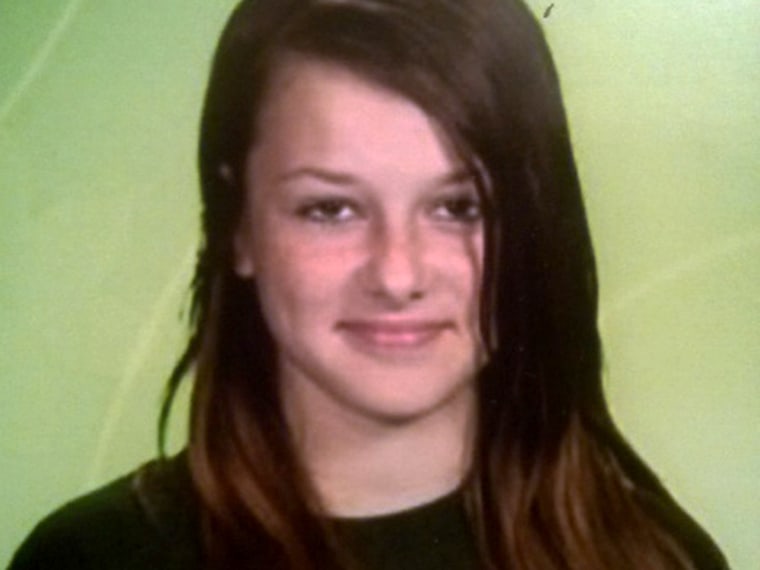 "We were going to arrest them anyway, but we were trying to put the entire case together, and as you know, we're having trouble getting information from (social media site) Ask.fm because they're offshore, so it was taking some time,'' Judd said. "But when we saw that cavalier attitude, when we saw that despite Rebecca dying, jumping to her death, being bullied by this girl and another girl, and she's back on Facebook, she can be taunting or bullying another child. We're not going to accept that."

A man who answered the phone at the 14-year-old's Lakeland home and said he was her father told the Associated Press that "none of it's true."
"My daughter's a good girl and I'm 100 percent sure that whatever they're saying about my daughter is not true," he told the AP.
The parents of the 14-year-old also told ABC News that their daughter's Facebook page was hacked, and she did not make that post. 
Authorities claim that Sedwick was bullied online and at school by as many as 15 girls. On Sept. 9, she climbed a tower in an abandoned concrete plant and jumped to her death. Sedwick had transferred to another school after the alleged physical bullying, but still was harassed on social media, according to authorities. Judd said at the news conference that there were posts by the 14-year-old girl directed to Sedwick saying things like "Drink bleach and die…No one likes you."
"There was a lot of intervention,'' Judd said. "She was a very fragile child and those words stung and they hurt and they depressed her, so despite the interventions that were tried, still with all mom did, the child had access to the Internet and to the text-messaging systems and to the social media, and that's how the bullies got to her.
"Mom actually physically separated them by moving schools, taking her out of schools. At the end of the day, though, they were able to get to her because of the social media and the taunting and the harassing and the intimidating that went on and on and on, and ultimately she texted a friend and said, 'I'm gonna jump.' And she did.''
Judd added that his department also is looking into charging the two girls' parents if possible.
"Right now there are no criminal charges that we can find, but if we could find a contributing to the dependency or delinquency of a child (charge), we certainly would bring that charge because I can tell you, the parents are in total denial,'' Judd told Lauer. "They don't think there's a problem here, and that is the problem. It's kind of like the apple doesn't fall far from the tree, that's what we have here. The parents are in denial and they even let her have her Facebook access after she bullied this child and after they knew it. That's terrible. That's why we moved fast to lock their daughter up."