/ Source: TODAY contributor
My father was a hard-working coal miner who supported a wife and a brood of children — 10 of us, to be exact — in a small town in northeastern Pennsylvania. So it may seem a bit odd that, as Father's Day rolls around, one of the reasons I'm most grateful to him is that he got me to opening night at the New York Metropolitan Opera — even though he had passed away by the time I got there.
You see, my father was an Irishman, which means he loved music. He loved the great tenors of his day, and I would crank the Victrola so he could he listen to his favorite recordings by John McCormack, Harry Lauder and Enrico Caruso. (Sometimes the turntable would wind down, and my brothers would get the giggles hearing the music slow to a low drawl.)
Before 'American Idol'Nowadays the word "Victrola" conjures a mental image of thin, scratchy voices coming out of an enormous horn, but actually, Victrolas sounded better than the re-creations of them you hear today. By my time, they came in cabinets, which gave the music a deeper sound. The phonograph records were thick and one-sided, and they didn't sound bad at all; I still have a few. In fact, compared to the way many people listen to music today — digitally squeezed versions of recordings blaring through tiny buds jammed in their ears — I'm not sure we weren't better off back then.
But my father didn't just enjoy listening to music; he loved performing it, too. Both he and my mother sang constantly — every baby in our household went to sleep to the tune of "Too Ra Loo Ra Loo Ral." Pa was also a self-taught fiddle and harmonica player, and he had a fine tenor voice that stood him in good stead when he performed in his tuxedo at our town's talent shows.
Sponsored by local churches, those shows were a big deal in our little town of Archbald, Pa. People would rehearse for months, and the performances, held in the Catholic school, were always crowded. There were colleens doing step dancing in colorful costumes, and wonderful singing (a lot more professional than "American Idol," in my humble opinion).
My father's repertoire included popular light opera like "Martha" ("Martha, Martha, I adore thee, spend your life with me..."); sentimental dirges ("They cut down the old pine tree and made a coffin..."); union songs ("If you want better wages and you don't know what to do, join the union!"); and mining songs so sad they would make me cry ("Daddy, don't go down in the mines!").
I love Luciano
But it was the opera music that really stuck with me and developed into a passion I have carried with me my whole life. When I moved from Archbald to Buffalo to study nursing, I always listened to the New York Metropolitan Opera radio broadcasts. And there I found a friend who shared and nurtured my interests.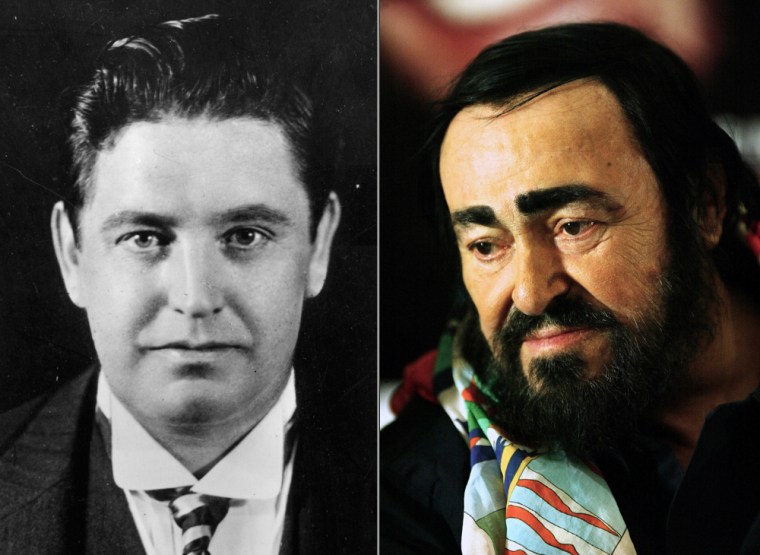 My lifelong friend Anne is Italian; she grew up with a father who loved Italian tenors as much as mine loved Irish ones. When I moved from Buffalo to Long Island in 1973, it was an ideal time for opera in New York; superstar tenors Luciano Pavarotti, Placido Domingo and Jose Carreras were all skyrocketing to fame at the same time. I got season tickets to the Met, and Anne would frequently come across the state to join me there.
My favorite tenor was Luciano Pavarotti, whose clear, bell-like voice reminded me of the tenors I heard in my house as a child. I would guess I saw Pavarotti perform at least 30 times — half a dozen performances of "Rigoletto" alone.
My sons teased me, calling me a Pavarotti "groupie" and accusing me of following him around the country like some of their generation followed the Grateful Dead. But they also fed my passion by showering me with Pavarotti records, books, CDs and DVDs.
Gala opening nightBut as much as Anne and I frequented the Met, we couldn't get what we coveted most — opening-night tickets. You could request them, but they were almost impossible to get.
Then, one year — against all odds — I finally did. Immediately I called Anne, and she came to New York to share my great good fortune.
We had dinner at 2 p.m. so we could get there good and early. We sat by the fountain in Lincoln Center Plaza and watched all the glitterati roll up in their limousines. And as we did, we wondered aloud about how two little girls from Archbald and Buffalo had managed to make it to opening night at one of the greatest opera houses on Earth.
Then we heard the sound of music and hurried inside in time to see the orchestra's brass section lined along the two magnificent stairways, playing excerpts from "Carmen" and other operas. It was magical.
When we finally got to our seats, we continued to muse about how we'd gotten there. We came to the same conclusion at the same time: We had our fathers to thank.
Today I have two music-loving sons, one a professional musician who I am always proud and privileged to see perform. I think they, too, received the gift of music from my father, branded indelibly on their genes.So to children everywhere, whatever your age may be, I have a bit of advice this Father's Day: Forget the tie this year. Instead, think instead of something your father gave you, whether by nature or nurture, that you have enjoyed all your life — and then try to nurture his passion in return. Maybe it's music your father loves, as mine did; maybe it's a sport, or art, or entertainment.
Or maybe the best gift you can give is to simply take the time to say: Thanks!
Kitty Schindler, 85, grew up one of 10 children of a Pennsylvania coal miner during the Depression. Now she shares her perspectives on staying afloat during challenging times with TODAYshow.com readers. If you have a question for Kitty or a tip of your own to share, send her an e-mail! To Ask Kitty, click here.