/ Source: TODAY contributor
The controversial daughter of the dictator of Uzbekistan was to unveil her new spring clothing line, Guli, in New York next week. But IMG, the organizers of Fashion Week, have cancelled the presentation.
Pressure for the cancellation mounted as the news of the showing of Guli, a clothing line by Gulnara Karimova, the daughter of Uzbekistan President Islam Karimov, spread. The International Labor Rights Forum promised to stage a protest in front of Lincoln Center on September 15. The 39-year-old "first daughter," once bluntly described by U.S. diplomats as "the most hated woman in the country," was to be protested by an expected group of 50 to 100 young people staging a mock fashion show in an attempt to bring awareness to reports of egregious human rights violations and child labor in Uzbekistan.
"As a result of concerns raised, we have canceled the Guli show on September 15th," an IMG spokesman told the New York Post, who first reported on the controversy. A source asserts that IMG reached out to the designer to cancel the show. Karimova refused, so they went ahead and cancelled it themselves.
"As an official part of the (Uzbek) government in addition to being the daughter of the president, she is well aware of these issues and should address it," the forum's Tim Newman told TODAY.com. "We want to bring our message to her."
In Uzbekistan, children are reportedly mandated to work in cotton fields, and torture is reportedly a part of life in the land-locked nation of 28 million in Central Asia.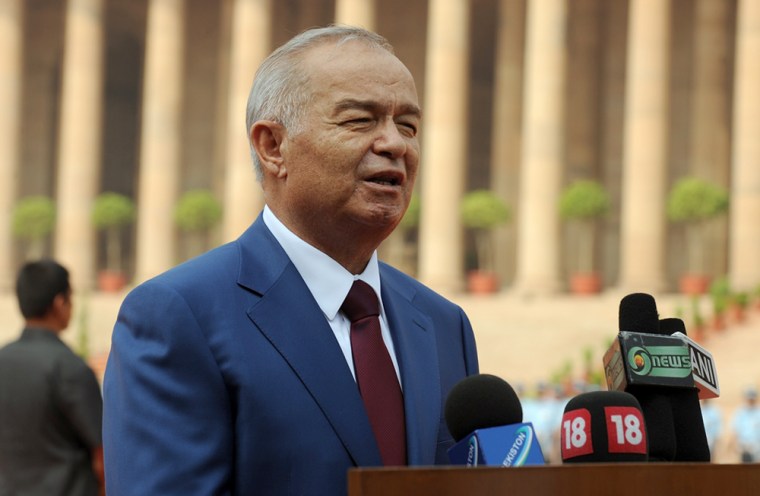 "(Karimova) talks about how her designs bring in traditional Uzbek fashions, so we're curious to see if she uses cotton from Uzbekistan," Newman said. "We're hoping this protest translates into pressure on Gulnara to address these problems in her home country."
Large retailers like The Gap, Walmart and Macy's have stopped using cotton from Uzbekistan. Karimova's clothes, which have already established a brand in Europe, feature blends of cotton and silk and Uzbek-inspired embroidery.
An international figure who counts Sting and Bill Clinton among her friends, Gulnara reportedly controls the billion-dollar company Zeromax, which has interest in areas ranging from agriculture to transportation to oil and gas, according to a report in Harper's Weekly.
Her father also has granted her diplomatic status, as she is Uzbekistan's permanent representative to the United Nations Office, other international organizations, and the country's ambassador to Spain.
She has released pop songs under the name "GooGoosha," and designed jewelry in addition to clothes. A mother of two, her personal website paints her as a charitable figure involved in projects helping children, a far cry from the picture painted by her numerous critics.