Want to try something a little different?InStyle magazine shares style advice on which rules are meant to be broken. In addition to the ideas below, try taking inspiration from some of our favorite rule breakers. Steal the spotlight with a flair for showmanship like Rihanna: Her outfits — a collection of wild prints, chain mail, maximal minis and dramatic shoulders — never cease to turn heads. Or, for a modern take on elegance, steer away from the look of old Hollywood glamour and play with new silhouettes and designers, like actress Ginnifer Goodwin does. Most importantly, channel the boldness and confidence of Tilda Swinton for a look that's uniquely your own.
Rule 1: Glittery jewelry is meant for the evening
How to break it: Don't treat your fancy stuff like a vampire. Let it shine in the daylight! To make it work, keep the rest of your outfit subdued and sophisticated — understated, clean lines will let your attention-grabbing jewelry rightly hog the focus. This embellished Roberta Freymann necklace turns a simple tank into a statement that works for both day and night.
Bib necklace: Roberta Freymann; www.robertafreymann.com
Tank: Banana Republic, $29.50; www.bananarepublic.com
Shirt: Banana Republic, $59; www.bananarepublic.com
Pants: JCPenney, $44; www.jcpenney.com
Shoes: Steve Madden, $79.95; www.stevemadden.com
Rule 2: Take off one accessory before leaving the house
How to break it: These days more is more. "Put on all your favorite things at once," insists jewelry designer Philip Crangi. "Accessories are the way people tell their stories. I love the mix of new and old, high and low, glam and personal. Pile it all together." Be sure to mix and match bracelets for a look that is uniquely yours.
White opal bracelet: H&M, $5.95; www.hm.com for store locations
Square chain bracelet: Ben-Amun by Isaac Manevitz, $88; www.ben-amun.com
Mixed metal bracelet: Giles & Brothers by Phillip Crangi, $125; www.gilesandbrother.com
Yellow ring bracelet: Giles & Brothers by Phillip Crangi, $350; www.gilesandbrother.com
Gold/turquoise bracelet:  Cristina V., $88; www.cristinaV.com ($10 from sales of this Knots of Hope Bracelet got to The Himalayan Project)
Gold/Diamond bracelet: Jamie Wolf, Aladdin Bangle; www.jamiewolf.com
Rule 3: Mixing patterns or clashing colors is a no-no
How to break it: Somewhere between good-girl boring and worrisome wacky is the fun zone. Why not combine two of three unusual choices, like a lilac-and-taupe checked sweater with a chartreuse skirt, says designer Rachel Comey. Keep colors within the same tonal family and don't mix patterns that have more than two colors. This summer, the floral dress becomes a fall hit when topped with a fitted blazer.
Plaid blazer: Francis, $120; available at Bloomingdales, www.bloomingdales.com
Floral dress: Single Dress, $65; available at Bloomingdales, www.bloomingdales.com
Shoes: Seychelles, $94;
Rule 4: Chipped polish must be removed immediately
How to break it: You can tough it out a few days after your manicure starts to fray, says nail expert Ji Baek. Just use a matching color to stroke a light line sideways across the worn area, then paint the entire nail with a top coat, like Lippmann Collection's, to blend and lengthen the life of your manicure.
Essie nail color in, $8; essieshop.com
Lippmann Collection "On a Clear Day" top coat, $16; lippmanncollection.com
Rule 5: Red is only for lips and nails
How to break it: Vibrant red shadow gives eyes a bold look. Build up the color gradually, says Pat McGrath, and make it most saturated at the base of the lashes. Wear this look with smoky black pencil and black mascara on the top and bottom lashes. On lips, opt for a deep, cool red or nude to focus on eyes.
Make Up Forever eye shadow in No. 64, $19; sephora.com
Chanel Inimitable mascara, $30; nordstrom.com
Christian Dior Crayon Eyeliner Pencil in black, $26; neimanmarcus.com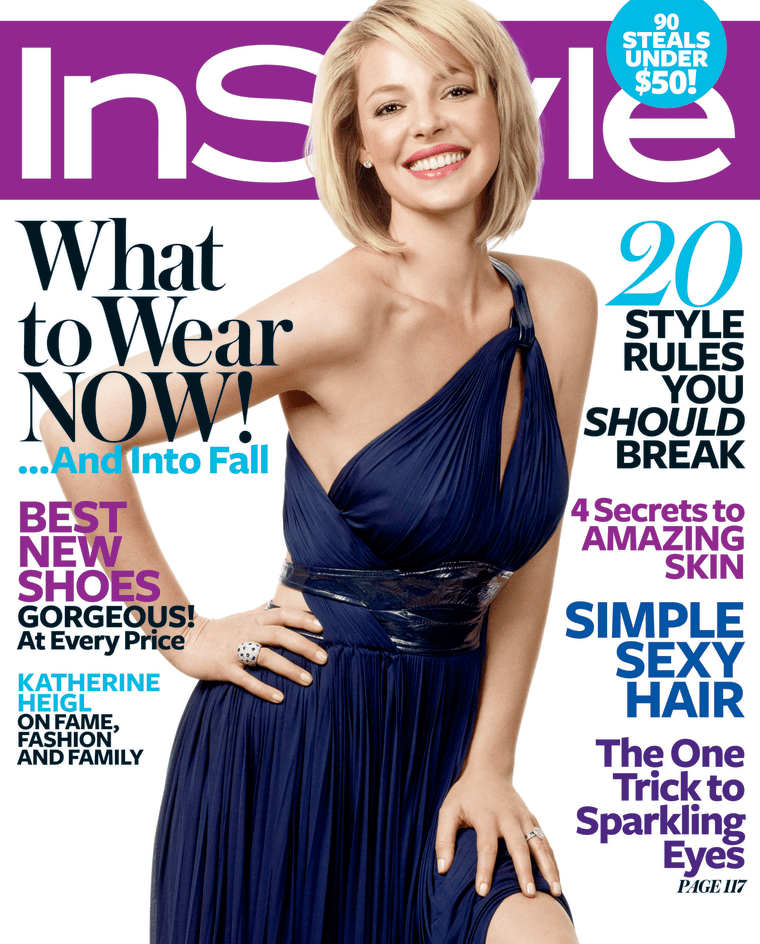 Rule 6: You can't wear denim on denim
How to break it: Pair contrasting denims, like dark indigo jeans with a pale chambray shirt. Keep it sophisticated, not country. Finish the look with a strappy shoe and studded bag.
Shirt: Urban Outfitters, $68; www.urbanoutfitters.com
Jeans: J Brand, $178; www.shopbop.com
Bracelet: Cristina V., $88; www.cristinaV.com ($10 from sales of this Knots of Hope Bracelet go to The Himalayan Project)
Studded bag: 7 for all Mankind, www.7forallmankind.com
Shoes: Nine West, $99; www.ninewest.com
Rule 7: Wear open-toe shoes only in the summer
How to break it: Tights with sandals are huge for fall. Thicker-strapped pairs don't expose too much foot and help you avoid sliding. Wear with opaque tights in autumn colors instead of black. Try favorite fall colors like burgundy, dark mustard, or purple. Or even opt for a pattern tweed version.
Dress: Yoana Baraschi; available at M.Clothing, www.martymclothing.com
Colorblock tights: DKNY, $20; available at Nordstrom's
Gray patent pumps shoes: Nine West, $79; www.ninewest.com
Menswear tweed tights: DKNY, $20; available at Nordstrom's
Fuchsia pumps: Steve Madden, $99.95; www.stevemadden.com
Purple tights: Hue, $12.50; available at Anthropologie, www.anthropologie.com
Brown strappy booties: Banana Republic; www.bananarepublic.com
Burnt orange chevron tights: Urban Outfitters, $14; www.urbanoutfitters.com
Black platform sandals: Nine West, $89;
For more on fashion risk takers, check out InStyle.com.