Think of what you drive by every day and don't see. Seven-year-old Douglas Geis notices more than most. He waved us into the woods near Waldoboro, Maine.
"Follow me!" Douglas shouted as he turned to climb a hill. He wanted to show me a 5-acre forest filled with wonders: thousands of sculptures tucked into the trees.
"See that mermaid sitting on the yellow submarine?" cried Douglas' cousin, Annabelle Nicholls, another 7-year-old with a keen eye.
"That's a fish skeleton next to it, made out of pickaxes," her little brother Liam pointed out.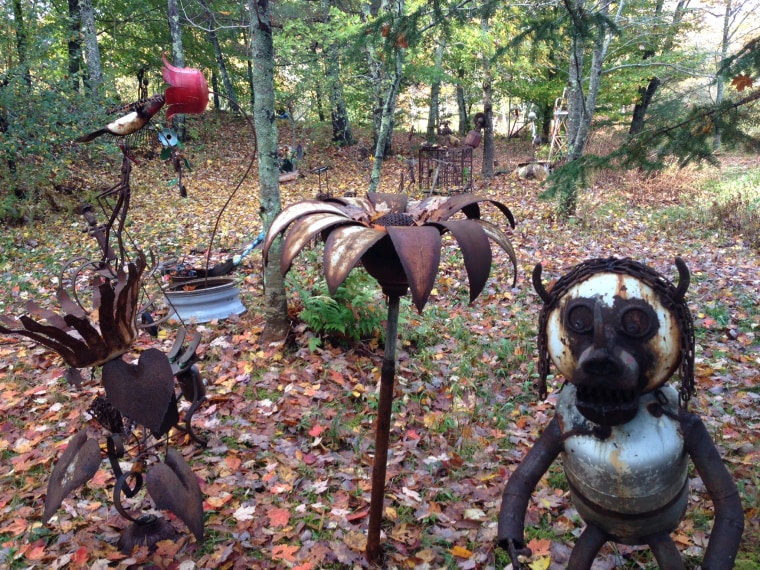 We jumped across a small creek to take a closer look. "And what's this?" I asked.
"This is a time machine," said Annabelle, twirling a wheel atop a contraption rusting into the weeds. It was created by her late grandfather, Nate Nicholls, a farmer who also sowed art. He would weld together whatever worn-out tools he saw.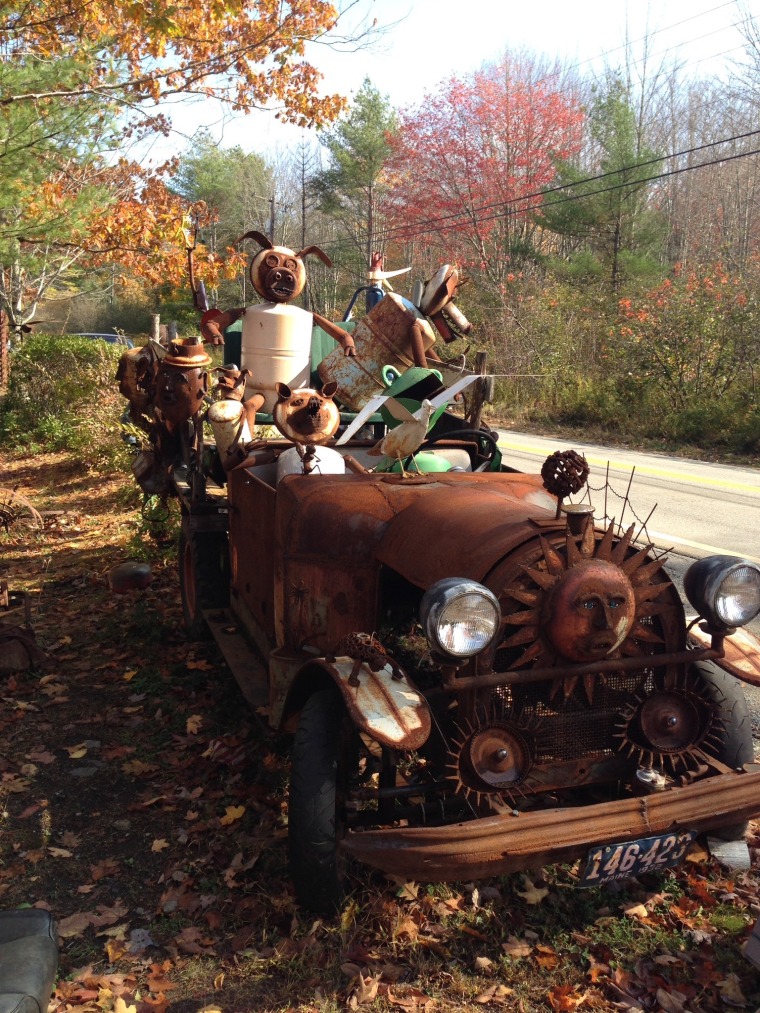 Nate's son Josh joined us beneath one of his father's giant sculptures, a dragon. The setting sun, flashing though the trees, looked like fire.
"Everybody else looks up in the clouds and says, 'Oh, that cloud looks like a dragon,' Josh said. "My dad looked down at the ground and said, 'That wrench looks like a monkey.'"
Nate Nicholls' sculptures so filled his heart, he felt compelled to give them life. None made him much money, so every day for 25 years, he hid another one in his woods. The farmer was working on a metal frog last summer when his heart failed and he died at 52. Last fall his children buried him beneath flowers he'd made from water faucet handles.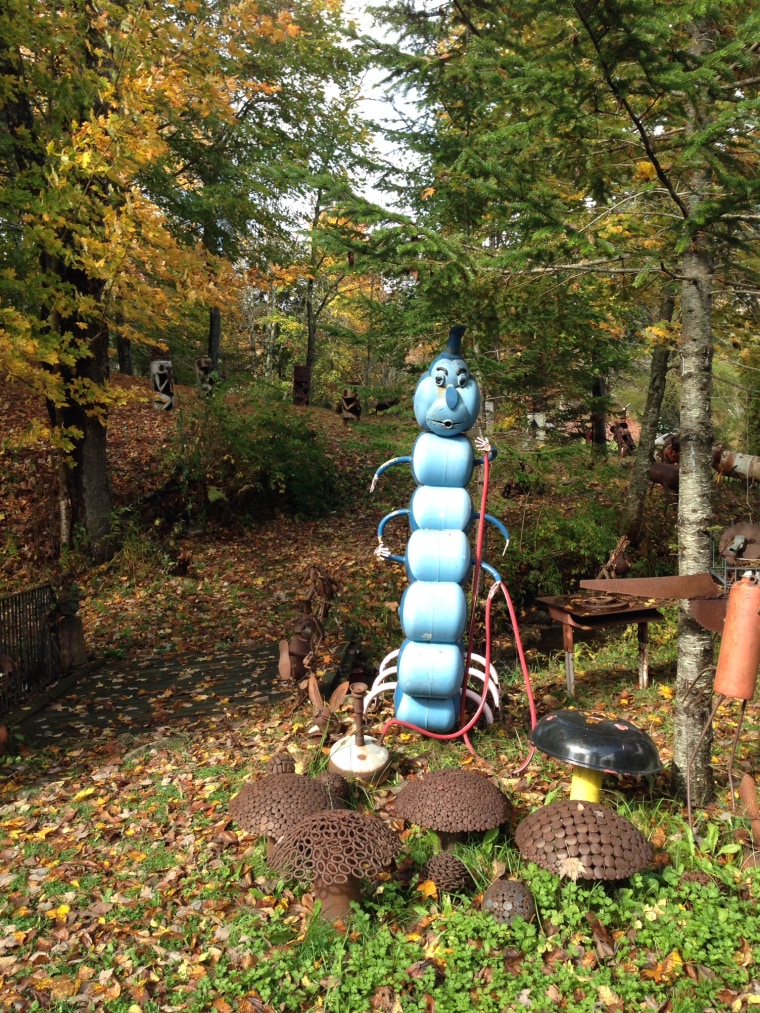 His daughter, Alissa, read us a poem he left behind:
There really isn't much difference
between this old man
and a chunk of rusty mooring chain. 
I grow weak
from both the weathering of time
and the brine of existence.

Another daughter, Heather, said the family hopes to open the forest to all who want to visit. To make that possible, the kids are moving his sculptures into clearings.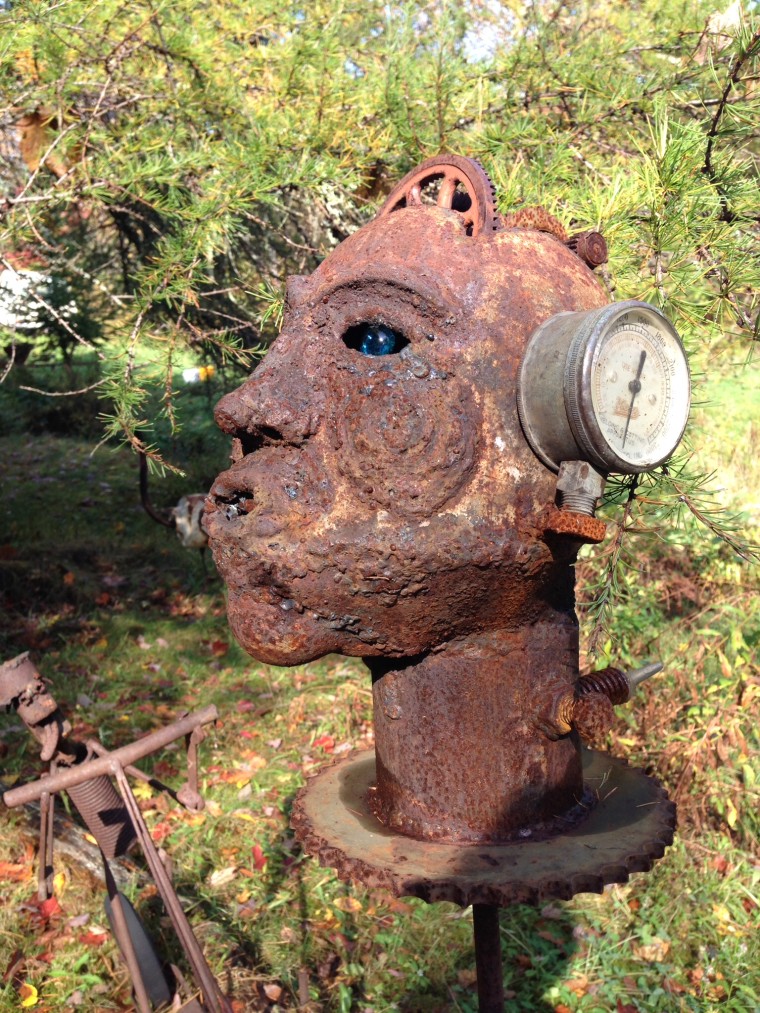 "What inspired your father to fill his woods with all that he created?" I asked.
"The city told him he had collected too much junk," Heather explained. "So he decided to turn it into art."
Fine art, for his grandchildren to discover. But not all of the pieces are easy to spot: Some are just 3 inches tall.
Three-year-old Barrett Geis found a tiny lion made from electrical coils. "Grrrrrr!" he roared, making a fierce face. 
His older brother, Douglas, pounced on another lion I had passed unnoticed. "Why do you see so much I can't see?" I asked him.
Douglas pondered for a moment, then said, with a 7-year-old's certainty: "You can't see without your glasses."
At least one thing seemed clear: Nate Nicholls did more than fill his forest full of art. The best of him lives on in those kids. 
Do you know someone outstanding for an upcoming American Story? Email us.