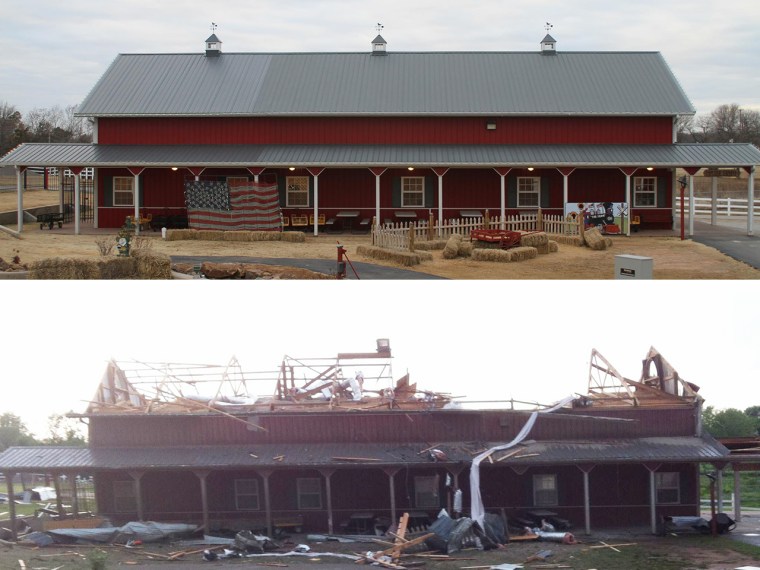 As Monday's deadly tornadoes took their toll on the residents of Moore, Okla., a local farm home to hundreds of animals was also hit hard.

Orr Family Farm and Celestial Acres Training Center, which are both located within the same 106-acre piece of land in Moore, were badly damaged by the storm, and staffers are currently trying to assess the number of animals lost.
All of the employees survived the storm, but the buildings sustained heavy damage and several horses had to be euthanized on Monday, Orr family spokesperson Tony Vann told TODAY.com.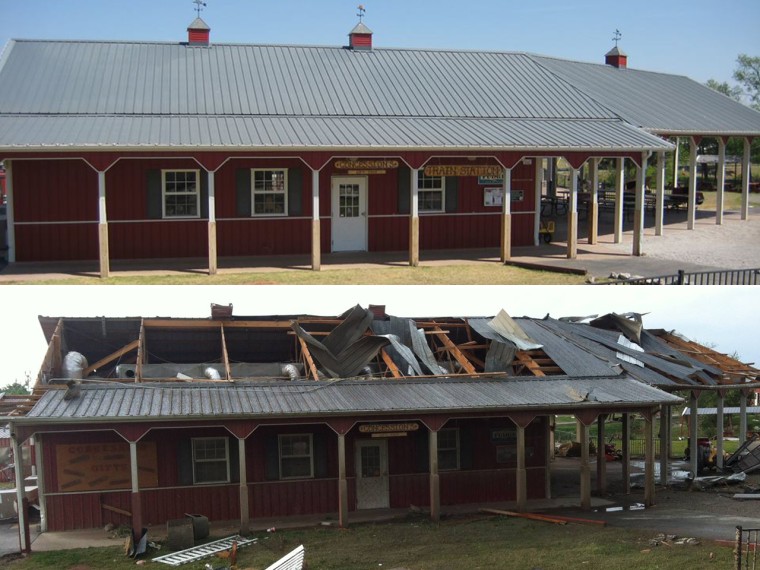 Celestial Acres, which is a training area for racehorses, stalls roughly 125 horses, according to Vann. Local NBC affiliate KFOR cited sources claiming 75 to 100 horses died or were lost in the storm, but Vann would not confirm that total.

"Most of the horses at Celestial Acres belong to other people, so there is not a static number of animals there at one time,'' Vann told TODAY. "The number of animals is a moving target, but I do know they had to put some animals down yesterday. The tornado was so devastating that they're finding debris from the city of Moore 90-plus miles away, so to say there was a horse there or not there, I can't put that information out at this time."

One Celestial Acres employee, exercise rider and caretaker Lando Hite, was able to survive by leaping into a horse stall and riding out the storm after setting some of the horses free in hopes they could avoid the twister.
"I tried to let some of the horses get loose and free out of their stalls so they'd have a chance,'' Hite told NBC Oklahoma affiliate KFOR.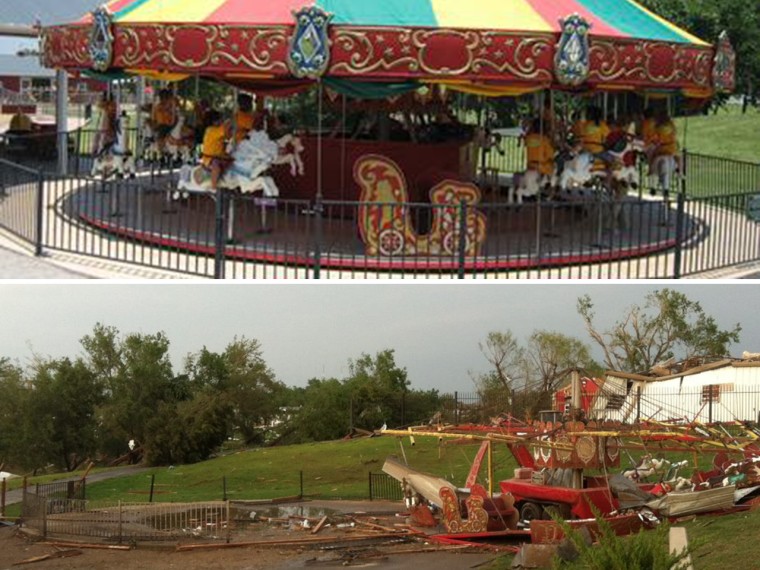 Orr Family Farm, which is a tourist destination and family entertainment center, suffered heavy damage to its main barn and replica train station, and its carousel was also destroyed. The farm features a petting zoo with goats, llamas, pigs, baby chickens and bunnies, and Vann said there was no exact number of how many animals were on the property when the storm hit. The farm's owners, Dr. Glenn Orr and his son, Tom, are working with employees to determine how many animals at Orr Family Farm were lost.

"We very much appreciate and feel very blessed with the outpouring of support from all of you,'' the family wrote on the farm's Facebook page. "We appreciate your offers of assistance, animal care and items and we will let you know when we can receive these generous offers."

There has been an outpouring of support by those looking to help the farm in its recovery, but they have been urged to donate to a PayPal account set up by the Orr family rather than try to bring or send supplies to the farm.
"We've had people want to deliver hay or bring a stallion, but there is nothing there,'' Vann said. "It's all been wrecked by the storm. If you brought bales of hay, they have nowhere to put it, and they don't have the animals to eat it."