The family of an Arizona mother who has been jailed in Mexico on suspicion of drug smuggling is fighting for her release.
"Our greatest fear right now is that our sister will be lost,'' Yanira Maldonado's brother-in-law, Brandon Klippel, told Savannah Guthrie on TODAY Wednesday. "One of the things the attorney said to us right in the beginning is that once you're in the federal prison system (in Mexico), they move you around without keeping good records. In fact, she was lost for the first day in the prison system when this first started.
"If she's moved and transported around, we may never see our sister again, and that's something that would just be devastating to our family."

"It's unbelievable,'' her daughter, Anna Soto, told NBC's Miguel Almaguer. "I feel like it's a movie, a nightmare. I want to wake up. There's no way to, and I'm like there's no way to escape."
Story: Nightmare for American woman held in Mexico accused of smuggling drugs
Maldonado and her husband, Gary, traveled by bus from their home in Goodyear, Ariz., to the state of Sinaloa, Mexico, on May 19 for the funeral of Yanira's aunt. While returning home on May 22, their bus was stopped at a checkpoint in Hermosillo, where soldiers claimed they found more than 12 pounds of marijuana strapped to the underside of Yanira's seat. The family claims the drugs were not hers.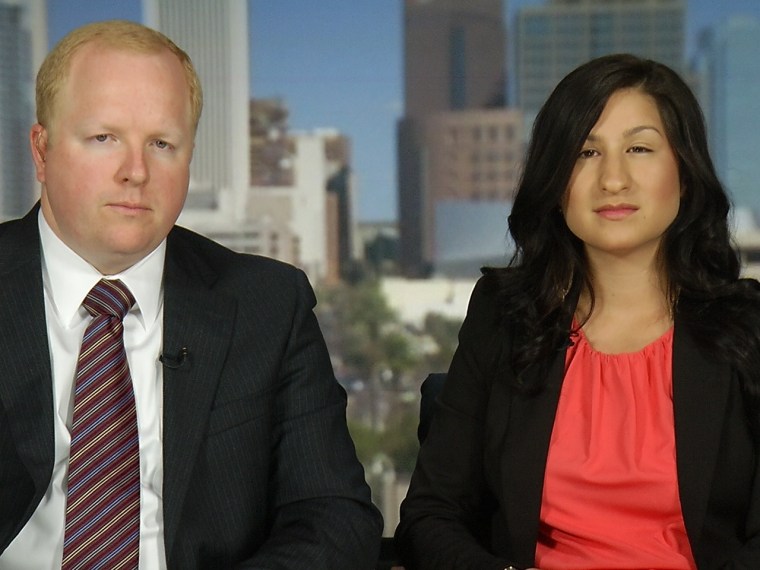 Yanira, a mother of seven and a devout Mormon, has been moved from Hermosillo to a jail in Nogales, Mexico, just across the border from Arizona. She has not been charged with a crime, and no decision was made at a court hearing Wednesday. A magistrate in Nogales has until 6 p.m. Friday to rule on her case or she will be sent to another facility for what could be several months behind bars.

Soto visited her mother in prison on Saturday, where she said a prison guard held a gun over his shoulder as they talked.
"I can tell you they're not very professional,'' Soto told Guthrie. "The guards there are kind of rude. That already gave me a bad vibe about it. We had no privacy at all. Luckily we both speak English and we got to talk a little bit, but I didn't feel comfortable about anything there."
On Tuesday, the court heard from witnesses whose testimony may help Yanira, a naturalized U.S. citizen born in Mexico. The family has launched a Facebook page as part of an effort to clear her name, and the U.S. State Department and Arizona Senator Jeff Flake say they are communicating with Mexican authorities and the Maldonado family.

"She's scared,'' said Klippel, who spoke with her by phone. "She's in a prison that's got horrible conditions. She's not very happy at all about the situation as you can imagine, but she's very hopeful. After yesterday's witnesses and testimony, she's really looking forward to being reunited with her family soon."

Gary Maldonado told Klippel that he was arrested at first because the soldiers said the drugs were beneath his seat before they took Yanira into custody instead.
"I asked him, 'Could (the drugs) have been there, would you have seen them?''' Klippel said. "He said that he didn't see anything. They didn't show him any drugs. He doesn't know if they ever existed in the first place. We just know that they had nothing to do with it whether they were there beforehand or whether they were planted there by somebody else."
Guthrie asked if it was possible the soldiers were looking for a bribe.
"That's what I have heard of in the past, but I don't know,'' Soto said. "I just know that my mom was there at a bad time."