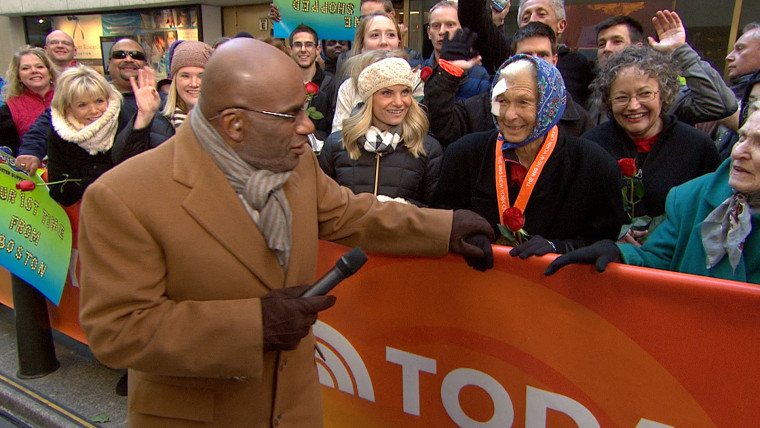 She was a winner, a relentless competitor, and as befits her name, a pleasure to be around. Joy Johnson, 86, who ran her 25th New York City Marathon on Sunday, died one day later at Bellevue Hospital in Manhattan.
Johnson had fallen and hit her head around the marathon's 20th mile, refused a trip to the hospital, and as was characteristic for her, continued the race with her face and head bandaged to stop the bleeding.
A widow and former gym teacher from San Jose, Calif., Johnson didn't start running until age 59. She averaged three marathons a year, ran anywhere from 25 to 50 miles a week, and made quilts from her race shirts.
This year she finished the New York marathon in less than eight hours and with a horde cheering her on, thanks to a 2008 Wall Street Journal profile that rendered her a celebrity among running fans. As Johnson did every year of the marathon, she visited TODAY on Monday morning to reconnect with her friend Al Roker, who over the years had sought her out in the crowd for a quick hello and a hug or a peck on the cheek. She was back this week, having her chat with Roker.
"She considered everyone her friend," her daughter, Diana Boydston, told TODAY.com. "I think she would be happy with this chain of events: to run her beloved New York marathon, talk to her buddy Al, be there with her sister Faith. She told everyone she loved them before the race, and she was at peace."
After leaving TODAY, Johnson told her sister that she was tired and cold, so they returned to their room at the Roosevelt Hotel to allow her to rest. She never woke up.
"She died the way she wanted," said her friend and fellow runner Will Sanchez of New York, who met her at a running camp in Lake Tahoe in 2008. "She was determined to run 'til she dropped. That gives some comfort, some closure to her family. She did it her way."
First runner with Down syndrome finishes NYC marathon
Her best time at the marathon, in 1999, was three hours, 55 minutes, 30 seconds. Age had slowed her running times, but not her enthusiasm — and certainly not her smile. "Her name described her to a 'T'," Sanchez said. "Every time she walked into a room, the room just lit up, because of her smile, the energy in her step, the twinkle in her eye. Everyone gravitated toward her."
Johnson grew up on a Minnesota dairy farm and taught physical education in Duluth, Minn., for a few years before growing tired of the cold. She moved to California's Bay Area and taught at several schools. She married a widower with four children and retired at 56.
At first, she began walking for exercise. She then graduated to jogging, ran a 10K, and then said yes when a friend suggested they run the New York City Marathon.
Accomplishing amazing athletic feats — in their 80s and 90s
"When I crossed that finish line in Central Park, I just knew this is what I would do the rest of my life," Johnson told a San Jose Mercury News reporter in 2011. She returned home laden with trophies, which she would just as soon have stashed away in a box. But her husband, Dr. Newell Johnson, an internal medicine specialist, insisted they be displayed on the living room mantel. He died in 1999. "If my husband was living, he would be so proud," she told the Wall Street Journal. "Probably wouldn't be able to stand him."
Johnson was featured in the Runner's edition of "Chicken Soup for the Soul," in an entry written by Sanchez titled "Running with Joy." And each day she abided by the Biblical writing she kept on her kitchen wall: "But they who wait for the Lord shall renew their strength. They shall mount up with wings like eagles. They shall run and not be weary, they shall walk and not faint."
Love in action: Dad, 72, races in nearly 1,100 events with disabled son
In 2011, she told USA TODAY, "I want to keep running as long as I can and drop in my running shoes when the time comes."
A woman of her word, that's just what she did.
A geriatric specialist is using photography to challenge stereotypes and show people thriving as they journey into old age.