Sheryl Sandberg says using Facebook to share her grief following the unexpected death of her husband earlier this year helped her feel less alone.
The Facebook COO told TODAY's Savannah Guthrie in an exclusive interview Wednesday that it also deepened her appreciation for the social network's impact on users.
"As I look to the new year, and my children and I have worked so hard to rebuild our lives and find happiness and joy and gratitude again, I think the support of strangers and our friends made a huge difference," Sandberg said. "I always loved Facebook's mission, but now I feel even closer to it in, I think, a much deeper and more profound way."
Sandberg, who's taught thousands of working women how to "lean in" to their careers, lost her husband of 11 years on May 1. Dave Goldberg fell off a treadmill while exercising during a family vacation. He was 47.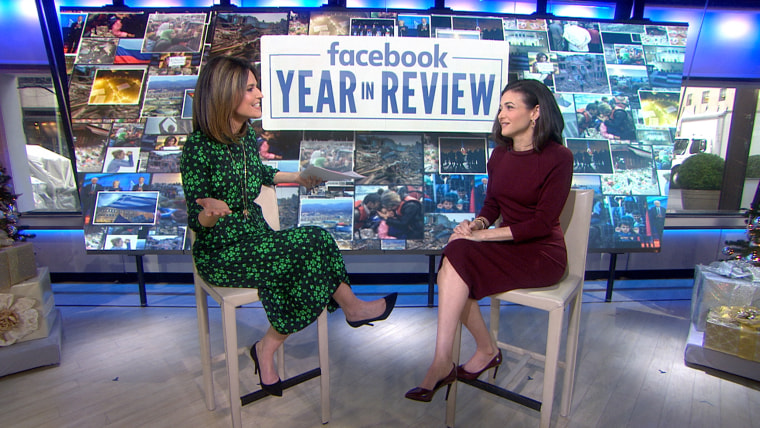 She described the sudden loss as "a horrible thing to live through."
It also was "pretty isolating," she said, recalling how she returned to work after her husband's death and faced colleagues unsure of what to say.
"Everyone kind of looks at you like a deer in the headlights," she said.
MORE: 'I want to choose life:' Facebook's Sheryl Sandberg mourns husband in heartfelt post
She explained that's why she posted a deeply personal message on her Facebook page in June that chronicled her grief in the first month after her loss.
"I have lived thirty years in these thirty days. I am thirty years sadder. I feel like I am thirty years wiser," she wrote in the post.
"I wasn't sure if I was going to post it, but I did," Sandberg told Guthrie. "I hit send on the 30-day anniversary of his death, which has meaning in the Jewish religion. I shared how to talk to me and how I was feeling. And it changed a lot. People knew what to say. People started talking to me more openly. And even strangers, because I'm not the only person who experienced loss this year or in previous years."
RELATED: Facebook's Sheryl Sandberg remembers late husband, Dave Goldberg, on his birthday
Sandberg, who appeared on TODAY to discuss Facebook's Year in Review, said recovering from the loss of a loved one is "such a huge part of the human condition," but one understood across the world and cultures.
"By using, sharing on Facebook, I felt part of that global community," she said.
"Because anything you experience, no matter how tragic or devastating... there are many people in the world who've experienced that," she said. "There's something universal about the ability to share and connect and say to someone else, 'It gets better.'"
Follow TODAY.com writer Eun Kyung Kim on Twitter.