/ Source: TODAY contributor
As the rain intensified amidst reports of a tornado watch on February 29, Sherill Metz noticed that one of her family's two dogs had gone missing.
Once she realized that Lola, her family's three-pound Chorkie, had done more than wander over into a neighbor's yard from their suburban home outside Huntsville, Ala., Metz's first action was not to go knocking on doors or immediately get in her car to start the search. Instead, the mother of two turned immediately to Facebook, which has become a vital resource in the recovery of lost pets, particularly after destructive storms.
"Facebook was the quickest way for me to get the word out that Lola was missing,'' Metz told TODAY.com. "I was shocked how quickly my post became viral at the local level around here.''
Metz posted a cute picture of Lola wearing a pink sweater on a Facebook page for local mothers in the community, asking for any information on Lola's whereabouts. That post was then shared by fellow Facebook users on the pages of a local veterinarian, a nearby television station and a page dedicated to finding pets in the aftermath of the devastating tornadoes in Alabama last year. That page, titled "Animals Lost & Found From the Tornadoes in Alabama on 4/27/11,'' has more than 32,000 likes and has been a valuable resource since the disaster hit.
"At one point I was just sitting there trying to keep up with the number of comments because it was just filling up my screen,'' Metz said.
In addition to using traditional methods to find Lola like knocking on neighbors' doors, enlisting others to help drive around to search for her and creating flyers, Metz also received helpful tips from other lost pet pages on Facebook. One tip included mentioning on the flyer that her dog needs medicine.
"That way if any people are thinking about keeping her, they will see she needs medicine and be more likely to bring her back,'' Metz said.
Metz soon included a financial reward for the return of Lola after the dog had been missing for several days that caused the family some sleepless nights. Making things more difficult was that Lola was without her collar when she ran away because Metz's husband had removed it to give the dog a bath, and she did not have a tracking microchip.
After about four false alarms from people calling to say they thought they might have her dog, Metz received a call five days after her disappearance from the wife of a man who nearly accidentally hit Lola with his car on a major road near the Metz's home. The couple lived more than 30 miles away from the Metz family but the man works in the area and recognized the dog.
"They said they were watching the newspaper to see if I posted about a lost dog,'' Metz said. "I never even considered the newspaper. I thought, no one else even reads the newspaper anymore except for my grandma."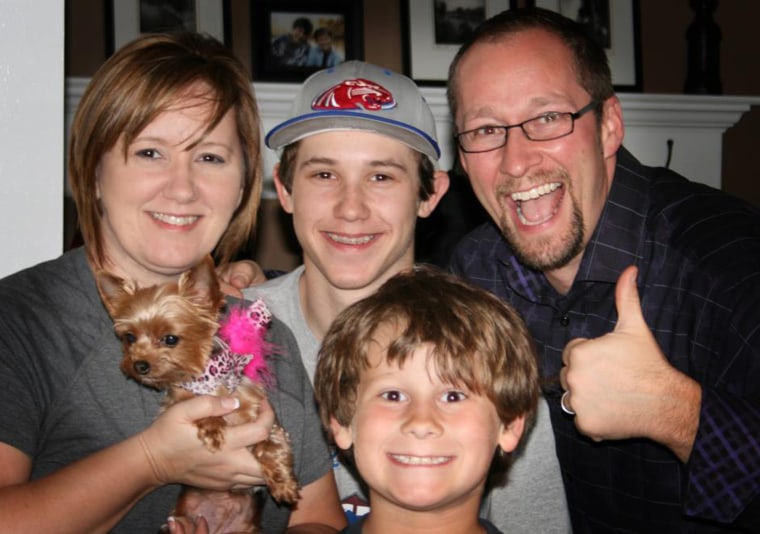 The longer the two spoke about the dog, the more optimistic Metz became.
"She got in contact with me, and the more she talked to me and told me about the dog, I realized it was (Lola),'' Metz said. "I started crying.''
After Lola was returned, Metz posted a happy photo with Lola and her reunited family on Facebook. She soon found out the power of the social network beyond just the torrent of positive comments on her page.
"I went in to get a pedicure that weekend, and I had three people hug me and ask me if I found my dog,'' Metz said. "I didn't even know who they were. I went to pick up food at the Chinese restaurant in town, and I had a woman come up to me and say, 'You don't know me, but have you found your dog yet?' All of them knew from Facebook.''
The couple who returned the dog discreetly waived the financial reward. Metz then learned, on Facebook of course, that the couple was actively searching for a Chorkie of their own. Sherill and her husband offered to buy one for them, but they politely declined and simply asked for the contact information of the breeder.
"She did the right thing, and she was happy she did the right thing,'' Metz said. "They wouldn't take a penny. They just said, 'You take your baby home.'''
Metz plans on having a microchip implanted in Lola in case of any future disappearances. While she hopes to not have to endure the worry of losing the family's dog again, she realized the power of Facebook through the ordeal.
"It's been a pretty cool experience,'' Metz said. "We have a new set of friends, and it's a happy ending.''