/ Source: TODAY contributor
The face of Facebook, the burgeoning social networking site, was supposedly in damage-control mode, but you wouldn't have known it from looking at the site's 24-year-old founder and CEO, Mark Zuckerberg.
When Zuckerberg first appeared on TODAY with Meredith Vieira in June 2007, he wore a black North Face jacket, blue jeans, flip-flops and a T-shirt. With his site now pushing toward 200 million members worldwide, Zuckerberg returned to TODAY's New York studios still wearing blue jeans and what looked like the same black jacket — but he'd upgraded his footwear to sneakers and was wearing an actual white dress shirt with a red tie loosely knotted around an unbuttoned collar.
Zuckerberg had two missions. One was to quell the controversy that erupted recently when Facebook appeared to claim perpetual ownership of members' personal information and postings, even after they cancel their memberships; the other was to talk about the explosive growth in the service he started in 2004 while a sophomore at Harvard as a way to allow his classmates to connect with one another.
'We made a mistake'
The impression that Facebook was declaring ownership over all members' postings, he said, was a case of a sloppy rewriting of the site's terms of membership.
"Frankly, we made a mistake in the last version and issued some unclear language," Zuckerberg told Lauer. "Our intent is that people own their own information. One of the things that makes Facebook really special is it's a service that people are using to put up information that they want to share with people that often is very personal, private, intimate."
If a member decides to leave Facebook and takes down his or her page, he added, "None of that information will be shared with anyone going forward."
In fact, on Thursday Zuckerberg had said that the controversy over the new language prompted Facebook's owners to decide to put future policy questions up to a vote of its members, making the online community instantly one of the world's biggest democracies.
Rapid growth
The growth of Facebook has been volcanic. When Zuckerberg started it with friends at Harvard, it was meant to be a service for college students. But by 2007, when he was on TODAY with Vieira, he was spreading the message that Facebook was now for everyone.
At the time, he had 25 million members and was talking about doubling that. Friday, he was talking about seven times that number and telling Lauer that Facebook is adding a million members a week in the United States alone.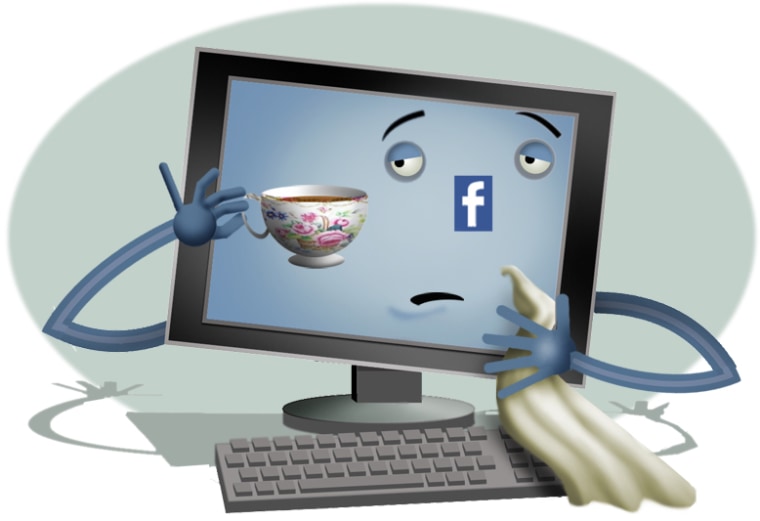 When the service was college-based, it was cool to be a member. Lauer asked if it can still be cool when a kid-built site is attracting members who might be their parents and grandparents. Or, as Lauer put it, "Can I be cool if I have a Facebook page?"
"It would be cool if you don't have a Facebook page," Zuckerberg shot back, laughing at his own joke.
He then said that what distinguishes Facebook from other networking sites and allows people to still think it's cool is the control it gives users over who can view their pages.
"You control exactly who you're sharing that information with," he explained. "So you can say, 'I want to put up this photo, but I only want to share it with these people in my family or these friends from high school.'… The site helps everyone connect with people and share information with the people they want to stay connected with. That's something that's really applicable for everyone. So it started off with young students. Now we have people all over the world in all different age groups and different demographics using the site. That's something that I think we'll see continue to grow."
As an example, Zuckerberg talked about soldiers stationed in Iraq who may want to share information only with their families. "People can do this because they have really good privacy controls on the site."
There are also multiple ways that people can share photos and messages. "It's by far the biggest place on the Web that people are going to share photos," Zuckerberg said. "I think there are more than a billion photos shared a month on the site. People are also using it to share messages with people, and one of the big differentiators is just that people have really good control over who they share information with."
Where are the profits?
When he was on with Vieira, Zuckerberg was denying a rumor that he had been offered a billion dollars for Facebook. Friday, he was explaining to Lauer how a wildly popular site with such a huge number of members still isn't turning a profit.
"Our business is actually growing really well," he said. "We have a few different lines that are growing well. For the last few years we've been primarily focused just on serving users, helping people connect and share and helping it spread across the world."
As for ad revenue, he added, "It already is growing very quickly. Especially in this economy, we're very happy with how it's going."
Lauer asked Zuckerberg if he ever dreamed that Facebook would be where it is now when he was starting the site in 2004.
"No. I think that's a pretty difficult thing to foresee," he said. "When we were starting this thing, I figured that there would be services like this that would help people share information and connect in these ways. I knew that would be a real special service for people, but no idea that we'd be the ones who were kind of helping to develop that."