American figure skater Evan Lysacek, a two-time U.S. champion and a 2010 Olympic gold medalist, told Matt Lauer on TODAY Tuesday that he will not attempt to qualify for the upcoming Winter Olympics in Sochi.

"It's very difficult for me to say that, but my road to Sochi ends here,'' Lysacek said in an emotional interview.
Lysacek, 28, last competed in the 2010 Olympics in Vancouver, but has since battled injuries. His last chance to qualify for January's U.S. Championships would have been Dec. 18 at the Ukrainian open. Lysacek withdrew from a competition on Sept. 30 after tearing a labrum in his left hip on the ice. Before that, he battled a groin injury and a sports hernia. Despite his aggressive approach to treatment and physical therapy, the labrum injury proved to be too much to overcome in time to make a push for Sochi, becoming "unmanageable" in recent weeks, he said. 

"A lot of what played into that decision (to not attempt to qualify) was that my doctor warned me that if I continued to train with 100 percent certainty the (labrum) injury would get worse, the pain would get worse every single day and I could be doing permanent and severe damage," Lysacek told Lauer. 
Still, he plans to return to figure skating.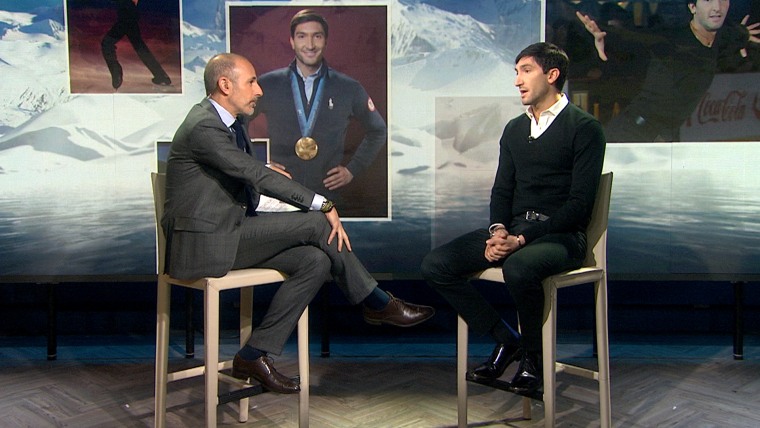 "This has been my whole life so...it's a difficult decision for sure,'' he told Lauer. "Right now my focus has to shift from training and preparing for Sochi to getting healthy and trying to heal this injury once and for all. The last several weeks have been so painful for me that I don't want those to be my last moments on the ice after such a great career. I love to represent my country, and I'm determined to be healthy and skate again and really be the one that decides when it's over." 
The decision was an emotional one as much as a physical one for Lysacek. 
"It was easy for me to make the decision and hide from it in a way because I went right from training to here,'' he told TODAY.com. "But being on the show this morning, seeing photos, talking to Matt about it, it's difficult. It's clear I have a lot to process. The future is all unknown."
Meryl Davis and Charlie White: 'Our hearts go out' to Evan Lysacek
The physical demands of figure skating at the Olympic level are rigorous, he told Lauer.
"The jumps and the physicality of the sport are incredible, and I think people don't know that,'' Lysacek said. "They think it looks like ballet, but really it is among the most difficult and physical sports in the world. The torque is immense. It's sometimes up to 100 times your body weight in torque. The training and the discipline that it takes are incredible, and people expect that to be an Olympic gold medalist you have to work hard and be dedicated, but the level of sacrifice and discipline to live that lifestyle are immense. 
"I can't even put it into words, but it is what I love, and I've had some of the best moments of my life representing the United States. It's what gives me such pride." 
Johnny Weir, a three-time U.S. national champion who took sixth in the 2010 Olympics, expressed his support for Lysacek on Tuesday. Weir, who announced his retirement from competitive skating in October, will be a figure skating analyst as part of NBC's Olympic coverage in Sochi. 

Between 2005 and 2010, Lysacek reached the podium in 20 of 22 events between the Olympics, world championships and major international competitions. His stretch of success was by far the best of any U.S. male figure skating competitor during that time or since. In August of 2012, Lysacek announced on TODAY that he planned to make a run at a spot in Sochi, which would have made him the first American male skater to try to defend his Olympic gold since Dick Button in 1952.
Immediately after the Vancouver Olympics, Lysacek took some time off, joining the cast of "Dancing with the Stars," where he finished as a runner-up.
Since making his decision, he's "beginning now just to come out of shock and start to process this," he said, adding that he'll lean on family and friends "a considerable amount."