Two former Washington Redskins cheerleaders defended the team Friday against allegations that women on the squad were forced to pose topless during a photo shoot and hang out with wealthy sponsors during a trip to Costa Rica.
Allegations that women were forced to pose topless in the calendar shoot were "just simply not true," Charo Bishop, a former cheerleader and team captain, told TODAY in an exclusive interview.
"All optional. Voluntarily. Some girls were excited to do those things," she said. "In terms of being an escort, that was never a perception I had. I think that being friendly and receptive and welcoming to sponsors is completely different than being an escort."
The allegations were in a New York Times story published Wednesday. In the story, five cheerleaders who went on the 2013 trip said they were forced to pose topless for a photo shoot, although the resulting calendar did not show any nudity.
They also alleged that certain cheerleaders were handpicked by Washington Redskins management to escort wealthy team sponsors and donors to a nightclub one evening during the trip.
New York Times sports editor Jason Stallman gave TODAY the following statement:
"Our article was based on interviews with five cheerleaders who were on the trip to Costa Rica, and details of their accounts were corroborated with others who heard descriptions of the events at the time. Since publication of our article, we have heard from even more Redskins cheerleaders who confirmed that our reporting was accurate. The two cheerleaders who were chosen by the Washington Redskins to speak in support of the team on the Today Show did not say anything to make us think that our article was anything but rock solid."
Bishop, who attended that Costa Rica trip, told TODAY "we can't discount experiences that other woman had on the team," but insisted she did not feel uncomfortable during the evening spent with sponsors.
"For me, it was a relaxing night with my friends. A fun night with my friends," she said. "To put it into context, the women were not selected by the sponsors to escort them to the club. We were always with someone we knew. We were always together."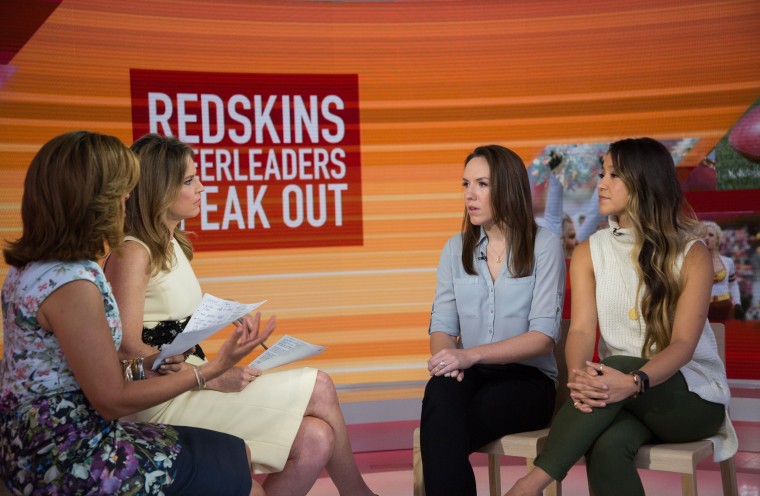 She said she never feared for her safety and that that evening was suggested by the cheerleaders choreographer longtime director, Stephanie Jojokian, as an opportunity to "go and enjoy a night (out) with our friends."
Rachel Gill, another former cheerleading captain who attended the Costa Rica trip, but did not go to the nightclub, also defended the team against claims that squad members were ever forced to socialize with sponsors.
"Those terms 'pimped out,' 'escort,' they just need to stop because it's absolutely not what happened," she said.
Both Gill and Bishop were asked by the Redskins to speak to TODAY on behalf of the team.
Redskins President Bruce Allen in a statement said that the team is "looking into" the troubling allegations and expressed "great appreciation and respect" for the cheerleaders." But he also said the organization has spoken with "a number of" cheerleaders who provided accounts that contradict details in the Times story.
"We are immediately looking into this situation and want to express how serious we take these allegations," Allen said in a statement Thursday. "Based on the dialogue we've had with a number of current and former cheerleaders over the past 48 hours, we've heard very different firsthand accounts that directly contradict many of the details of the May 2 article."
He promised, however, that "if it is revealed that any of our employees acted inappropriately, those employees will face significant repercussions."
The claims are among numerous complaints highlighted this year about the treatment of NFL cheerleaders. In March, former New Orleans Saints cheerleader Bailey Davis filed a gender discrimination complaint after she was fired in January over a photo she posted to her private Instagram account.
The complaint highlighted some of the inequities in treatment of the cheerleaders and the football players.
Editor's Note: This story was updated at 4:40 p.m. on May 4 to include a statement from the New York Times.