/ Source: TODAY contributor
This holiday season, warm someone's heart with a gift inspired by their favorite A-list celebrity. TODAY style editor Bobbie Thomas profiles the insider options that have Tinseltown buzzing.
Personal presents
Show your special someone how much you care with a present that was picked out just for them. The jewelry of "Gossip Girl" favorite Laura James features zodiac pieces and a double-sided engravable initial necklace that is also eco-friendly ($68-180; laurajamesjewelry.com).
Marc by Marc Jacobs offers an array of inexpensive trinkets that stars like Daisy Lowe have been known to adore, including "I love you" and "friendship ring" necklaces ($10-$15; MarcJacobs.com). Or, opt for a gift to go in the home, like Aglow's "blinged" initial candles, which Heidi Klum and Seal have, or Carved Solution's name soaps, which Will Smith and Jada Pinkett-Smith regularly stock up on ($48-$75; shopintuition.com).  
Creative compacts
Beauty may be brightest on the inside, but when it comes to this season's special compacts, the outside is pretty fabulous, too! Dior's Night Diamond Compact features mother-of-pearl-infused powder that Alicia Keys counts on to help her glow, while the crystal-encrusted case makes for a gorgeous gift ($80; sephora.com).
Givenchy's rocker-chic Couture Makeup Palette drew in celebs because it doubles as a designer clutch once you're done with the makeup ($45; sephora.com). Emmy Rossum picked out Stila's Surprise & Shine Talking Gift Palette for all her best friends so she could record a personal message to inspire them while they get ready to go out ($40; sephora.com).     
Go-go gadget gifts
Tinseltown is filled with new tech toys, but celebrities aren't the only ones who'll want to get in on the action! Gunnar Optiks' eyewear lets BlackBerry-burdened stars like Josh Duhamel devote more time to their digital devices, while reducing stress on the eyes ($99-$139; gunnaroptiks.com). Stars like will.i.am and Natasha Bedingfield can channel their inner James Bond with a cool new device that protects computers from unwanted peepers! Eikon's Digital Privacy Manager uses a fingerprint as the magic password, so your gadget-giddy friends can feel like a secret agent without ever leaving the house ($55; upek.com). 
The Jonas Brothers use it to stay up to date on the latest tunes, but anyone on your list can be surprised by a stream of new music with the portable Slacker G2 Personal Radio Player. By pressing the "heart" or "ban" button based on your preferences, the music evolves to your taste, and songs are automatically selected for you ($200-$250; slacker.com).
Jeremy Piven loves the low-maintenance Sonos, a DIY sound system that lets you play music in multiple rooms of your house and control it all with one clicker — or by using your iPhone ($999-$1,499; sonos.com).
Feel good, do good
There are many ways to warm someone's heart this holiday season! Take a cue from the stars, and select gifts that are snuggle-worthy or planet-friendly. Debra Messing and Courtney Cox can surround themselves with the subtle scent of coconut-lime or vanilla latte while cozying up in fragranced slippers and wraps from Royal Palm Botanicals. These items can be microwaved for a sitting-by-the-fire feel ($40-$45; wishwrap.com).
Before you wrap your presents in paper, consider reusable bags. The gifts will not only look great and cut down on waste, but your friends and family will have a handy bag to keep!  Nicole Richie totes RuMe ($8.95; delight.com), while Cameron Diaz carries Baggu ($6-$14; baggubag.com). 
While you're on the way to helping the earth, why not give a gift that grows back! Gwyneth Paltrow and Rachel Weisz can now literally plant the perfect hostess present with the packaging from their favorite bath and body products. Pangea Organics' biodegradable gift boxes grow into spruce trees after a few simple steps ($35; pangeaorganics.com). Or, opt for plantable greeting cards from Round Robin Press ($13 for set of 2; wishwrap.com), and show that it's actually easy being green!
Fun and games
From little girls to big girls, Hello Kitty fans like the Obama sisters and Dakota Fanning can pick up everything from a tiara set ($9.50; sanrio.com) to pretty pendants ($150-$250; zales.com). Bratz collectors like Fergie will be thrilled to add a Rock Star doll, complete with two costumes and a personally styled guitar ($20; bratz.com) into the mix.
Give your favorite wave rider a way to work out at home with Indo Board's Balance Trainer. Zac Efron received this surf-inspired fitness gear as a gift from gal pal Ashley Tisdale ($99.95; indoboard.com).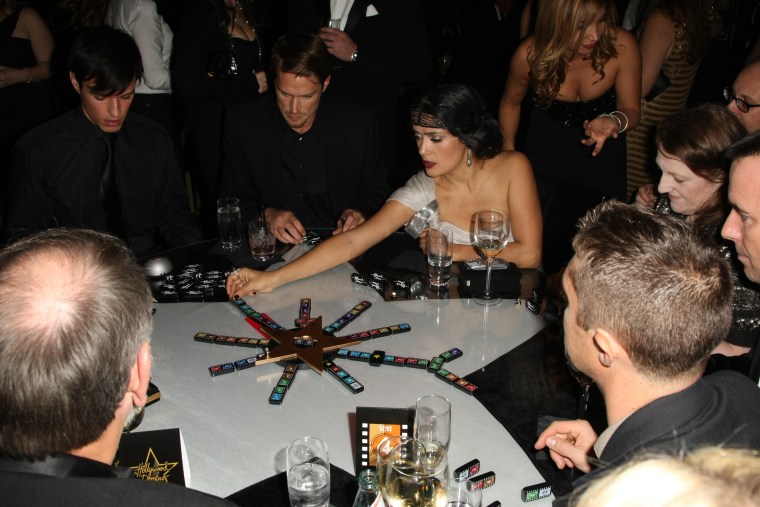 Finally, your friends and family don't have to be movie stars to walk the "red carpet" or make a "blockbuster," thanks to Hollywood Domino. Demi Moore and Ashton Kutcher were among the first A-listers invited to play in private weekly game nights, but now everyone can get in on the gaming action ($40; amazon.com).