It's never easy to lose a starting job to a teammate, especially if you are the quarterback for the Dallas Cowboys, one of the most glamorous positions in sports.
Tony Romo found himself in that situation this season thanks to the rise of rookie star Dak Prescott, who has led the Cowboys to an 8-1 record in Romo's absence due to injury.
But rather than sulk about losing his starting job, Romo, 36, gave a lesson in humility, sportsmanship and teamwork in a prepared speech to reporters on Tuesday.
While admitting to some frustration, the Cowboys star showed leadership in supporting Prescott and making it clear he did not want to become a distraction for the team, which has the best record in the NFL.
"(Prescott has) earned the right to be our quarterback,'' Romo, who is the team's highest-paid player, said. "As hard as that is for me to say, he's earned that right. He's guided our team to an 8-1 record, and that's hard to do."
Prescott has thrown 14 touchdowns and only two interceptions since becoming the starter. Romo suffered a back injury in the preseason in August that sidelined him until last week.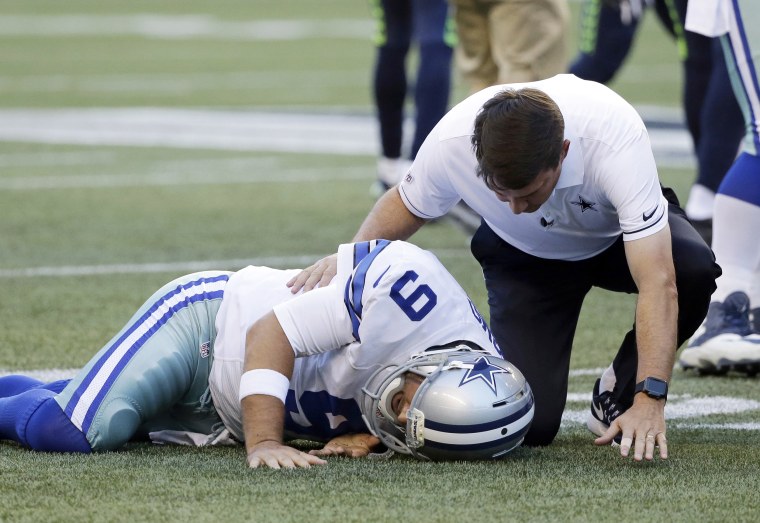 Romo is familiar with the scenario, as he took the job from incumbent starter Drew Bledsoe when he was first breaking into the league with the Cowboys.
RELATED: One mom's not-so-fun attempt at the 'perfect' family photo
"I'm not gonna allow this situation to negatively affect Dak or this football team by becoming a constant distraction," Romo said. "I think Dak knows that I have his back, and I think I know that he has mine. Ultimately it's about the team — it's what we've preached our entire lives."
RELATED: Dad sends flowers and sweet note to mom the day their divorce is finalized
While ceding the way to Prescott, the competitive Romo also admitted to the human emotions involved in taking a step back.
"To say the first half of the season has been emotional would be a huge understatement,'' Romo said. "Getting hurt when you feel like you have the best team you've ever had was a soul-crushing moment for me."
Discussing the moment on TODAY Wednesday, the anchors praised Romo for his graciousness.
"I think what's amazing about it is he was both really candid about how hard it was, but he still did the right thing,'' Savannah Guthrie said on TODAY Wednesday.
Follow TODAY.com writer Scott Stump on Twitter.