I wore hot pink soccer cleats the way every other football player did not. If you looked into my teammates' bags, you'd probably find gloves, tape, socks and other miscellaneous items teenage boys carry around. If you investigated my bag, you'd find mascara, jewelry, tampons and a handwritten note. The note had scribbled messages like "Be different," "I'm a fighter," and "Give 100% all the time." I wrote it when I was 16, just after I'd committed myself to playing football as the first and only girl on my high school's team.
To this day, I don't know what would compel other teenage girls to step beyond the confines of societal femininity at a most vulnerable age and strut among hundreds of teenage boys and the scrutinizing eyes of their parents and peers. But for me it was the challenge: Can I really do this?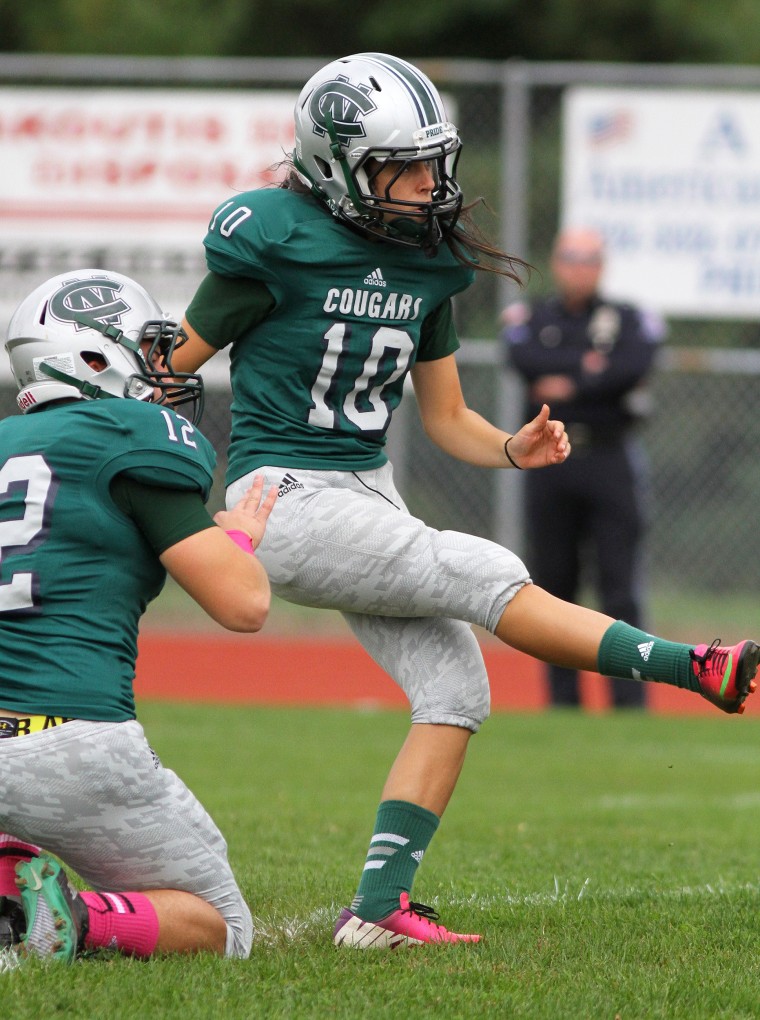 And when I proved to myself that I could, after a record-breaking season as the varsity placekicker, my life's trajectory altered. Long after I'd turned in my jersey and shelved my helmet for the final time, I came to find that the lessons I learned on the football field shaped the person I became and the very thinking that drove my life decisions.
One of those decisions landed me squarely in the Middle East. After spending a year cloistered in our tiny New York City apartment during the pandemic, my boyfriend and I decided we'd move to his homeland: Israel. I'd been there before and the decision seemed simple — incredible food, perfect weather, living two miles from the Mediterranean Sea. Plus, I'd grow closer to the Jewish community, something I'd lacked as a Jew growing up in the diaspora.
But when we finally made the move, the fantasy I'd been clinging to evaporated like a thin veil of smoke. Anxiety began to grip me by the throat each time I couldn't express myself in Hebrew or understand why the culture was the way it was, like the time I stood in the food store, desperately trying to wield my broken Hebrew to tell someone to move, because I was clearly on line first. Then that anxiety began to scratch at a memory, a time when I'd felt this way before — uncertain, uncomfortable.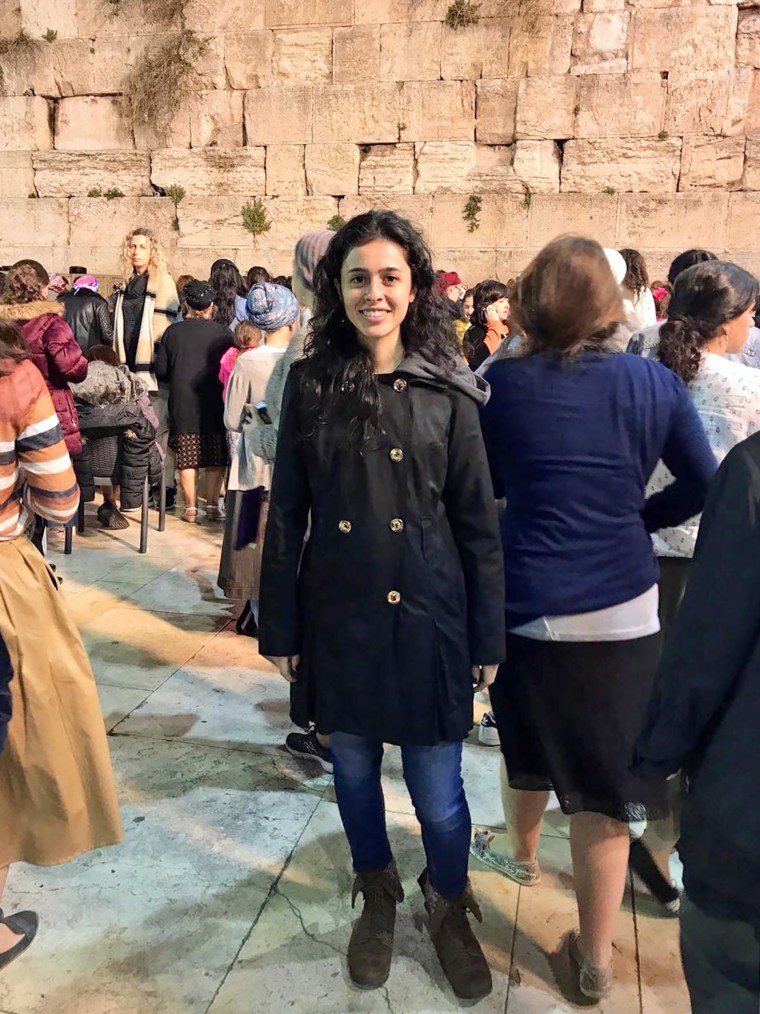 It was the first time I'd put on all the gear — the helmet, the shoulder pads, the butt pads (yes, those are a thing). I was used to navigating the world as a slim girl of 5-foot-3 and 115 pounds, but suddenly I was this masculine bulk of foam and plastic. Geared up, I stared at myself in the mirror, cheeks flushed and palms slick.
But there was no time to overthink it. I had balls to kick.
With all my equipment, I looked more like my teammates, save for the extra bit of fabric at the apex of my inseams. But I didn't feel like them as I jogged onto the field during practice, more than 60 young men staring at me. I was a foreigner to this game dominated by men, and I was going to kick in front of my teammates and coaches for the very first time. I had everything to prove — they were wondering if I could even make the kick. And if I didn't make it, I wouldn't just snuff their confidence in me, I'd snuff the small belief they held out that maybe, just maybe a girl could actually do this.
I stepped up to the 10-yard line, tucked my kicking block into the grass, took my absurdly overcomplicated steps back and almost fell over. My legs were shaking — it was so bad that when I lunged toward the ball and drove my leg forward, the football sailed to the side of the uprights.
I missed.
What followed was possibly the loudest silence anyone ever heard on a high school football field. Then my teammate said, "Don't worry, Abby. Ain't no thang but a chicken wang."
I burst into laughter, encouraged by that ridiculous reassurance and shocked at the relief that now flooded my veins at one dawning realization. They expected nothing of me now that I'd missed. The pressure deflated from my chest like a whistling, shrinking balloon, and from that moment on, I made nearly all my kicks.
If football taught me anything, it's that I'm capable of handling the inevitable obstacles that accompany new experiences, whether I'm a foreigner or not.
I smiled at that memory as I stood in the Israeli grocery store. In the shadow of what I'd done as a teenage girl, the challenge of living in a new country so different from my own was no longer this overwhelming, uncontrollable force. If football taught me anything, it's that I'm capable of handling the inevitable obstacles that accompany new experiences, whether I'm a foreigner or not.
It wasn't the first time I'd realized the things I endured on the field — the discomfort, the pressure — fortified me as I welcomed new challenges and said yes to opportunities. When I was in college, I was asked to present my thesis about Holocaust survival at the university's annual conference — a deeply emotional prospect as the granddaughter of a Holocaust survivor. 
Standing at the podium, hundreds of eyes watching me as I cleared my throat and flipped to my slides, I dug my nails into my palms. I was about to talk to the crowd about something that no one truly wants to talk about: the state-sponsored murder of 6 million innocent Jewish victims and the few who managed to survive. It was personal. It was important. I needed to be academic, professional, calm.
But I had been there before. When I played football, opposing teams and their fans watched me like I was some foreign specimen under a microscope, wondering if I'd make each kick as I jogged onto the field with my bright pink cleats and long dark hair streaming from my helmet. The immense pressure of that attention — that doubt — hovered around me for my entire football career like a thick, unrelenting fog. That pressure to perform when my teammates relied on me, to prove my worth and to stand up for women everywhere was something I knew I'd either collapse under or conquer.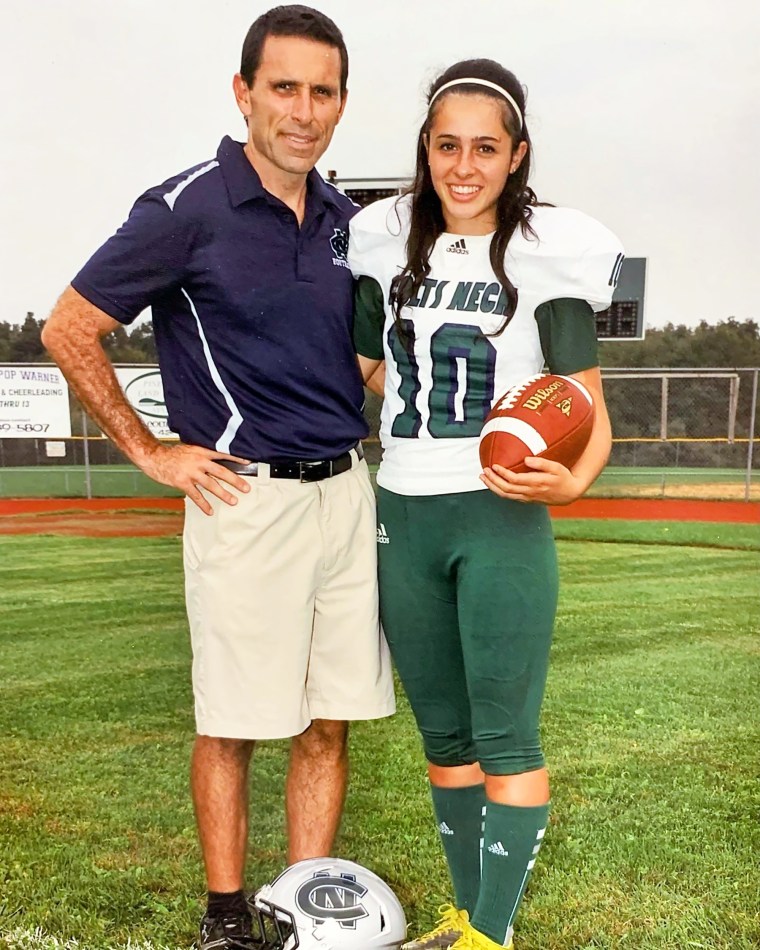 My first varsity game, I made six of six extra points and a 35-yard field goal. When I ran to the sidelines, my dad crushed me in a hug so fierce I can still feel my head jostle with the memory. My kicking coach kissed me on the helmet, and I knew nothing short of a perfect performance could elicit that reaction. I'd achieved it by telling myself one sentence on repeat: Someone needs to get the job done.
Back at the university podium, I told myself those same words: Someone needs to get the job done. And that someone was me.
I didn't know it at the time, but when I played football, I was navigating a complex matrix of choices that would change my life. To watch from the stands or play. To tuck in my hair or let it stream from my helmet. To try my best to blend in or wear blindingly pink cleats. To give up or rise to each challenge. It's something I think about often — but especially this time of year, just days before the most exciting football game of the season will be played.
Today, during moments when I'm not sure I have what it takes to tackle the next challenge, my mind takes me back to our summer training sessions in the sand pit, an abandoned stretch of three volleyball courts that we used for grueling workouts. I'd trudge through the sand alongside my shirtless teammates, the sun blistering, wishing I could toss my heavy cotton T-shirt off to the side as we long-jumped, bear-crawled and sprinted our way to maximum heart rates. 
And I remember what I'm made of.