UPDATED at 4 p.m. ET on Jan. 8:
After catapulting beauty queen Katherine Webb into the spotlight on Monday night, ESPN acknowledged its commentators may have crossed the line with their compliments for the former Miss Alabama USA and apologized for having gone "too far."
Webb became a trending topic on Monday after ESPN announcer Brent Musberger, 73, and analyst Kirk Herbstreit gushed over her good looks as she stood in the stands to cheer on boyfriend A.J. McCarron, quarterback for the University of Alabama. 
"Have been asked on focus on @_KatherineWebb in BCS," ESPN Vice President of Communications Mike Soltys wrote on Twitter on Tuesday afternoon.
"We always try to capture interesting storylines and the relationship between an Auburn grad who is Miss Alabama and the current Alabama quarterback certainly met that test," he added. "However, we apologize that the commentary in this instance went too far and Brent understands that."
Webb's newfound notoriety also won her a high-profile fan: Donald Trump, who took to Twitter to sing her praises.
"Miss Alabama, Katherine Webb, has been a truly great representative of the Ms. USA Organization ..We are proud of her!" he wrote on Tuesday. "What a great couple... Katherine Webb and AJ McCarron. They are both winners!"
Trump, the owner of the Miss Universe Organization, also hinted that Webb's sideline appearance is already boosting her career.
"We are going to ask Katherine Webb to be a judge at the Miss USA Pageant coming up in Las Vegas," he tweeted.
Original story:
The final score of Monday night's BCS national championship was Alabama 42, Notre Dame 14. But it was the girlfriend of victorious quarterback A.J. McCarron who had everyone buzzing.
Katherine Webb 1, Rest of Internet 0.
The former Miss Alabama USA became a hot topic during a suspense-free blowout of a game when she was spotted in the stands during ESPN's broadcast. As 73-year-old play-by-play announcer Brent Musburger gushed about her good looks, Webb gained thousands of Twitter followers, bringing her from 2,300 to 140,000 by Tuesday morning. The brunette beauty was also a top search on Google.
Arizona Cardinals defensive tackle Darnell Dockett tweeted her his phone number and invited her to a strip club. University of Georgia quarterback A.J. Murray said she needed to become a Bulldogs fan. Webb told reporters her phone battery died during the game from the deluge of texts and tweets.
McCarron answered those would-be suitors on Tuesday morning. He tweeted to Dockett, "#betterkeepdreaming like the rest of these dudes." He also tweeted to Murray, whose team Alabama beat to reach the national championship game, "u don't win enough bud!"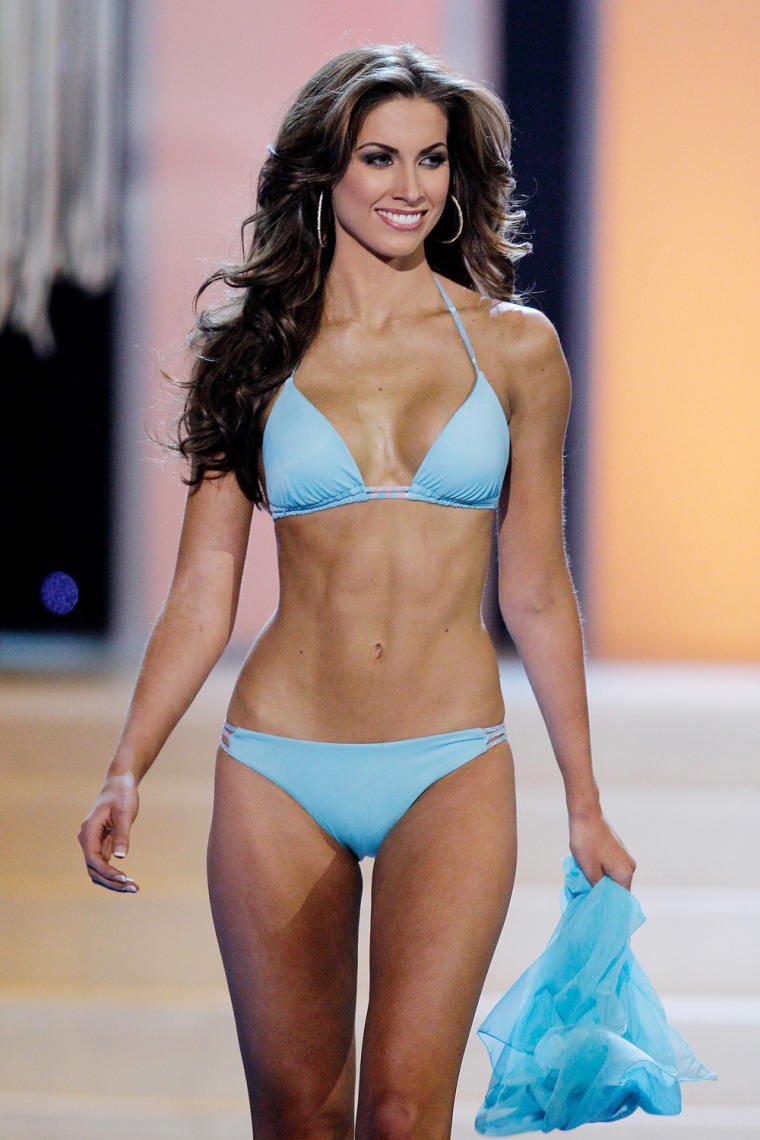 Though McCarron threw four touchdown passes to give Alabama its third national title in four seasons, he now trails his girlfriend, a model from Los Angeles, by about 50,000 followers on Twitter.
"Hey, I guess she's more famous than me,'' the quarterback told Yahoo! Sports.
The couple have been dating for a month and actually met via Twitter, according to USA Today. Webb started trending online after Musburger and color analyst Kirk Herbstreit reacted to her looks.  
Story: Teen uses tweets to compliment his classmates
"You quarterbacks, you get all the good-looking women,'' Musburger said. "What a beautiful woman. Wow!"Herbstreit followed by saying McCarron must be doing something right before offering his own "Wow!"
"Oh Lord,'' Webb told USA Today after being informed of her TV appearance. "This is the first time that's kind of ever happened for me. I've never dated someone who's actually been in the spotlight, so that's a new thing for me.''
Following the game, McCarron hugged his mother and father in the end zone and received congratulations from other family members before sharing a kiss with Webb.
Story: Best of the 2012 White House, in photos
"That means he's a family guy, a mama's boy,'' Webb told Yahoo! Sports. "I'm totally good with that. It's that personality that attracted me to him in the first place. It was never about his status on the team.''
"I know she's good-looking,'' McCarron told USA Today. "She's gonna have guys that jaw-drop over her. That's life. I guess I'm the blessed one at the end of the day. She's gotta put up with me.''
More: 
Wedding crashers: Hot air balloon accident caught on video
Viral video: Baby boy in cochlear implant video is 5 now, doing great
Princess Diana biographer identifies 'mystery man' in photo
Bristol Palin receives wedding proposal from alleged stalker  
Prince Charles shares hopes, worries for 'future grandchild'