The comedy group Improv Everywhere is at it again, this time surprising a suburban New Jersey family with everything but a partridge in a pear tree for its "Epic Christmas Caroling" mission.
Posted Tuesday to YouTube, the video shows a father answering a doorbell and the rest of his family gathering by his side as a quartet of Christmas carolers in Victorian attire sings "Deck the Halls." Nine more vocalists show up to bring good tidings. Then, a 20-piece brass band emerges from the back of a truck and sets up on the front lawn to perform. Multiple Santa Clauses pop up for good measure, and (fake) snow falls to add to the ambience.

According to Improv Everywhere founder Charlie Todd, a lot went into the video that might not be evident in the final cut.

"In a perfect world, I would just show up with an orchestra on a person's lawn to surprise them," Todd, 35, told TODAY.com.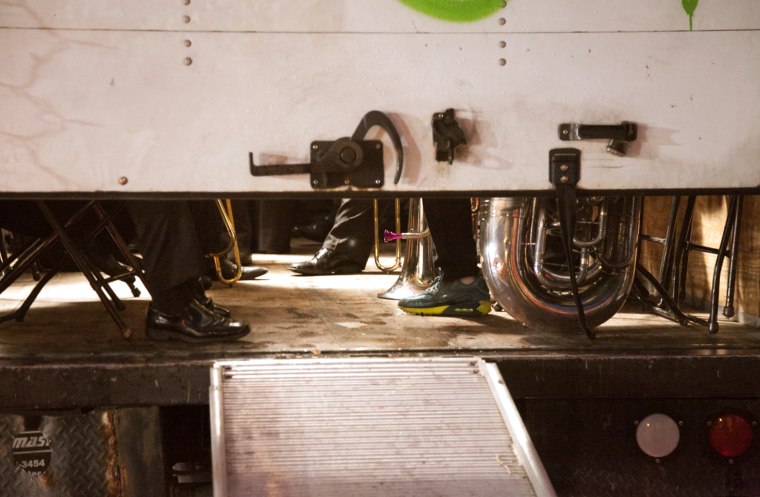 It's a mission that Improv Everywhere has been trying to pull off for years. Instead of pulling this one off in their home city of New York, rife with apartment dwellers who can't answer their building's front door in the way homeowners do, the group trucked over the George Washington Bridge to nearby Englewood Cliffs, New Jersey.
Finding the right orchestra and transporting them to the destination presented financial and logistical challenges, but those were solved after Target agreed to help foot the bill.

Then there was the matter of pulling off the surprise. How do you find a family that you know celebrates Christmas, won't kick you off their lawn after a band sets up folding chairs on it, and, most importantly, will be home when you show up to attempt the stunt? That's when Todd's crew got creative, and rented a house in New Jersey.

"We reached out to our NYC-area mailing list looking for families in the Bergen County, [New Jersey] area who were up for a surprise," Todd wrote on Improv Everywhere's website. "In all we surprised five families over the course of the evening. The moms acted as our accomplices — they were the only ones in the family who knew that something was going to happen, but they didn't know what. They kept the secret from their husband and kids. Once the families arrived for the photo, a producer told them to wait their turn in the living room and to please answer the door if the doorbell rang, as we were expecting more families soon."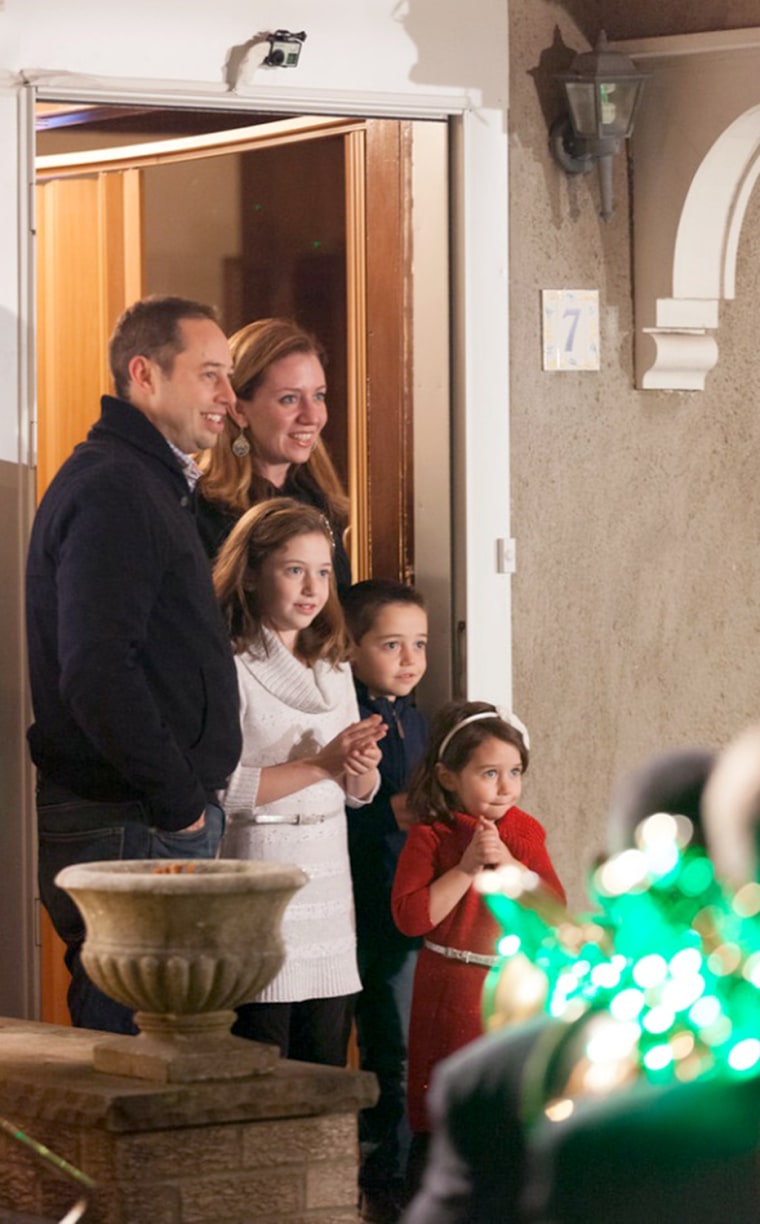 Lauren Schreiber's family was the one that appeared in the video, because they seemed to have the most fun. But all five families appeared to enjoy the experience, Todd wrote.

Added Todd: "Lauren Schreiber wrote to us a few days after and said, 'I kept thinking, 'What's going to happen next?' My kids were dancing, I was singing along, each of us took in different bits and pieces and felt like we were on the set of a movie. My kids will remember it for their entire lives."
Todd told TODAY.com that the toughest aspect of the mission to pull off was assembling the 20-piece Patriot Brass Ensemble quickly on a front lawn. "That's something that we worked on in a rehearsal studio in Manhattan, with the orchestra," he added. "These guys are all really fantastic musicians. They've played outdoors before, but it's unusual for them to all be crammed together into a box truck, and sort of race out to set up their own chair on someone's front lawn."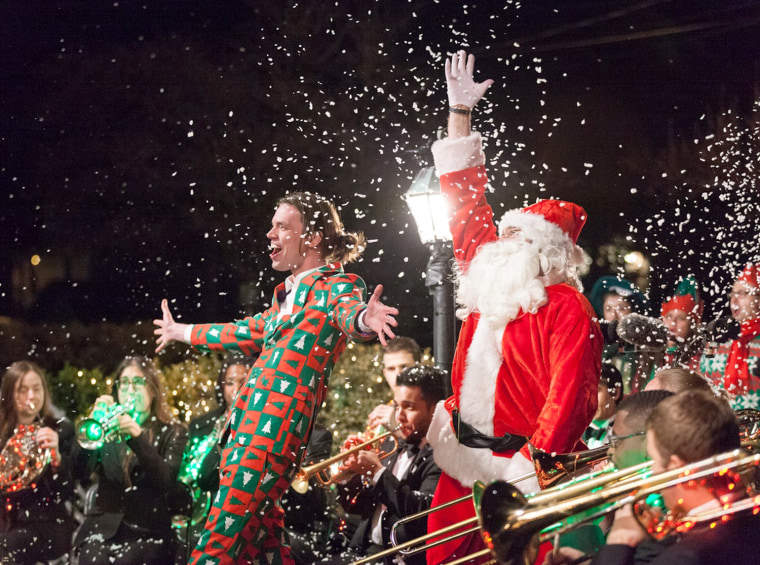 Previous Improv Everywhere missions with winter-holiday themes include last year's "A Christmas Story in Real Life," which featured a boy pretending to get his tongue stuck on a subway pole in front of riders who weren't in on the joke, and 2008's "Guerilla Handbell Strikeforce," for which a 13-member handbell choir offered surprise accompaniment to a Salvation Army bell-ringer in Manhattan.
The group has documented at least 140 missions, including viral hits "Frozen Grand Central," which had hundreds of participants silently stop simultaneously in the landmark train station; "Even Better Than The Real Thing," which pretended U2 was performing on a rooftop across from their show at Madison Square Garden; "Food Court Musical," which presented a surprise musical before unsuspecting diners at a mall food court; and "No Shirts," which showcased shirtless men of all shapes and sizes walking through an Abercrombie & Fitch store that featured a topless male model by the front door.

"To me, the most exciting part is seeing the reactions," Todd said.

There are always plenty of reactions to the group's annual No Pants Subway Ride, which started in New York City in 2002. The next cheeky celebration of pantslessness will be held Jan. 11, in more than 60 cities around the world.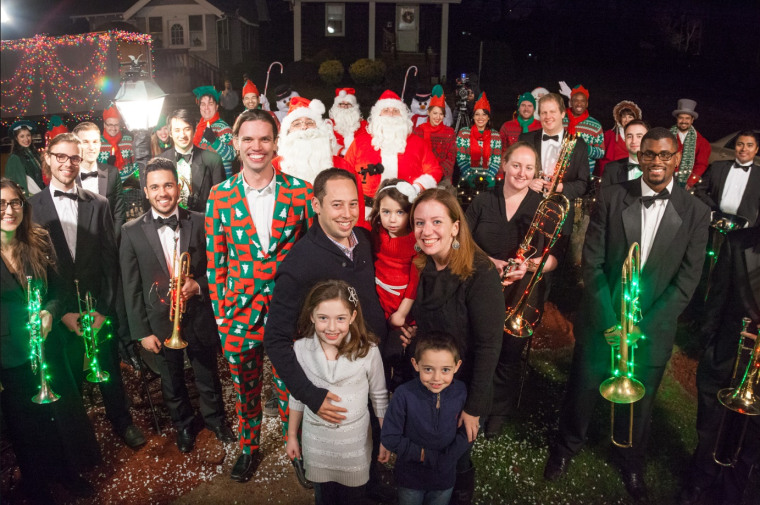 Follow TODAY.com writer Chris Serico on Twitter.