/ Source: TODAY contributor
Someday, the little boy known as baby Logan will come to know about the extraordinary circumstances of his birth.
For the moment, the perfect little infant, dressed in plaid pants, a white polo shirt and sweater vest, remains blissfully ignorant of the international news he created, not to mention the emotional turmoil that accompanied his arrival in the world.
"He's doing great. He's doing wonderful. He's healthy. He's a happy baby," his proud mom, Shannon Morell, told TODAY's Meredith Vieira Tuesday in New York as her husband, Paul, cradled the nattily attired little boy, who slept serenely through his moment on network TV.
Logan was born just seven months ago, the result of a colossal mix-up at a fertility clinic that had implanted embryos belonging to Shannon and Paul Morell into another woman, Carolyn Savage. After first communicating anonymously through their lawyers, the Morells and Savages became friends and went through most of the pregnancy together.
After Logan's birth, the Savages were given time to say hello and goodbye to the baby Carolyn had carried in her womb. Then they handed him over to the Morells. The couples, separated by about 150 miles, remain close and share e-mails, pictures and news about Logan. They also visited over the Christmas holidays.
Unusual bond
Both families would learn that their bond is unusual among the rare cases when women have been implanted with the wrong embryos. Most often, experts say, the cases end in bitter lawsuits, custody battles and even abortions.
The cases are so rare and so jarring that the story was news around the world, and both the Savages and the Morells made appearances on TODAY in the days before Logan was born slightly prematurely last September.
Now, the Morells have written a book about their miracle baby, "Misconception: One Couple's Journey From Embryo Mix-Up to Miracle Baby," and hope that their experiences will help others entering the world of in vitro fertilization (IVF).
"We want to turn a negative to a positive, to help other couples who are out there," Paul Morell told Vieira. "We wish we had this book when we experienced what we did. We thought it would be a tremendous help to a lot of people."
The Morells said their message is not to avoid IVF. They have 3-year-old twin daughters who were born through the procedure as well as Logan.
'A cautionary tale'
"I say go ahead and do it. We have three great kids because of it," Shannon Morell said. But, she added, couples contemplating IVF should be aware of the possible pitfalls and know what questions to ask of a prospective clinic.
"It's a cautionary tale because I thought I was prepared. I thought I asked lots of questions. Now, I know more," Shannon told Vieira. "We're blessed. But the story's bigger than just our story. There's so much that hopefully will help other couples."
The Morells said they are particularly anxious to make sure that others know the sacrifice that Carolyn Savage made for Logan. Carolyn had a history of difficult pregnancies and when she was implanted with the wrong embryo, she knew it was the last pregnancy she would be able to safely endure. She and her husband wanted another child, but after Logan's birth she would be unable to bear that child.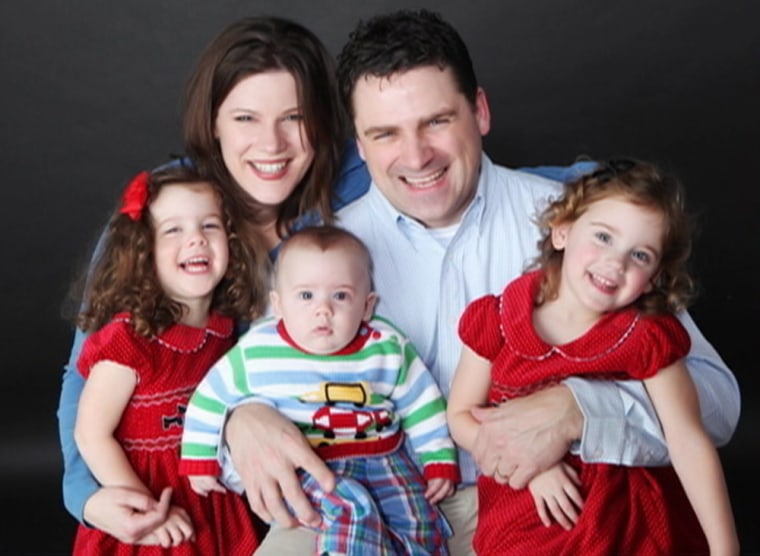 In a statement to TODAY, Carolyn and Sean Savage said they're not yet prepared to talk about their experience with Logan, but are writing a book to be published in 2011.
"We would like to thank everyone for their continued thoughts, prayers, and support. Unfortunately, these past seven months have been much more difficult for us than anticipated. As a result, we are still trying to gain perspective on this life-changing event. We will share our story in early 2011. Until then, we pray Logan Morell grows to understand his birth was a blessing and his life a gift," the statement said.
Extended family
The Morells are grateful for the Savages' graciousness.
"They're like extended family. We keep in contact. Whatever their schedule is, whatever they want to do, we'll be happy to accommodate," Paul Morell said.
"We're just happy that they're willing to continue to have a relationship so one day he'll know who they are," Shannon said, adding that one reason for writing the book is to let people know what extraordinary people the Savages are.
"Carrying a pregnancy isn't easy. To say goodbye and be in the hospital and we're taking the baby home — it had to be hard," Shannon said. "A lot of people should know how great Carolyn is and what she did."
The Morells aren't sure how they'll tell Logan about how he came to exist. "I think a little bit at a time," Shannon said. She added that the infant will know that it was all very positive.
"It's part of God's plan and he's been blessed. He's loved by two families." she said. "We're going to make it sound as if it's perfectly natural."